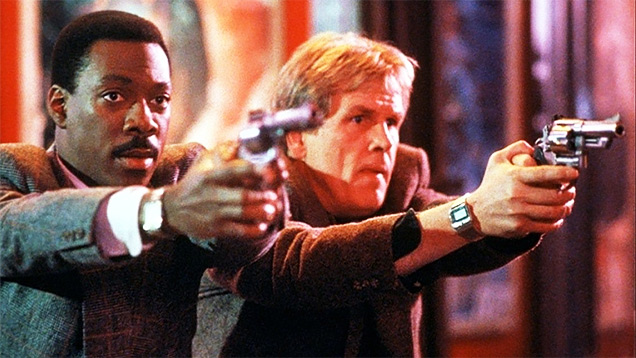 Why can't we be friends? The best buddy action comedies

---
Stuber is the latest in a long line of buddy comedies, revolving around mismatched partners forced to overcome their differences. Critic Travis Johnson surveys other classics of the genre.
In the new actioner Stuber, hulking Dave Bautista's tough guy cop must team up with Kumail Nanjiani's timid Uber driver in order to track down Iko Uwais' vicious drug lord. It's a new riff on an old model: mismatched partners forced to overcome their differences against a common enemy and maybe, just maybe, learn to respect each other along the way.
But when the dust has settled, will Stuber be able to stand proudly alongside these icons of the form?
Not the first of the genre, but you'd need a strong argument to counter the assertion that Walter Hill's blue, ballsy action thriller didn't set the mould going forward. On the trail of two vicious killers (Predator's Sonny Landham and The Warriors' James Remar) and half a million dollars in cash, tough cop Jack Cates (Nick Nolte) springs charming con Reggie Cates (Eddie Murphy at the absolute height of his powers) from the can for two days to help with the case.
Blistering dialogue, fierce action, and a lot of macho bonding ensue. Hill and company failed to rebottle the lighting with 1990's Another 48 Hrs., but his '88 Cold War cop thriller Red Heat, with Arnold Schwarzenegger and Jim Belushi, is worth a look.
We could fill this list with writer (and later director) Shane Black films but let's settle for just two, with the first being this franchise-launcher. Directed by Richard Donner, Black's first-produced script sees family man cop Roger Murtaugh (Danny Glover) teamed up with suicidal ex-military killing machine Martin Riggs (Mel Gibson) just in time to go to war with a cartel of former special forces types, who are importing heroin from South East Asia.
The chemistry between Gibson and Glover makes this the bromance of the century, with the former's livewire energy perfectly complemented by the latter's "why me?" hangdog resignation. The action is incredible, and Gary Busey is the bad guy – what's not to love? Only the first sequel is worth your time, though.
Recently "homage" by Netflix's Bright, this oddity from the pen of Farscape creator Rockne S. O'Bannon posits a near-future Earth in which a population of 250,000 extraterrestrial refugees have been integrated into greater Los Angeles – and the first "Newcomer" detective, Sam Francisco (Mandy Patinkin) has been partnered up with bigoted cop Matt Sykes (James Caan).
Sykes only wants the "slag" along for the ride so he can help finger the Newcomers who killed his old partner, but before you know it, they're bonding over Otis Redding and spoiled milk. Yes, it's a racial metaphor, but a good enough one to spawn a TV series, a handful of TV movies, and a mooted remake by Jeff Nichols (Midnight Special, Loving).
If you're going to track down one film on the list, make it this one. James Caan (again!) and Alan Arkin are the titular cops, tasked with protecting a racketeering boss from a succession of assassins – just so they can close a massive case against him themselves.
A more light-hearted take on the grittier policiers of the '70s like Serpico and The French Connection, Freebie and the Bean beat 48 Hrs. and co. to the punch by about a decade, and the fun friction between Caan's slobby tough guy and Arkin's neurotic brainiac can be found in the DNA of every film that followed it.
Shane Black, this time writing and directing, gives us this gleefully offensive '70s-set tale of corruption in the auto industry, as uncovered by hopeless, hard-drinking private detective Holland March (Ryan Gosling) and professional standover man Jackson Healy (Russell Crowe).
Blacks "sad sacks save the day" formula – see also The Last Boy Scout (1991), The Long Kiss Goodnight (1996), and Kiss Kiss Bang Bang (2005) – serves him on good stead once again. He is abetted by a game central duo and a supporting cast that includes Keith David (The Thing), Matt Bomer (Doom Patrol), Angourie Rice (Spider-Man: Far From Home), and a whole roster of street freaks, tough guys, porn stars, and more. An absolute blast.
Tough guy Robert De Niro and nebbish Charles Grodin are our mismatched duo this time out, with the former a tough bounty hunting running down the latter's squirrelly mob accountant for a cool $100K. Of course, the mob are after him, the FBI, in the form of Yaphet Kotto's steely agent, are after him, rival bounty hunters are on their trail, and what should be a piece of cake turns into a cross-country run 'n' gun.
This was pretty much the first time we got an inkling that Bob could do comedy (Rupert Pupkin certainly doesn't count), and though he squandered his gifts later being a Parent and a Dirty Grandpa, here he strikes comedic sparks with Grodin's hypochondriac hustler.
Sometimes it's not an odd couple situation – sometimes our heroes are just straight-up best mates. That's the case here, in which Gregory Hines and Billy Crystal are Ray Hughes and Danny Costanzo, respectively, two wise-cracking Chicago cops who may as well be married, they're so close.
They take a stab at retiring to Florida to open a bar, but the spectre of Jimmy Smits' evil drug baron means they're soon back on the job, trading quips and flinging lead. This one is more comedy than action but still has a lot of dirt under its fingernails and deserves a lot more love than it gets.
Ray Tango (Sylvester Stallone) and Gabe Cash (Kurt Russell) are rival LAPD detectives with very different styles, so of course they have to team up to clear their names when Jack Palance's Machiavellian crimelord frames them for murder.
Behind the scenes mayhem, up to an including the replacement of original director Andrei Konchalovsky, means Tango & Cash is a bit of a mess. What starts as a glib but gritty action comedy devolves – or evolves, depending on your proclivities – into a monster truck rally by the time the final reel slots into place, and it's clear that the powers that be have lost complete control of all the dangling plot threads. Still, you get Stallone and Russell tearing strips off each other for a hundred minutes, and that's a good time.