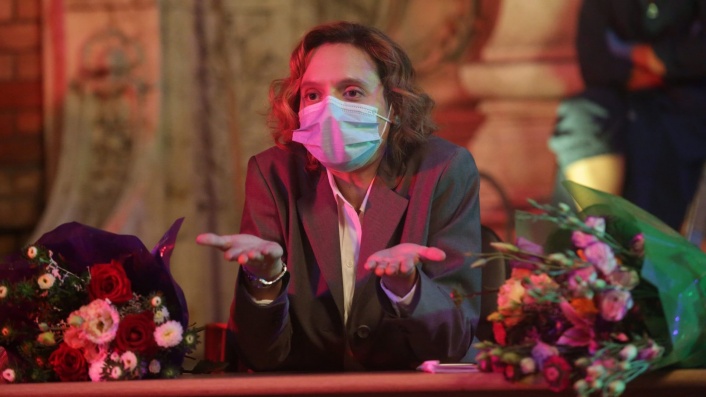 Adventurous viewers will be delighted by Bad Luck Banging or Loony Porn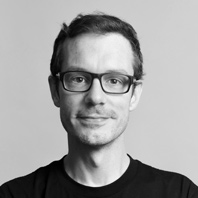 ---
Golden Bear winner at Berlin 2021, this Romanian black comedy follows a schoolteacher whose homemade sex tape causes a scandal. Bad Luck Banging or Loony Porn oscillates between a cheeky nudge in the ribs and something much darker, writes Tony Stamp.
Late in the second section of Radu Jude's 3-part film Bad Luck Banging or Loony Porn, the director reveals his thesis statement: "Human life must be seen as both tragedy and comedy".
The film exists suspended between these two states; between cheeky nudge in the ribs and something much darker. Jude may claim he's not a provocateur, but what else can you call a movie that cuts from archival footage of a WW2 trench filled with bodies to a shot of unsimulated fellatio?
The story is simple. A Romanian school teacher called Emi makes a sex tape with her husband, it winds up on some porn sites, the parents of her students find out and are scandalised. Jude takes this straightforward plot and festoons it with ideas: about fascism, capitalism, life during COVID, and the creation of art. Sometimes he presents these ideas with his camera, sometimes on-screen text, and eventually dialogue.
Fair warning: BLBoLP's first scene arrives pre-credits, pre-studio logos, and is immediately explicit: Emi's homemade sex tape. Among many, many other things, the film is interested in how something loving and intimate can be considered pornography, so to get the desired effect there's a mix of movie magic with unsimulated sex. I watched this via screener, but there's sure to be some discomfort in the cinema, and a lot of tittering.
Once that scene and its characters have completed, the film's first part follows Emi as she runs errands in Bucharest and learns of a parent-teacher conference being held to deal with her predicament. It's here that Jude makes clear his film's COVID-era setting. There are staged scenes of frayed nerves and a wary populace, but more interesting are the many long shots of Emi walking the streets, filled with actual people (many of whom notice and stare at the camera crew).
These have a documentary feel, but the camera work is fluid and placid, panning away to rundown storefronts, glamorous billboards and decaying abandoned buildings, as well as surveying the various masked crowds. It's fascinating as a snapshot of pandemic life abroad.
Sign up for Flicks updates
Then part 2 hoons off in a completely different direction. It's here that Jude starts to philosophise, presenting a series of images – web clips, archival footage, stills, and things he presumably filmed—with on-screen text of his thoughts.
Broadly speaking he's concerned with life in Romania under capitalism post-WW2, but includes myriad digressions. 'Global warming' reads the text, while the picture shows a vast outdoor pool party with hundreds of happy swimmers. '6 out of 10 Romanian children are subject to violence' comes up, and suddenly things are much more serious. A news item about robots being built for warfare includes a talking head concerned about "warfare without empathy", then Jude cuts to American drone strikes being carried out, and lets you soak in the irony.
Another bit of text that's stayed with me: "A good building always makes a beautiful ruin".
In section 3 we join Emi at the parent/teacher conference, and the movie becomes pure farce. It's here that Jude draws all Bad Luck Banging's various threads together, laying bare Romanian (and by extension global) hypocrisy about capitalism, racism, misogyny, mask-wearing, and plenty more. This section is pitch black satire, frustrating and funny in equal measure, and ends on a moment that makes its sex tape opening seem quaint by comparison. Adventurous viewers will be delighted.