The year 2020 has sucked, but its TV has not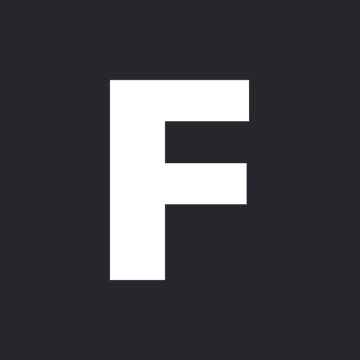 ---

Between Neon and Sky, this year's Emmy-nominated shows offer hundreds of hours of entertainment. Steve Newall takes a look at their top shows nominated for Emmy awards this year.
If you haven't already figured this out, Neon and Sky are absolutely rammed with great shows to watch, from the best new series on the block to the latest seasons of enduring modern classics. Don't take our word for it—their shows just picked up a staggering 75 Prime Time nominations at this year's Emmy awards. The 72nd Emmy® Awards (live and exclusive to Vibe and Sky Go) take place on Monday 21 September from 12pm. Until then, find out what's getting the awards attention.
WATCH IT ON NEON AND SKY
Leading this year's Emmy nominations, Watchmen boldly continues on from Alan Moore and Dave Gibbons' groundbreaking comics, three decades later. Damon Lindelof created an intriguing alternative present and as we put it at the time, the new series understood what made the original so special. Not nihilistic violence, not a naked blue dude, but in how it examined power, hubris and big ideas, and invigorated the tired roles of heroes and villains—with the comics' approach to challenging superhero archetypes turned on the source material itself by Lindelof.
Complex characters were brought to life throughout the show in stunning performances, resulting in acting nominations for superb series lead Regina King, Jeremy Irons, Jean Smart, Yahya Abdul-Mateen II, Jovan Adepo and Louis Gossett Jr, and Watchmen counting prestigious category Outstanding Limited Series and directing and writing nominations among its many nods. The show to beat this year.
"What in 2019 is the equivalent of the nuclear standoff between the Americans and the Russians?" Lindelof pondered in the lead-up to the show, considering how to mirror one of the key elements of the comic. "It is race and the police." Watchmen's examination of systemic racism was hardly the first time these ills were exposed, but as the #BlackLivesMatter movement became an inescapable part of American life this year, Watchmen offered a thoughtful focus on issues that were about to further dominate headlines. In the age of Covid-19, the hefty amount of mask-wearing is a bonus.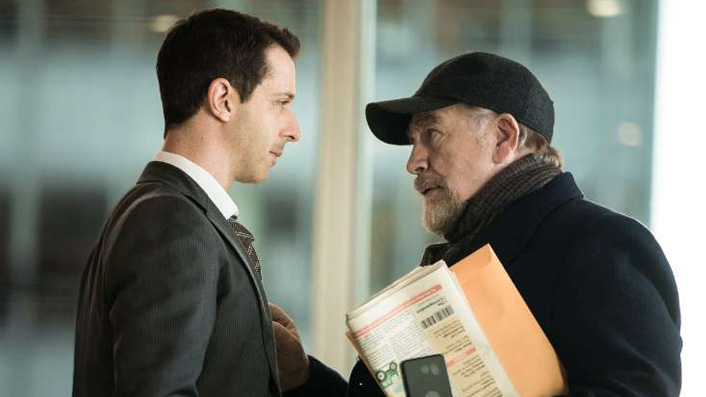 WATCH IT ON NEON AND SKY
As Game of Thrones drew to a close, an even more bloodthirsty show about naked ambition and screwing over your relatives came to Neon. Succession proved a firm favourite as the Roy family vultures circled, siblings vying to take over their (not so) dear old Dad's empire. What may have seemed like a satire about the Murdochs proved to be so much more, a show with razor-sharp writing and equally honed narrative blades ready to be plunged between the shoulder blades of rivals. As Paul Casserly said of the first season, "The wrestle that unfolds is lovely dirty fun, the comedy so dark it's almost hidden". Any fear Succession might explode on the launch pad evaporated in its second season, which built upon the first in everything from plot twists to shock value, terrible raps and awkward scenes on super-yachts, with the show's top-drawer cast wringing new loathsome lows and comedy heights from their characters.
That's reflected in Succession's Emmy nominations this year, which see Brian Cox and Jeremy Strong, who play father and son, face off in the Outstanding Lead Actor drama category, the amazing Nicholas Braun, Kieran Culkin and Matthew MacFadyen scrap over supporting actor, Sarah Snook nominated for supporting actress, and Succession also in the running to win Outstanding Drama Series as well as awards for its writing and directing.
Remember cruise ships and amusement parks? They were things that people used to go to without a second thought… before a global pandemic. In Succession these assets were a division of the company run by Tom Wambsgans (MacFadyen), who managed to get himself in all sorts of trouble over covering up all sorts of onboard abuses. Played for darkly comic laughs here, for sure, but also reminiscent of how multinational corporates wring every dollar they can out of their assets, harm be damned. Whether Covid-19 will surface in season three remains to be seen, but if any show can reference the prioritisation of profit over people seen in the probably unwise early reopening of Disney World, it's this one.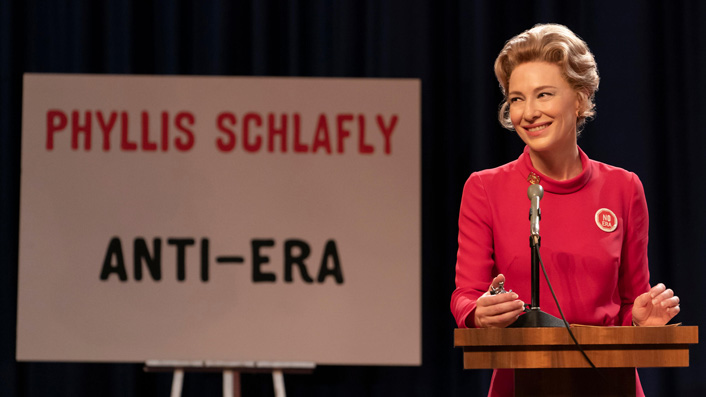 WATCH IT ON NEON AND SKY
Conservative activist Phyllis Schlafly was the perhaps unexpected focus of this limited series, detailing her surprising real-life battle against the Equal Rights Amendment movement during the 1970s. With Oscar winner Cate Blanchett gliding effortlessly into her shoes, surrounded by a who's who of acting royalty bringing Schlafly's foes to life, the results are "a fascinating and frank examination of the female-led political landscape of 1970's America", according to Katie Parker's feature on the show. Schlafly was the uncontroversial female face of the anti-women's liberation movement, which saw her square off against feminist icons of the era like Gloria Steinem and Betty Friedan.
Competing against Watchmen for Outstanding Limited Series, and nominated for its writing, the ensemble cast of Mrs. America has also received Emmy attention. Led, in an utterly unsurprising turn of events, by Cate Blanchett's nomination as Outstanding Lead Actress, the series also scored nominations for Uzo Aduba (playing presidential candidate Shirley Chisholm), Margo Martindale (as Democratic congresswoman Bella Abzug) and the great Tracey Ullman (The Feminine Mystique author Betty Friedan).
With Ruth Bader Ginsburg having attained pop cultural cachet for her abilities on the US Supreme Court, and her admirable tenacity in staying on the bench in the face of injury, illness and a women-hating President, Mrs. America is timely in helping to reveal the other side of the coin. Blanchett's nuance in bringing Schlafly to life never caricatures the conservative, even as her regressive attitudes echo the current US leader's conjuring of a return to a time that never was. And, as we head into an election of our own with the country's biggest political parties led by women, the series illustrates how ideology can be prioritised over gender, especially with an eager audience lapping it up.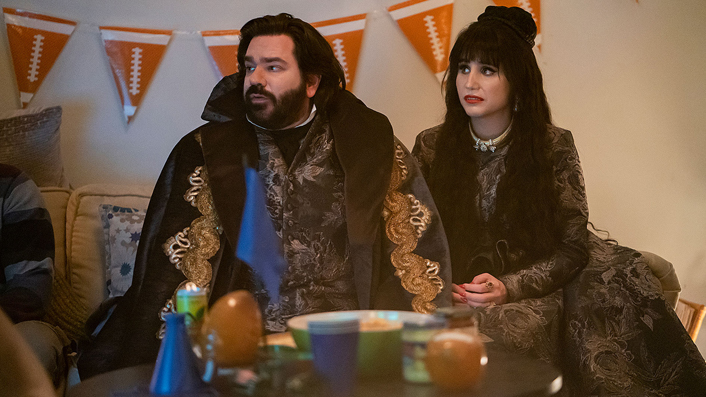 WATCH IT ON NEON AND SKY
Since the frustration of living with flatmates/roommates is as universal a principle as comedy, it came as little surprise to see local feature What We Do in the Shadows translate so well to the small screen and transplant itself to North America. Why set the show about vampires there? As Dominic Corry heard from a deadpan Jemaine Clement at the premiere of the first season: "Because the people who are paying us to make it are from America. So we thought, wow, that would be a good place." The new cast of vamps—Kayvan Novak, Natasia Demetriou, Mark Proksch and the supernaturally funny Matt Berry—clicked so well as a quartet right out of the gate, and continued to get better and better in the show's second season.
What We Do in the Shadows has been nominated for Outstanding Comedy Series at the Emmys, as well as securing three separate writing nominations. It goes to show that Clement may have been on to something at that season one premiere when he was quizzed about how the move the US impacted the storytelling: "You just have to explain things a lot more".
The second season of What We Do in the Shadows could not have arrived at a better time. Aotearoa was in lockdown, and there were few better distractions from Covid-19 than watching ancient vampires navigate their way through the complex reality of Super Bowl parties, chain emails, Come on Eileen and vampire Mark Hamill.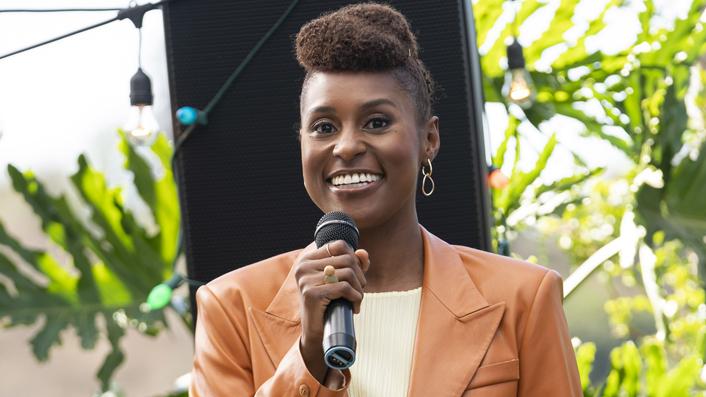 WATCH IT ON NEON AND SKY
For four seasons now, comedy series Insecure has gone from strength to strength, following its creator Issa Rae as she negotiates life in LA and all that comes with it. As Adam Fresco noted in his feature on the show, Insecure "evolved into a sincerely-felt portrait of life, friends and all that seemingly insignificant, everyday stuff adults experience that doesn't usually seem interesting enough to be depicted on a TV show," resonating far beyond North American shores. Surrounded by an ensemble of talented castmates, Issa Rae anchors the show as Issa Dee, a heightened version of herself, mining a multitude of truths about modern life.
This year sees the show receive a deserved increase in recognition at the Emmys, where Insecure is nominated for Outstanding Comedy Series. Previously nominated for Outstanding Lead Actress in a Comedy Series, Issa Rae gets another crack at the award, while her castmate Yvonne Orji has been nominated for Outstanding Supporting Actress.
At a time of heightened racism, Rae's comedic conveying of the contemporary black experience is a welcome addition to the viewing landscape (though The Cosby Show this is not—no bad sweaters, fear of profanity or convicted sex offenders on display here, thankfully).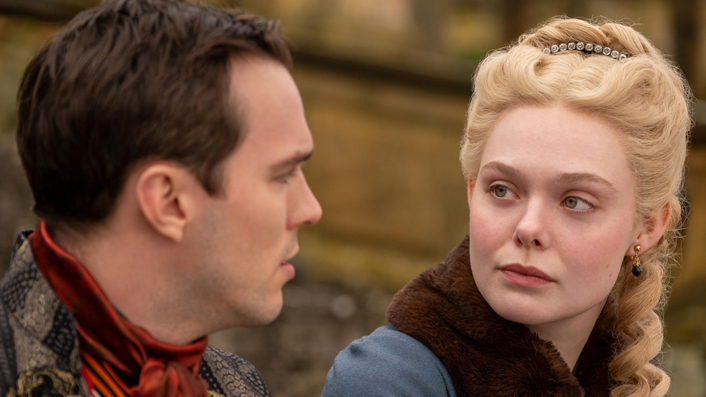 WATCH IT ON NEON AND SKY
The prospect of a historical series penned by the writer of The Favourite was enticing, and The Great lives up to its title ("continues his knack for injecting black humour into a historical setting" our feature story noted upon release). The farcical comedy-drama revels in the chaos of the Russian court, indulges in plenty of lewd language and sumptuous dress-ups, and is blessed with a fantastic cast and razor-sharp script as it entertains, even while taking historical liberties. Elle Fanning and Nicholas Hoult proved astonishingly entertaining as the former enters an arranged marriage with the Hoult's Russian emperor. Fanning's Catherine is an optimistic young woman—well-read, brimming with ideas, hopes and dreams (if not experience), while Hoult's Peter is astonishingly both comically dim and phenomenally dangerous as the Russian court indulges his every boozy, debauched whim.
The Emmys seem to have looked at the power behind the throne in nominations for The Great, focusing their attention on writing and directing. Oscar-nominated screenwriter Tony McNamara, who wrote the lion's share of the series, is nominated for Outstanding writing for a comedy series and director Matt Shakman, builds on his work on It's Always Sunny in Philadelphia, Fargo and Game of Thrones for a first Outstanding directing Emmy nom.
Thankfully, The Great was more entertaining and freer of real-life consequences than present-day heads of state we could name who act impulsively and are surrounded by people either trying to temper their worst impulses or obtain some personal benefit (or both). But if that same leader is allowed to be fascinated by Russia, well, aren't we?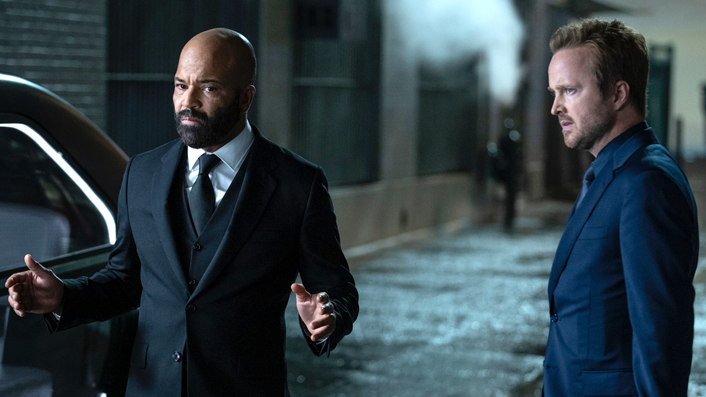 WATCH IT ON NEON AND SKY
Westworld exploded out of the park setting of its first two seasons, in an ambitious globe-trotting season that raised the stakes to a battle for humanity's future. Gone were the show's time leaps, but newly arrived was a new lead in Aaron Paul, a new Bond-like villain played by Vincent Cassel, and plenty of doppelgänger paranoia as we wondered just whose intelligence was sitting behind the eyes of each character. Choreographing the season's action was Delores, and as Tony Stamp put it in the last of his episode recaps for Flicks, "part of the pleasure of Westworld S3 has been knowing that Dolores' plan is already fixed, and seeing it unfold knowing she's one step ahead."
The two actors who imbued their characters with perhaps the most gravitas in season two also found pivotal roles as the scope of the show expanded. One-time saloon madam Maeve found new purpose—and a knack for a samurai sword—with Thandie Newton's performance nominated for Outstanding Supporting Actress Drama Series. Similarly, Jeffrey Wright is up for Outstanding Supporting Actor Drama Series after building on his portrayal of Bernard in previous seasons, trying to make sense of life freed of park constraints and all the time trying to head calamity off at the pass.
Of the many prescient elements of Westworld this season, perhaps none is more alarming than the personal data mining we participate in every day—on social media and elsewhere. We've already seen how it can fracture societies, spread propaganda and skew elections. Westworld suggests there's worse to come, with this data forming the basis of a vast artifical intelligence that models human behaviour and runs society accordingly. If you're reading this via a social media link, well, sorry mate.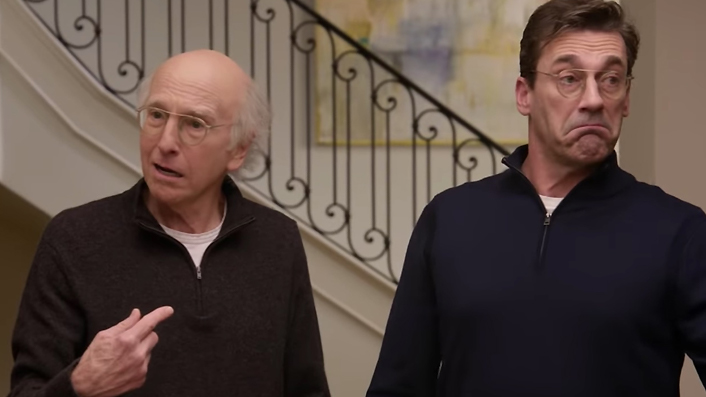 WATCH IT ON NEON AND SKY
At a time when the world arguably didn't need any more old white men complaining about things, Curb Your Enthusiasm returned for a particularly strong season that seemed to know exactly the cultural environment it was airing in. That's not to say Larry David had lost any of his edge, with the main season arcs involving the open of a "spite store" to put a neighbouring coffee spot out of business, and a string of episodes dealing with a #MeToo situation. Yep. Along the way, guests included Laverne Cox, Vince Vaughn, Isla Fisher, Clive Owen, Jane Krakowski, and a great Jon Hamm, pictured above as he spends time with Larry to learn his mannerisms for a movie part.
Curb Your Enthusiasm just has the one major Emmy nomination, but it's the one that describes this season perfectly—Outstanding Comedy series.
Returning to the topic of argumentative, privileged, white men complaining about things, this season of Curb was perhaps one of the least sympathetic to Larry yet, even as it headed in directions that seemed distinctly not 2020-proof. Always the architect of his own misfortune, making matters as bad for himself as possible even when they arise from the simplest of misunderstandings (like his best friend Jeff being easily mistaken for H-rvey W-instein), Curb skirted tricky topics in a way that only a show like this could get away with, always opting to punch its lead character instead of punching down. The inspired gag about wearing a MAGA hat so friends won't hang out with you absolutely rates a mention, even if it's on the gentler side of contemporary comedy here.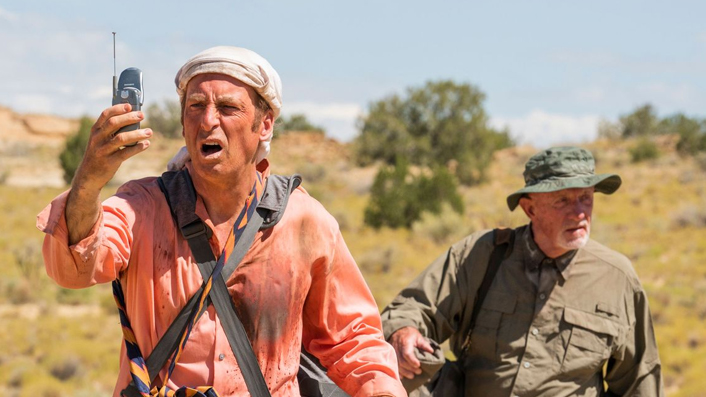 WATCH IT ON NEON
I'm just going to say it—Better Call Saul has surpassed Breaking Bad. Despite Vince Gilligan's spinoff show being a prequel, and increasingly populated with its characters, Better Call Saul manages to escalate the tension season after season, even as we know that Jimmy McGill is going to make it (to the events of Breaking Bad, anyway, if not all the way through the present day framing narrative). The most recent season—Better Call Saul's second-to-last—was full of jeopardy, tension and comedy that proved delicious to digest week to week, as McGill's transformation into Saul Goodman (and the jettisoning of his ethics) neared the finish line. As McGill increasingly found himself drawn into the lucrative world of drug cartels, he became entangled with one of Vince Gilligan's most terrifying villains yet in the form of Lalo Salamanca, leaving anticipation sky-high for its final season.
Better Call Saul has frequently been nominated at the Emmys across its first four seasons, but never made it home with any significant silverware. This deserves to change this year, with the show nominated for Outstanding Drama Series (which it most definitely is), as well as writing nods. Something feels criminal about Bob Odenkirk and Rhea Seehorn being overlooked this year, though. Their portrayals of McGill and his increasingly ethically compromised partner Kim have gotten richer from season to season, in what are some of the best screen performances this side of the Y2K bug. Presumably they'll be cheering on fellow cast mate Giancarlo Esposito, nominated for Outstanding Supporting Actor for his work as Gus Fring.
Shonky lawyers and the drug trade have existed for as long as people have placed their hands on the Bible and falsely sworn honesty, and for longer than that, even. What makes this thrilling character study so vital in 2020 is a simple proposition—it might just be the best damn show on TV this year, period.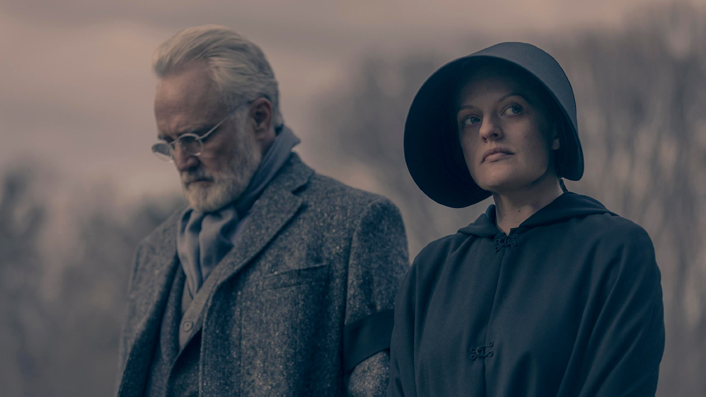 WATCH IT ON NEON
Probably the grimmest show of recent years, The Handmaid's Tale has depicted the misogynist theocracy of Margaret Atwood's novel for three seasons now, the most recent of which saw the show move beyond its source material. Yes, the near-future former USA depicted is still one ruled by religious fanatics who imposed a hierarchical society and the effective ownership of women as a response to collapsing fertility rates, but last year's season three saw some degree of respite from the show's onslaught of women tortured onscreen. Series lead Elisabeth Moss June changed tack from attempts to escape the near-future hellhole of Gilead to more revolutionary ideals, and the series feels well-placed to continue expanding its scope in next year's fourth season.
The Handmaid's Tale had a strong first year at the Emmys, winning a number of awards in 2017, but was largely unable to repeat its success in 2018. One exception to this is previous Emmy winner Samira Wiley, nominated again this year for her role as Moira Strand. She's joined in the acting noms by Bradley Whitford, who's brought a similar type of wit to the show he displayed in previous pics like Get Out. The show's also up for Outstanding Drama Series, but I invite you to reflect on my thoughts about Better Call Saul above to figure out how I feel about this.
Something that happened this year—protestors in Washington DC were teargassed so an immoral leader could have a photo op with a Bible. Something that could happen in future years—the seat of American power looking more like the Christian/Nazi aesthetic seen in The Handmaid's Tale. With women's rights over their own bodies under assault and a battle over Roe v Wade looming, the upcoming election could accelerate the country's slide towards what's depicted in the show. Oh, that's bumming you out? Have you seen The Handmaid's Tale?
Other key nominations
Mark Ruffalo is nominated for Outstanding Lead Actor, TV Limited Series or TV Movie for his doubly outstanding work in I Know This Much is True.
Last Week Tonight with John Oliver is nominated for Outstanding Variety Talk Series, Outstanding Writing Variety Series and Outstanding Directing Variety Series.
A Black Lady Sketch Show picked up nominations for Outstanding Variety Sketch Series, Outstanding Directing Variety Series, with Angela Bassett's role on the show nominated for Guest Actress in a Drama Series.
Hugh Jackman is nominated for Outstanding Lead Actor TV Limited Series or TV Movie for his excellent turn in Bad Education, also nominated for Outstanding TV Movie.
Zendaya is nominated for Outstanding Lead Actress Drama for Euphoria.
Don Cheadle's leading role in Black Monday sees him nominated for Outstanding Lead Actor Comedy.
Laura Dern and Meryl Streep face off against one another, both nominated for Outstanding Supporting Actress Drama Series for the second season of Big Little Lies.