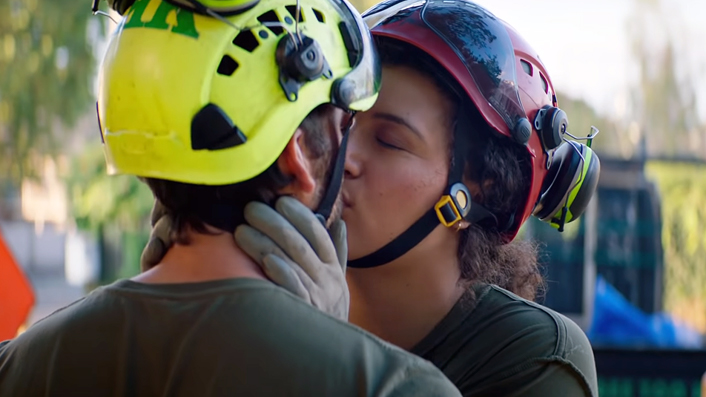 Baby Done showcases both Rose Matafeo's dramatic talent and her comedy chops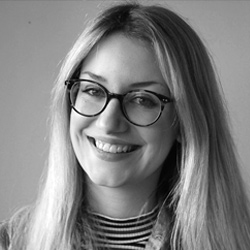 ---
A newly pregnant tree surgeon Zoe (Rose Matafeo) begins freaking out about becoming a mother in Kiwi comedy Baby Done, leading to friction with her long-term partner (Matthew Lewis) who's more embracing of the idea of parenthood. While some of the humour is a bit hit and miss there are moments of genuine poignancy, writes Katie Parker, while Matafeo shines as the lead.
It may not be a horror, but as Halloween rolls around it seems fitting that one of the most talked about local movies should centre on one of life's most terrifying experiences: pregnancy.
Starring New Zealand's own Edinburgh Festival Award-winning comedian Rose Matafeo and Harry Potter's own Matthew Lewis, Baby Done follows young couple Zoe and Tim as they live their dream life together as an arborist duo, chopping branches off trees all across Auckland.
See also:
* All movies now playing in cinemas
* Rose Matafeo: Horndog showcases NZ's greatest living comedian
As the title suggests, however, this dream is rudely interrupted when Zoe gets pregnant. The couple react differently to this news: Tim flies into nesting mode, readying their lives for the new arrival; Zoe meanwhile has a less… traditional response. Horrified by the corny baby-crazed couples she knows, she makes a list of everything she wants to do before her due date—and goes totally off the rails trying to complete it.
Further earning her reputation for being one of New Zealand's most self assured and naturally gifted comics, Matafeo shines as Zoe, stirring up sympathy for her plight even as she grows more and more hostile to poor, confused Tim. Lewis meanwhile provides the perfect foil—a sweet straight man, increasingly befuddled by his partner's bizarre behaviour.
Sign up for Flicks updates
That said, Baby Done is not exactly a laugh a minute and, though the film is produced by comedy king Taika Waititi, writer-director duo (and real life couple) Sophie Henderson and Curtis Vowel seem most at home in the more dramatic moments between Zoe and Tim. These are also some of the film's most successful scenes, with moments of genuine poignancy as the pair repeatedly try and fail to reconcile their very different attitudes to the inescapable future.
By contrast, the humour is a bit more hit and miss. Packed (and I mean packed) with Kiwi celebrity cameos, the charm of these starts to wear off as one wonders whether this time could have been used to create more depth within the main storyline. While Madeleine Sami is great as a grumpy nurse and Nic Sampson delightfully horrific as a "preggophile", these appearances do occasionally border on in-jokey—and I found myself wishing we could perhaps welcome some new talent into the local film industry.
Yet while Baby Done might not be the uproarious laugh fest it's being sold as, the gentle, sensitive and melancholy movie that it is has rewards of its own. A fantastic showcase for Matafeo's dramatic talent as well her famous comedy chops, Henderson and Vowel—until now best known for their 2013 film Fantail —remind us that they are also ones to watch. As one of the only countries in the world to be able to (safely) go to the cinema, this sweet and surprisingly moving take on first time parenthood provides a lovely reason to do just that.