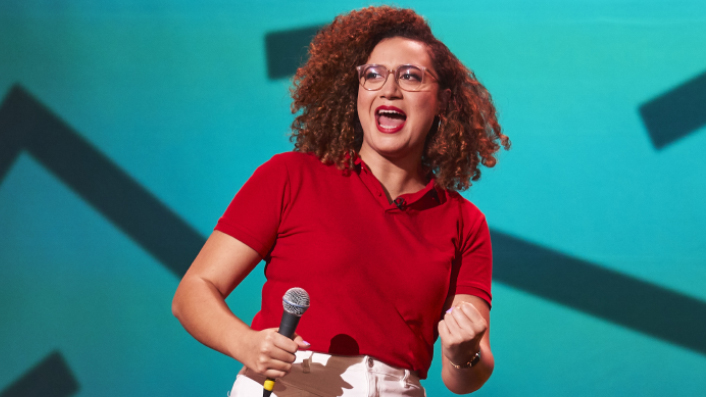 The phenomenal Rose Matafeo: Horndog showcases NZ's greatest living comedian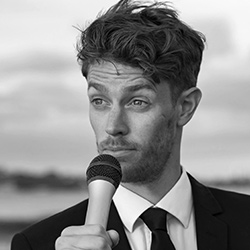 ---

Rose Matafeo is back to remind us how much her live comedy rules with Rose Matafeo: Horndog, streaming on Neon so you can see the award-winning show from the comfort of wherever you damn well please. Tim Batt is here to rave about it, and rave he does.
The biggest paradox in stand up comedy—the further a comic plumbs the depths of their individual perspective, the more powerfully it connects with a wide audience. You'd think making jokes about a subject totally unique to the performer would alienate audience members. Instead, the narrower the scope of their observation, the more people are drawn in. What makes Rose Matafeo: Horndog so hilarious and compelling is that she has a sociopathic level of focus about the things that orbit around an incredibly specific subject she stays on for the entire show—herself.
See also:
* New release movies & series on Neon
* Everything coming to Neon this month
This is New Zealand's greatest living comedian performing the show that won her the most prestigious comedy award on Earth (Best Show at the Edinburgh Fringe Festival). So you won't be surprised to learn the special is exceptionally funny and consequently, this review is going to be a little effusive (sorry, not sorry). The unexpected bits are the turns Rose employs to take you through this rollercoaster performance that never dips in energy and concludes with a shockingly uplifting final note.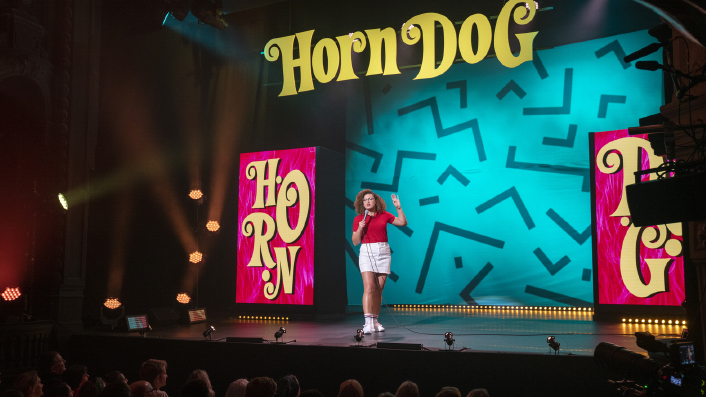 As a performer, Rose possesses a supernatural level of charm that radiates through the screen from the opening moments. Her very first appearance on screen is a goofy reveling at her own publicity photos while The Beths blare in her headphones. When she takes the stage, she immediately apologises while beaming to the front row for wearing a short skirt while on a raised stage before pivoting into a light-hearted reckon about feminism likely just being a symptom of laziness. It immediately sets the tone for a show that tackles the big stuff without making you (read: me) feel like a piece of shit. She explicitly promises that this will not be another comedy show about the patriarchy, ending on an unearned moral.
What the show is about is all the things that have coalesced to create this confident yet clearly anxiety-ridden and acutely self-aware comedian. "A silly show about love" in Rose's words. But it's the kind of love that Immanuel Kant might describe as a 'disease of the soul' and what Rose herself has defined as 'horniness'.
Sign up for Flicks updates
As a child of the nineties, there are gags about wistful memories of the unbridled 2000s internet, the importance of Lizzie McGuire, and department store slogan tees for children. But Rose also labels a globally beloved, progressive icon "a nerd", takes aim at commodified feminism, and tries to put a ceiling on how much self-esteem teenagers should possess. They're all deeply funny takes but they're also positions that fly in the face of what the 'women aren't funny' crowd would expect from a 27-year-old Kiwi/Samoan/British woman.
This is the power of Rose Matafeo—she's developed her material and performance to have a very broad appeal, and she's done it without the Seinfeldian approach of simply grabbing the low-hanging fruit of observational quips about airports. Instead, she's interrogated who she is and the forces that formed her, to a clinical level. That might not sound funny but because Rose has an aversion to pursuing Nanette levels of comedy-abandonment for even one second, it bloody well is funny, for the whole runtime.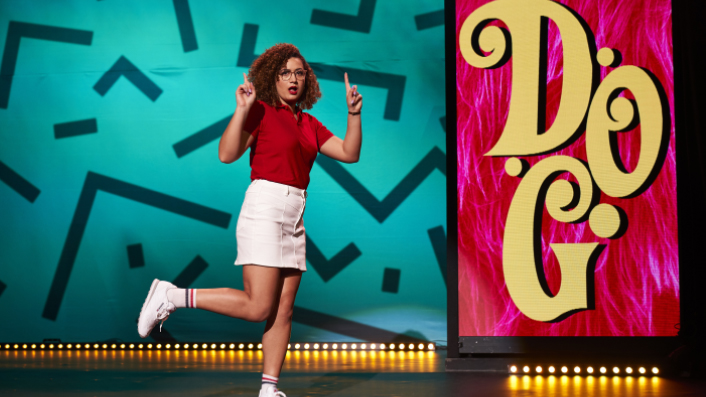 The show's jokes have such a range of targets (all lampooned rather than 'destroyed') that Horndog becomes a special capable of reuniting adult family members around a TV who usually can't enjoy ANYTHING together. If identity politics truly has poisoned any chance of us getting along, Horndog shows that the right person shitting on everyone might be our best bet for reunification.
The writing and her language belie a show penned by a gifted writer and one that's clearly been honed over a long period of repeated performances. The crispness of "going into a restaurant, asking for a table for one and ordering a steak and martini is a suicide note in any language" (last spoiler, I promise!) made me literally slap my own knee in out-loud laughter, while watching alone. This isn't even the first time I've watched Horndog.
Another critical aspect to Rose keeping an audience in the palm of her hand while outlining the details of her own various mental breakdowns is her physical commandment of a stage. From her voice work when performing characters inside of stories, to her breathless pace to her exaggerated facial expression, there just seems to be nowhere she'd rather be than on the stage, and that alone makes the show a joy to watch.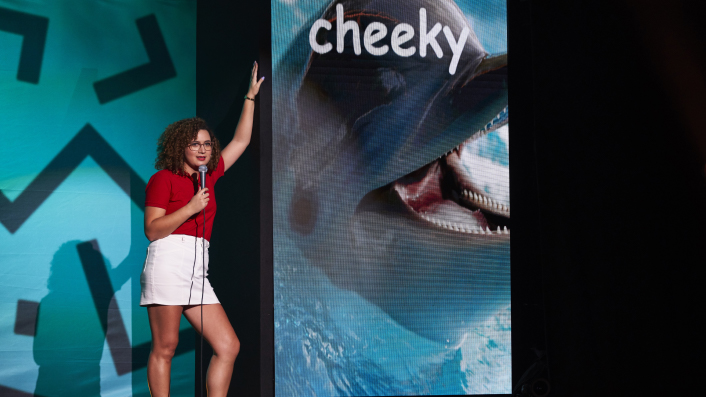 It's this skill level, which Rose has earned after a decade of focused performance on stage and on screen, that allows her to bring her flaws to us with a deep level of vulnerability while remaining hilarious throughout. The rate of jokes per minute in this show is almost up there with a one-liner comedian but instead of wryly delivering some pithy pun made possible because the English language is stupid, Rose is walking you through the particulars of why she hadn't first masturbated until a shockingly advanced age (OK, THAT was the last spoiler). She's also not afraid to bring in multimedia elements to keep the energy at helium-buoyancy through the 57-minute runtime—something comedians twice her age struggle to achieve. Employing slideshows and light prop work has long been a hallmark of Rose's DIY approach to her live shows and translates beautifully on screen.
For we Kiwis, it's sad that Rose moved to England but Aotearoa should be incredibly proud to have her serve as a symbol of our country on the world stage. The joy and skill she brings to a stage isn't just world-class, it's world-topping. And that's a pretty cool thing for a show titled Horndog.