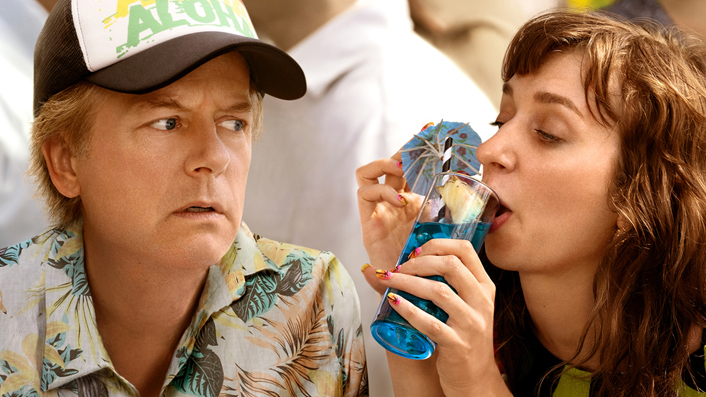 Is Netflix comedy The Wrong Missy good (with a bad enough hangover)?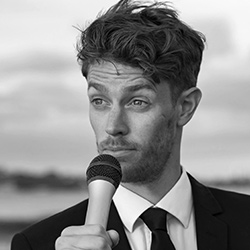 ---
David Spade (Grown Ups 2) leads this Netflix comedy as a meek fellow who meets the girl of his dreams, and then there's a mix-up and stuff because this is a comedy. Is it a watchable one? We got Tim Batt on the case.
Is there a wrong way to watch The Wrong Missy? I ask because I consumed this movie on a phone, in a bed, while trying not to vomit and with a brain entirely depleted of serotonin. I did not hate it. Didn't even puke once!
See also:
* All new movies & series on Netflix
* All new streaming movies & series
* The best comedy movies of last decade
This 90 minute made-for-Netflix romcom from Happy Madison (Adam Sandler's production company) stars the incredible Lauren Lapkus who you may recognise from Crashing and Orange Is The New Black. David Spade (whose recent chat show Lights Out reminded us his 2000s comedy stardom was truly deserved) is technically the movie's lead. Wisely though, he steps into the role of buttoned up straight man to provide the story scaffolding for Lapkus, whose comedic insanity generates every laugh in the movie—and there are many!
The plot is a combination of wafer-thin yet somehow still convoluted, but boils down to an iPhone-caused mix up resulting in the pair being forced together at Spade's island work retreat, when Spade thinks he's going with the woman of his dreams. Familiar Sandler coat-tail riders including Rob Schneider and Nick Swardson pop up to collect a cheque while missing every comedy softball the premise lobs at them but thankfully, we're never more than a few minutes away from another scene with Lapkus.
Sign up for Flicks updates
While sipping the water my body so desperately needed, I felt a sense of relief that even Happy Madison (responsible for less-than-groundbreaking comedies like Deuce Bigalow: Male Gigolo and Paul Blart: Mall Cop) is putting a woman performer in the comedy driver's seat. Lapkus' impressive range allows you to hate her, be entirely grossed out by her, want to high five her and by the movie's end, fall a bit in love with her. It's weird to see such a skilled performance inside of an otherwise pretty forgettable flick.
Guest appearances are a mainstay of the Happy Madison machine and the anachronistic cameos come thick and fast. There's a mid-2000s TV star, an early 90s rapper and a New Kids on The Block song-and-dance number that is decidedly NOT nailed by Jackie Sandler (Adam Sandler's wife and the movie's very underwritten antagonist). These serve as harsh reminders that Spade and his SNL cohorts really are in their mid-fifties (Lapkus is 34) and suggests the intended audience for The Wrong Missy as… 40+ year olds? I guess?
But as long as your hangover is strong enough, you too will be able to overlook the goofy set ups, missed comedy beats and absurdity of three beautiful women pining after someone who looks like David Spade. Instead you'll be able to appreciate the rising comedy star of Lauren Lapkus shown in full force for an hour and a half.
3 stars. No voms.