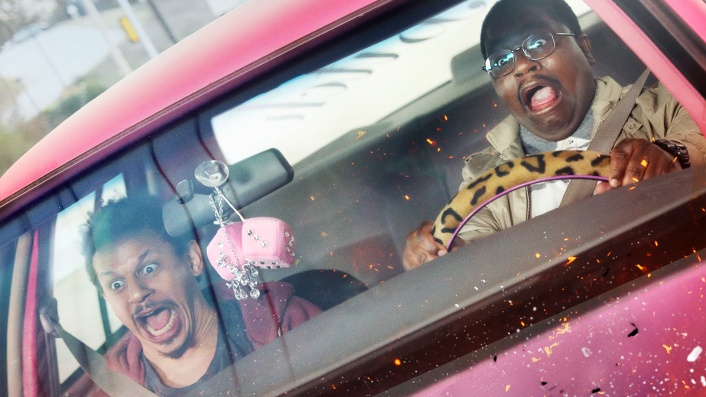 Bad Trip's scripted absurdity and pranks play out on a real-world stage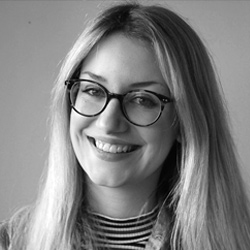 ---
Eric André and Lil Rel Howery are two best friends pranking their way across America in this narrative-driven hidden camera comedy now streaming on Netflix. If the words 'hidden camera' conjure up a certain image for you, forget it immediately, writes Katie Parker. 
One of the enduring mysteries of the comedian Eric André is how, with 5 seasons of his cult comedy series The Eric Andre Show now under his belt, he is still able to successfully prank slews of New Yorkers without being instantly recognised. Do people not see him coming by now? How are there still people who believe him as, say, a paramedic trying to push a man on a gurney down the stairs to a subway station?
But perhaps Andre's reputation has finally begun to precede him—and for his new hidden camera comedy movie Bad Trip the comedian takes leave of the Big Apple for a tour of America's heartland, pranking unsuspecting members of the public as he goes.
See also:
* The top 20 comedy movies on Netflix
* New to NZ streaming services this month
* The best movies of 2020
If the words 'hidden camera' conjure up a certain image for you, forget it immediately. Shot and executed to adhere to as many studio comedy clichés and tropes as possible, Bad Trip's scripted scenes set up characters and a plot—before interspersing them with sequences filmed live in the wild. Inserting the film's action into the real world, in front of real people, who are unaware that what they are seeing is fiction, Bad Trip's absurdity is given a real world stage to play out on—much to the surprise of its unwitting participants.
André stars as Chris, a spectacularly accident-prone Florida man, just doing his darnedest to not get fired from his latest gig working at a smoothie shop. A chance encounter with his high school crush Maria (Michaela Conlin from Bones), however, inspires him to aim a little higher in life. Enlisting his best friend Bud (Get Out's Lil Rel Howery), and stealing Bud's incarcerated sister's car, the pair hit the road on an adventure to New York where Maria runs an art gallery, so that Chris can declare his love.
Unfortunately though, it turns out Bud's sister is not as incarcerated as they thought—and the newly-escaped Trina (Girl Trip's Tiffany Haddish) really likes her car. Soon she is in hot pursuit of Chris and Bud, vowing to murder them (often in front of increasingly frightened bystanders) for taking her beloved whip. What follows are some truly incredible scenes, in which Howery, Haddish and André crash through the world in spectacular fashion, causing confusion and dismay wherever they go.
Sign up for Flicks updates
Obviously indebted to Borat, Bad Trip is a warmer, gentler film than Sacha Baron Cohen's pitiless satire. Rather than manipulated or exploited, for the most part André's unwitting subjects are there to bear comedic witness to the twists and turns of the film's plot, and their reactions to the absurd situations unfolding before them are genuinely fun and funny to watch.
Of course that doesn't mean the stakes are necessarily lower: Howery told the New York Times he considered quitting the film after one of the film's lewder pranks resulted in him and André being chased by a man with a knife. Yet there are still far fewer hard edges than, say, The Eric Andre Show's man-on-the-street segments, and a highly enjoyable behind-scenes credit sequence further alleviates viewer anxieties about the ethics of the pranks undertaken.
Made in collaboration with longtime The Eric Andre Show directors Kitao Sakurai and Andrew Barchilon, and buoyed by brave and deft performances by Howery and Haddish, Bad Trip may not undertake groundbreaking social commentary, but honestly, it really doesn't need to. André is at his sweetly mischievous best and, with the simple storyline leaving room for the stunts (and their clearly finely tuned logistics) to speak for themselves, the shock value is still there—but delivered with heart and humour, Bad Trip becomes less of a statement and, instead, a rare opportunity for pure, uncomplicated amusement.