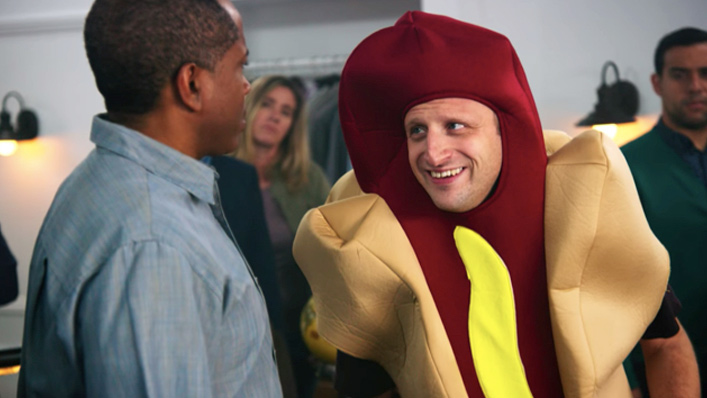 Tim Robinson's inspired Netflix series proves he's the David Lynch of sketch comedy

---
Two seasons of the hilariously excruciatingly cult sensation I Think You Should Leave with Tim Robinson are now streaming on Netflix. Craig Mathieson unpacks a surreal and truly inspired series.

In Tim Robinson's best sketches—and there are no shortage of them thanks to his Netflix series—the American comic reaches a point where reality's hold on the moment stops functioning and the absurd concept overwhelms you. The plastic-faced comic keeps turning the dial so that the excess becomes hilariously excruciating: his ranting spokesmen get louder, his embarrassed dads offer ever more painful excuses, his nut jobs simply get nuttier. There's a point where you think a Tim Robinson sketch has peaked, that it can't find fresh impetus. That's usually when it doubles down and lifts off.
See also:
* The 20 best comedy movies on Netflix
* Best new movies and series coming to Netflix
There are two seasons of I Think You Should Leave with Tim Robinson. The first, which arrived with minimal notice but became a cult sensation, was released in April 2019. The second, which was eagerly awaited and is somehow even better than the first, came out earlier this month.
For the record, Robinson's social media feeds and interviews reveal a deeply normal and polite married father of two, but his sketches make him the comic equivalent of David Lynch—an American original who reanimates a genre with a vision both pure and unhinged. What Lynch did for the neo-noir thriller with Blue Velvet and Wild at Heart, Robinson does for sketch comedy.
Most articles about I Think You Should Leave with Tim Robinson tend to begin with a post-mortem on a favoured sketch, such as the guy in the hot dog suit (Robinson) insisting that he didn't drive a hotdog-themed car into a crowded store. These sketches are schematic, you can chart them, but describing them doesn't do justice to how they evolve and mutate; how they grow more wild and animated.
It's the literal definition of 'unbelievably funny'
That guy in the hot dog suit in 'Brooks Brothers' (season one, episode five)? He tries to lead the store's customers in a hunt for the culprit, even as they bluntly insist it's obviously him. Then he lectures them about their lack of human connection, because they're too busy watching porn on their phones, while he loots the store. It is the literal definition of unbelievably funny.
Robinson's work is so uproarious that it gets the ultimate comedy accolade: some people are simply left cold by it. I Think You Should Leave with Tim Robinson is a lose it laughing out loud or be left unimpressed litmus test. Some viewers simply can't pick up his frequency, which is not new for Robinson. The 40-year-old from Detroit made it to the cast of Saturday Night Live in 2011, a benchmark for American comics, but only stayed on air for a year before he was moved to the writing staff. It's the kind of cruel predicament, a sideways shift seen as a demotion, which would drive one of his characters to new heights of demented indignation.
Robinson is the physical embodiment of his humour
The best sketch comedy shows usually have multiple threats, whether it's the double act of Key & Peele or the unparalleled collective that was Monty Python's Flying Circus. But Robinson—like David Chappelle on Chappelle's Show—is very much the focus. While he readily stands aside for guest stars and specific scenarios, Robinson is the physical embodiment of his humour.
Sign up for Flicks updates
It starts with his face, which contorts into deranged shapes that match his increasingly strident tones; Robinson's mouth can move from zero to aggrieved in less than a second. When he really gets going, as in 'Has This Happened to You?' (season one, episode one), in which Robinson plays a lawyer whose commercial becomes a surrealist diatribe, his face gets so red and misshapen that you fear he might have a heart attack.
The crux of the writing, which plays perfectly to Robinson's performance, are characters who can't comprehend everyday norms or accept a simple error. To the blistering discomfort of those around him, he insists his reality is correct and everyone else is mistaken.
In 'The Gift Receipt' (season one, episode one), a birthday party for Jacob (Burning and Minari star Steven Yeun) comes unstuck when his friend, Lev (Robinson, naturally), worries that his gift choice is a poor one. Increasingly agitated, Lev insists that Jacob prove he liked the present, which leads to a gonzo narrative of paper being eaten, sudden illness and friends choosing sides. Yeun's solemn dignity turns out to be the ideal bittersweet accompaniment for Robinson's lunatic tirade.
Comedy on Netflix rarely gets better than this
In the new episodes, which is one of the bests seasons Netflix has released this year, Robinson and his collaborators go one louder. Sketches have sequels in different episodes that add a new perspective—Robinson insisting that something unbelievable is true, then later showing a corny TV commercial confirming it. Some concepts, such as a reality show called Coffin Flops that only shows bodies collapsing through shoddy coffins at funerals ('Corncob TV', season two, episode one), are beyond rational explanation.
But past that is an even stranger upgrade: pathos. Having tortured his characters and the audience, Robinson offers them a genuine moment of sympathy on the likes of 'Insider Trading' (season two, episode three), in which a court case spotlights an innocent man's terrible hat (a fedora with safari flaps in the back!) as he sits in the courtroom wearing it. After so many tears of laughter, Tim Robinson allows a few tears of sadness. On an already inspired series, it's a genius move.