6 Great Things NZIFF 2015 Gave To Me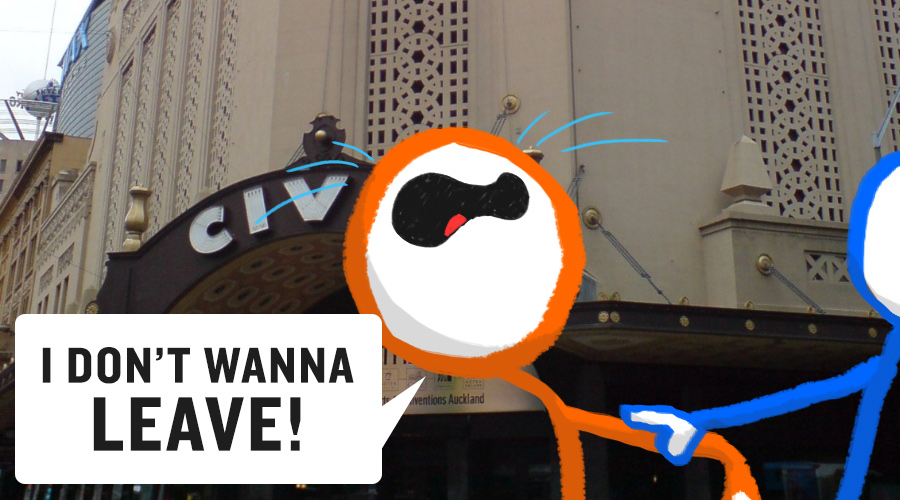 I have spent the last two-and-a-half weeks traveling the world, from the hushed, dark corners of the Ukraine to a wild two hours in Berlin. I have jumped in and out of time, visiting dystopian futures and relishing in treasures of the past. I've even been to parallel universes that contain selkies, manimals, demonic death metal, yakuza vampires, and spiraling boredom. This was all made possible through the power of cinema, and the wonder of the New Zealand International Film Festival.
The Auckland leg of the festival is over, but a part of me doesn't want to leave. I want to keep experiencing world-time-dimension travel forever and ever and ever. However, the other part of me is glad to have some free time to do cook food and do laundry. (Seriously, my place is starting to smell like used socks.)
So I wish to bid farewell to NZIFF by honouring the great things it gave me during this two-and-a-half week journey into cinematic infinity.
---
A great New Zealand film
At previous festivals, I've been let down by New Zealand features I hyped myself up for. I really enjoyed Fantail in 2013, though it wasn't the movie miracle many praised it to be. And 2014 brought us Orphans & Kingdoms, which I couldn't muster a single like for.
But this year, I backed Ever the Land, and got treated to an experience that documented the birth of an important New Zealand monument while providing an organic look at Tūhoe life and philosophy (i.e. the movie was great).
---
A great soundtrack to Spotify
I was ¾ of the way through NZIFF when I hit the wall. The prospect of seeing my 23rd-or-whatever film felt daunting, like preparing to dine on my 23rd chocolate cake in two weeks.
Thank Buddha my 23rd-or-whatever film was Dope. It had the cinematic energy to give my movie-watching pulse the jumpstart it needed. There are many elements that make that film buzz so brightly, one of which is the soundtrack that veers from '90s hip-hop essentials to nerdcore punk. I'm now playing it on loop via Spotify: https://play.spotify.com/album/10hGeHsDksNsVI5pj7pnnO
---

A great short animated film that was better than the feature animated films
When Marnie Was There and Song of the Sea were both total treats for the eyes and the heart. But it was a short that topped them both as the best animated film I saw at the festival.
The Dam Keeper played at the very end of Animation for Kids, and it's easy to see why. It immediately strikes with a chalk-ish, paintbrush look and gives its world lungs through a gorgeous, lively and distinctive score. But at its heart beats a throbbing tale about a child's dark thoughts and the difficulty of maintaining them. It's both heart-breaking and heart-rebuilding, told with beauty and elegance.
You can find the film online, but if you missed it on the big screen, you missed it at its most magical.
---


A great 'Broken Intellectuals' double feature
Documentary Best of Enemies detailed a late-'60s battle of wits that, for one of the highly intelligent individuals, ended on a profound bummer of a note. True-story drama The End of the Tour is about a series of conversations between a Rolling Stone journalist and a labelled "genius" author whose life ended on a profound bummer of a note. Needless to say, there was a lot of thematic crossover.
I never planned this as a double feature, and looking at the plot description, you wouldn't really expect as much thematic crossover between these two films as there ended up being. But that's the beauty of this surprise double feature – it jabbed my mind with a one-two punch that had more of an affect together than they did apart.
---


A great excuse to eat way too many burgers
Burger Fuel, those clever bastards, have a promotion where you buy a burger and win free stuff – mainly sides with your next order. Given I spend most of my time in the city during the festival, I rely on fast food, gravitating to one particular brand. I simply couldn't pass on Burger Fuel's offer.
Last year, it was Mrs. Higgins' cookies. This year, it was one Burnout, two V-Twin vege, one Combustion Tofu, a banana shake, three boxes of motobites and 40 hours of food labour contractions.
---
A great reason not to visit Mexico
Cartel Land was one of the last films I saw at the fest, and it rattled me in a way I haven't felt in a long time. How a documentarian was able to get into this situation is astonishing in itself, following an anti-Cartel vigilante squad on ground zero as it becomes more effective and grows in numbers – a growth that alerts the real monster at bay. And yet, this filmmaker got inside the belly of the beast and clawed their way out alive, making it the most powerful film I've seen this festival.
Rarely have I been more terrified of the truth.