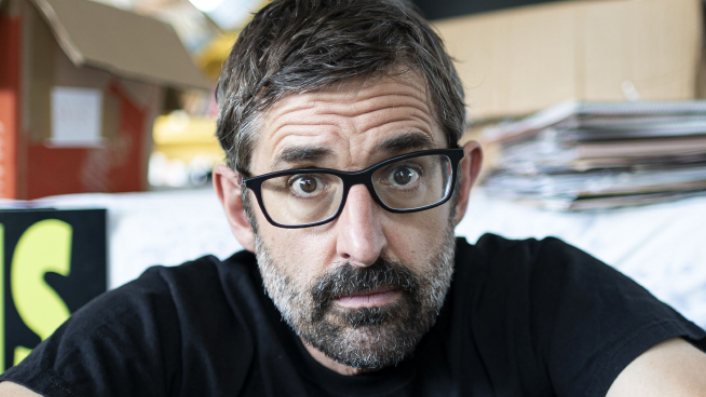 Louis Theroux is as questioning as ever in his retrospective series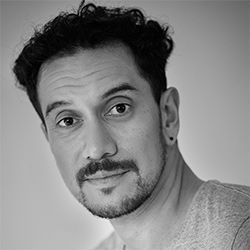 ---

After two and a half decades of making documentaries, Louis Theroux looks back at his career and revisits some of his most memorable interview subjects in new four-part series Louis Theroux: Life on the Edge – watch it now on Neon. Even when making a retrospective, Theroux is as questioning as he was 25 years ago, observes James Nokise.
At age 50, Louis Theroux has now spent over half his life interviewing quirky subjects on camera, and over two decades bringing his quirky documentary series into people's homes. Yet you wouldn't be wrong to feel he still exists on the fringe of pop-culture. A person whose name you would have heard, but whose identity and work would only click into place when you finally see his face.
See also:
* Films and shows now streaming on Neon
* Everything new to coming to Neon
A genuine master of documentary interviewing, Theroux's ability to calmly charm his subjects into conversation—no matter how volatile or surreal the situation—has produced some magical moments in television history. As he notes, after revisiting an interview with "UFO Space Channel" Reverend Robert Short: "There's a pleasure in seeing someone doing something really weird"
This new retrospective, produced by BBC, finds us with Theroux in lockdown circa mid-2020. Donald Trump is still President, lockdowns and masks are happening in parts of the United States, the deep divisions of America's people are front and centre for the world to see. It would (without an apocalypse) be a perfect time for Louis Theroux and his crew to be out and about interviewing segments of society to try and find where and why the pressure points are.
But instead, he's at home, staying safe with his family. Fans need not despair, this isn't quite Keeping Up with the Theroux(s). Instead, in a gentle, revealing, and semi-tragic way, Louis digs up his old files and folders. He shares with us archival footage and shows that these current stories of conflict are not only a fringe area of the United States' troubled history but a tragically deep part of its national identity.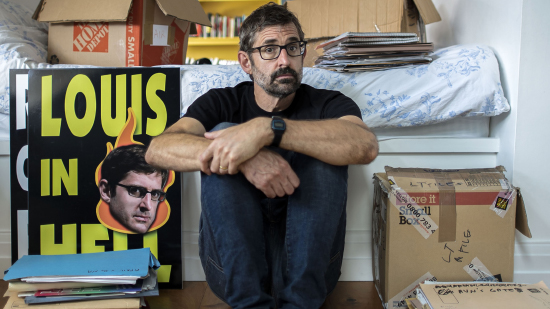 The series is ostensibly a retrospective, but reveals itself to be a generational snapshot of the United States from the end of the 20th Century to the present day. This is brought home by Theroux recontacting some of his most infamous interviews for follow-ups on Skype, providing us updates on Rev Short, the right-wing survivalist Mike Cain, and the white nationalist neo-nazi pop duo Prussian Blue (sisters Lynx and Lamb Gaude).
The changes (or lack thereof) in his subjects also speak to the belief a country can have in its people versus the reality. When Louis tells us from his family home that "Our beliefs are part of the quest that we pass on to those around us, and especially to our children, so it carries with it a weight of responsibility," you almost wonder if he's made this show for his fans, or for his children to watch years from now when they try to explain what exactly their dad did for a job.
"I sort of am a fan of religion, but not of God."
'Belief' is the theme of the first in a series of four specials, and this first episode's content ranges from the spiritual to egotistical, and a healthy amount of the trademark Theroux "weird". The episodes also provide an opportunity for reflection, though don't expect full-blown soliloquies from a man who's always been good at letting his interviewees do the majority of talking. On engaging with America's neo-Nazis for an entire episode, he says: "Quite clearly people who identify as neo-Nazis or white nationalists are right out there on the fringe, and so… I just wanted to find out what they were thinking."
Even as short clips, and with the safety of looking back, when a journalist goes into the heart of neo-Nazi America and then refuses to say whether or not he is Jewish, it's incredibly stressful viewing. The subsequent trip to rallies, and the narratives being put forth, now looks almost pantomime as a warning sign of events occurring 17 years later.
"It's in the nature of the kind of stories that I do about belief that there is a moral direction."
Considering the events of January 6th on Capitol Hill, it's entirely possible Theroux could simply re-make his old episodes, theme by theme, interview by interview, and they'd remain disturbingly potent. While the "Why?" and "How?" of his past shows still feel relevant, the questions of "What has and hasn't changed?" and "What is the harm of letting these people be?" sit under the surface of this short series.
It's not surprising then when Theroux finds himself reminiscing on hypnotist, author, and motivational speaker, Marshall Sylvar. The American's infomercial Passion, Profit, and Power may be familiar to Kiwis over 30, as it was a staple of after-midnight TV in the late '90s. The controversial self-help guru is still going strong, but it's the people who go to him that Theroux focuses on, not so much asking "why do they fall for this?" as "what are they getting from this?"
It's the paradox of these lost Americans—people who simultaneously preach that America is the greatest country in the world while also displaying their own desperation and disconnection. Theroux seems drawn to them in the past, and is drawn to re-visit them now as they search for some sort of fulfillment. While there is a certain shock value in some of more energetic/volatile interviews, what Theroux sees in the fringes of society is "…the undeniable fact many of those most in need of belief, those searching for it most fervently, have a certain vulnerability about them."
When he cuts directly from one of Sylvar's pitches to a collection of Donald Trump speeches, there's almost a sad inevitability to it. Here is the king of televised self-belief, elevated to power over the United States. And in his gentle but firm, Louis Theroux way, he's sort of saying we shouldn't be shocked, it was there for us all to see, if we only knew where to look.
Because even when making a retrospective, Theroux is still asking the same questions he was asking 25 years ago; "What has happened in America?", "What are these people thinking?", "How have we got here?" And maybe most importantly, "Are we really seeing these people?"