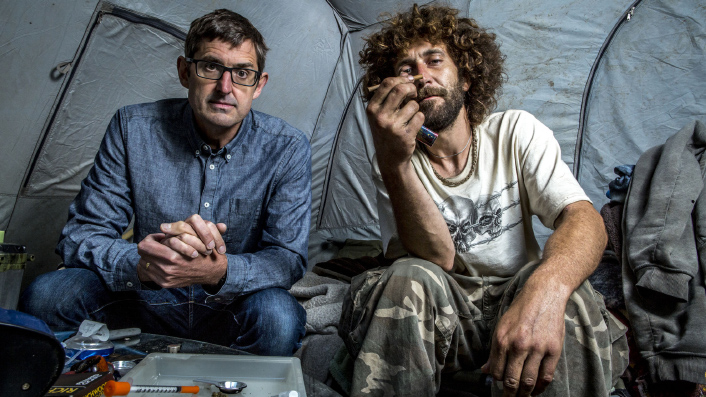 Louis Theroux explores the grimmer aspects of US culture in his unique style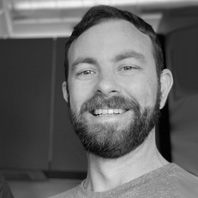 ---
Perhaps better known as a chronicler of absurd, even comical true stories, three Louis Theroux documentaries – new to Neon – explore some of the grimmer aspects of contemporary American culture.
As Daniel Rutledge observes, Theroux's well-honed, gentle but deeply probing style brings an empathetic insight into the people affected by America's pimp industry, shocking murder rate and opioid epidemic.
There's an eternally enduring appeal in Louis Theroux's work. With all our streaming options there is a shitload of wild documentary content around these days, but the British documentarian remains uniquely insightful and entertaining. Over his 25 year career, he's honed his interview style and carefully selected his topics so well that he's basically developed a subgenre that's all his own.
Theroux's documentary trilogy Dark States is a look at three ways the modern systems of the United States are failing its people with unbelievably devastating results. In it, his gentle but deeply probing style brings an empathetic insight into the people affected by America's pimp industry, shocking murder rate and opioid epidemic.
See also:
* All new movies & series on Neon
* Everything new to Neon in August
While there's usually an element of dark comedy in Theroux's work, there's not really present here. It's almost entirely a complete bummer, with little to laugh at in any of the hour-long installments. That's entirely appropriate and gives them an extra potency. Seeing Theroux as a buttoned-up Brit in wild and wacky American surroundings can be hilarious, but his dropping all jokes to ask almost childishly innocent questions in these harrowing situations produces powerful results.
Here's a little bit on each instalment and why Theroux's style is ideal for the topic explored in each.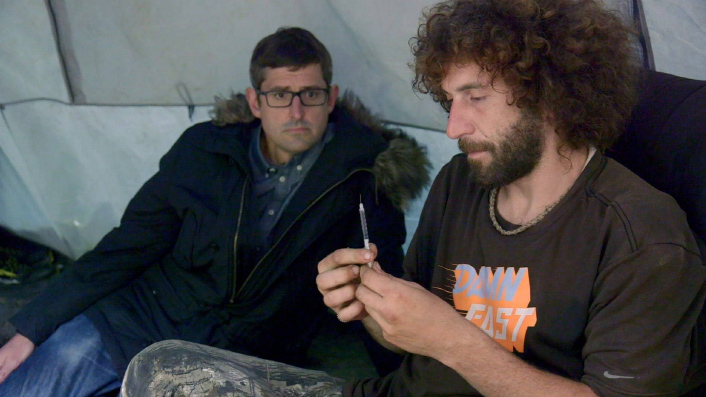 Doctors generally understand science better than your average person and it doesn't take a scientist to understand heroin and fentanyl epidemics have exploded in the US as a direct result of the over-prescribing of legal opiates. If you've taken the Hippocratic Oath—or just have, like, any ethical integrity at all—it's inconceivable you could so directly contribute to this. But countless doctors have, allegedly due to persuasion from pharmaceutical companies.
While this wider issue is touched on in Heroin Town, that's only very brief. The focus is Theroux's trademark humanising observations and interviews with a handful of the humans involved. Be prepared to see some needles in veins and few families torn apart, as you'd no doubt expect.
Sign up for Flicks updates
But also be prepared to meet Nate, a junkie/dealer who lives in a tent and insists he loves his life of getting super high all the time. As he shoots up before vividly describing the feeling being like lighting a stick of dynamite, there's an illicit appeal to feel like he's feeling.
With Theroux tenderly questioning Nate about how he became an addict in precisely the right way, we come to understand the pain that broke him and led him to junk as a means of escape—and any appeal to it evaporates.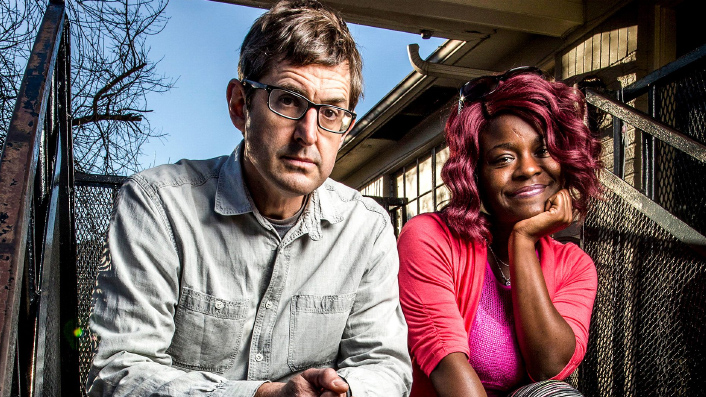 America's pimps are disgusting predators who prey on some of the most vulnerable girls and women in the nation. The country refuses to fix its prostitution laws, which is a major reason why women who go into sex work are generally forced to work for an abusive male boss who can exploit them far worse than those in legal professions do.
But the sex workers have a bizarre attraction to their pimps, despite giving them every single cent they earn and frequently being violently abused by them. Of all the three docos, Theroux appears the most frustrated in Trafficking Sex—perhaps the viewer will be, too. It's pretty tough seeing people in abusive relationships who seem somehow addicted to the abuse.
Here Theroux's style appeals to the humanity of people trapped in inhumane situations. He's so disarming he gets a raw honesty that makes for compelling, if heart-breaking, viewing.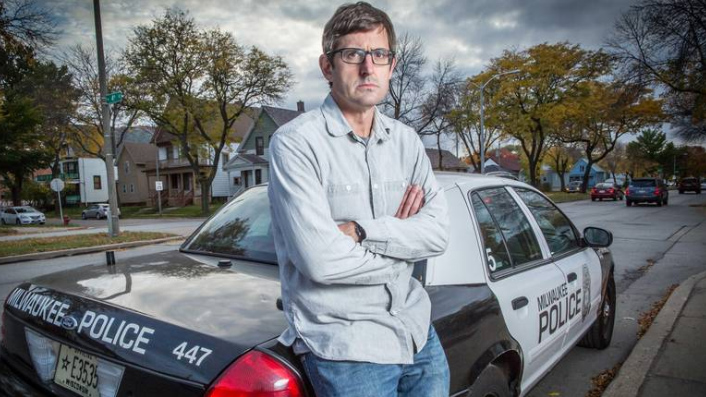 The plague of gun violence in the US hits some places harder than others and Milwaukee has one of the highest rates in the country. This city of a little more than 2 million people is an hour and a half drive north of Chicago and sees around 100 homicides per year, mostly done with firearms. Sadly, 2020 is trending toward being Milwaukee's worst murder year in decades.
In Murder in Milwaukee Theroux relentlessly asks the city's people why the tragedies keep happening in a way that provokes unguarded responses, whether they're from loved ones of the recently deceased, police officers or even corner boys.
"It's a sense of hopelessness," says one interviewee.
"I don't think people have a great deal of respect for life anymore," adds another.
"But I'd also seen people, especially mothers, fighting to break the cycle in a fractured community," summarises Theroux at the documentary's end.
And he had.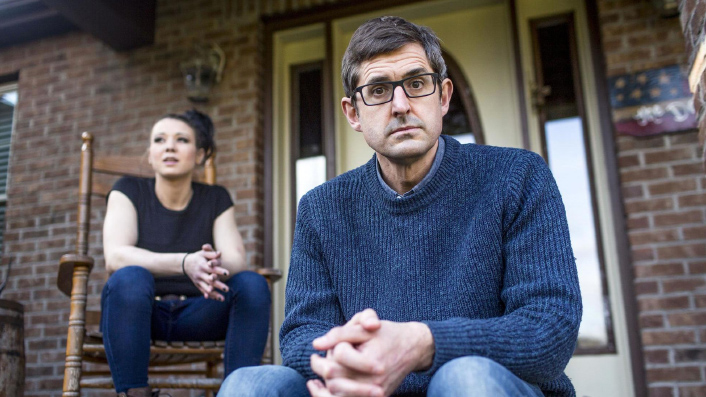 It's certainly a dark, dark time in the history of the US. Depending on what internet circles you spend your time in, you'll be aware of a lot of doomsday talk about how the empire is falling, with a lot of compelling evidence to back that up. It's easy to get cynical or even smug about all that—especially while sitting comfortably over here in New Zealand. Theroux's sharing of the personal dimension to how this potential fall of an empire is affecting many of the millions that make up its 99% is a sobering slap in the face.
But through all of the grimness, hope shines through. In every instalment of Dark States there are members of the community who have broken out of the drug addiction, sex trafficking or violence that had trapped them—and they're trying to get others out, too. Their stories showcase Theroux's expertise in celebrating the power of the human spirit.
Heroin Town, Trafficking Sex, and Murder in Milwaukee are streaming now on Neon.