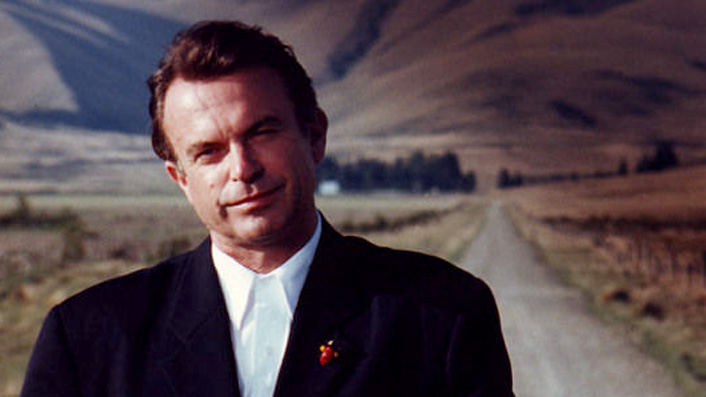 The hidden gems of Sam Neill's career on NZ On Screen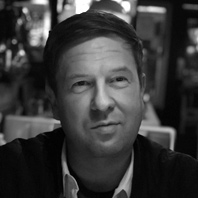 ---
To mark the release of Rams, which stars Sam Neill, Dominic Corry browsed NZ On Screen's extensive local library for hidden gems featuring our screen legend both in front of and behind the camera.
National treasure Sam Neill has long been beloved, but in recent years he has transcended that status to become a global icon of understated benevolence, a beacon of calm decency in a world that often seems to lack those qualities.
These aspects of his character can be regularly enjoyed via his superlatively charming social media presence, and are very much on display in the utterly fantastic new Aussie film Rams, which hits theatres this week.
To mark the release of Rams, we took a gander at Neill's absolutely stacked NZ On Screen collection, which showcases a wide range of his work, most notably some of his first acting performances, as well as his early directorial efforts at the National Film Unit.
Here are some of the highlights: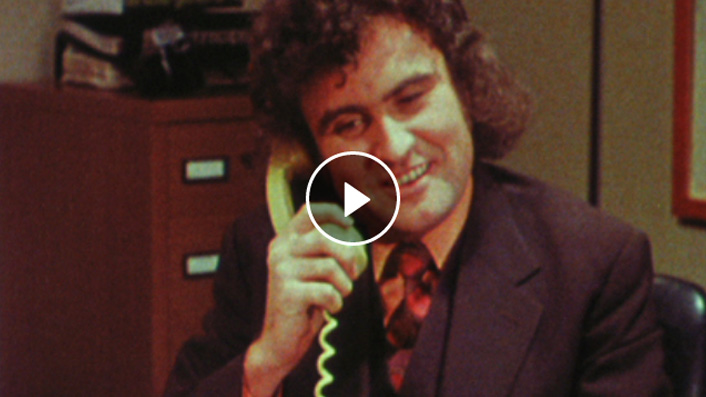 One of Neill's earliest works as a director (and writer and editor), this primer on telephone communication (viewable in its entirety on NZ On Screen) produced by the NFU for the Post Office (who oversaw phones back then) is far more entertaining than a short with that description has any right to be.
It fulfils its stated task of laying out recommended phone etiquette by following the strange story of a man named Trench (John Banas) who is attempting to pitch his sci-fi invention the "telepathograph" to a New Zealand communications company over the phone.
In addition to rare colour footage of early 1970s New Zealand life, there is much droll Kiwi humour on display. You can easily draw a tangible link between some of the characters here and Rhys Darby's timeless performance as Murray in Flight of the Conchords.
Sign up for Flicks updates
Neill directed this promotional short about the then-nascent sport of freestyle skiing. Commissioned by the NZ Tourist and Publicity Department to highlight our nation as a skiing destination, it's a crisply shot film that ably showcases some glorious '70s ski fashions inside some even more glorious ski fields.
Produced for local television in 1975 but deemed too freaky to screen there, this experimental 90-minute drama (all of which is viewable on NZ On Screen) ended up premiering at the 1977 Wellington Film Festival. It follows four urban friends who leave the city to live the rural life, but find their ideals disintegrating following a confrontation with a local copper.
Think of it as The Beach meets Lars Von Trier via Foxton. There is lots of gardening in this movie, featuring more spadework than perhaps any movie apart from Holes.
A bespectacled Neill plays Eric, the quiet one haunted by his time in the Vietnam war. It's not difficult to draw a connection between this role and Neill's breakthrough performance in a film released the same year this first screened:
Considered by many to be New Zealand's first "proper" movie, Roger Donaldon's debut feature remains an urgent and essential watch for all Kiwis. The trailer and an excerpt are viewable on its NZ On Screen page. For the full film, check here for rental streaming options.
An adaptation of CK Stead's novel Smith's Dream, Neill stars as a man who absconds to the Coromandel after his wife leaves him for his best mate, who subsequently demands he join a resistance movement fighting an authoritarian NZ government crackdown backed by American military forces. There's never quite been a local movie like it since, and Neill asserts his leading man chops in capturing a uniquely Kiwi sense of isolated malaise.
In 1995, the British Film Institute commissioned a series of documentaries from multiple countries to mark 100 years of the art form. When Neill was chosen to helm New Zealand's contribution (alongside co-director Judy Rymer), many weren't aware of his considerable experience as a director.
The resulting film (a lengthy excerpt and a trailer can be viewed via NZ On Screen) raised a few eyebrows upon release, but it helped to calcify our country's cinematic legacy at a time when it remained somewhat undefined. Or, at least, under-articulated. The film has subsequently endured as a key text in New Zealand's still-evolving artistic identity and features some illuminating autobiographical content from the Ireland-born Neill.
A smash hit at home and abroad, this hugely entertaining comedy arguably marked the beginning of the phase of Neill's career we are currently enjoying–there has perhaps never been a more lovable curmudgeon in the history of cinema, and it's Neill's weathered charm that makes him so great.
He plays Uncle Hec, reluctant guardian to young Ricky Baker, played in a star-making performance by Julian Dennison. Written and directed by Taika Waititi, the film helped the filmmaker ascend to top-tier director, playing a large role in him securing the job of helming Thor: Ragnarok, a wonderfully New Zealand-ified superhero blockbuster that featured a cameo from Neill.
There's heaps more of classic Neill to discover on the NZ On Screen page, including early (and more recent) TV performances, plenty more shorts he directed or edited, appearances in various documentaries, a career retrospective interview from 2009 and clips and trailers for all his Kiwi features. Nothing from Event Horizon, though.