Cousins is a deeply moving dramatic triumph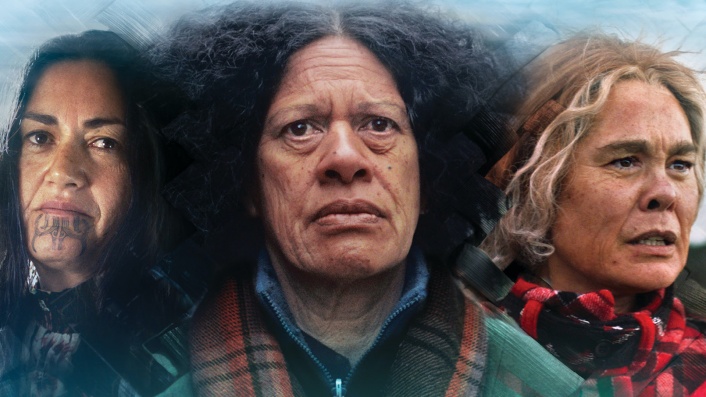 Time-transcending Māori drama Cousins is based on Patricia Grace's novel about three cousins, separated by circumstance, and their long journey to find each other. Ambitiously structured and anchored by strong performances, it's engrossing to watch and impacts deeply at an emotional level, writes Steve Newall.
2017 anthology Waru was a groundbreaking filmmaking achievement, an ambitious collection of stories told by eight wāhine Māori directors. All revolving around the tangi of a boy who died at the hands of his caregiver, they collectively offered a variety of different perspectives on the tragedy and the community it impacted—some more directly related to the core narrative than others, but all emphasising life's interconnectedness and showcasing contemporary Māori creativity.
See also:
* All movies now playing
* All new streaming movies & series
* The best movies of 2020
Two of Waru's contributing filmmakers now tackle this adaptation of Patricia Grace's novel, with Ainsley Gardiner and Briar Grace-Smith sharing directing credit (and Grace-Smith adeptly wearing multiple creative hats as screenwriter and actor). While it doesn't tell as many individual stories as Waru, Cousins shares a similar ambition, a complex tale that spans decades and perspectives as it follows three women through three distinctly different time periods.
The cousins of the title are three young Māori who meet as children and whose relationships with one another are charted by the film across the course of their lives. Mata Pairama, stolen from her whānau, is raised under the religious indoctrination of a pakeha orphanage, an institution whose mission to erase Māoritanga from this young child even extends to renaming her (anglicised as May Palmer).
Permitted time away from the orphanage for a holiday with whānau after her resemblance to the Pairamas is recognised, Mata encounters her cousins Makareta and Missy for the first time. Their journeys through life may not be as deeply traumatic as Mata's but will not be short of their own future challenges—not least of all in their efforts to find Mata and reconnect with her when she disappears after their last meeting as teens (as we see early on, a path that will lead Mata into alienation and profound disconnection).
Sign up for Flicks updates
Cousins tells Mata, Makareta and Missy's story across three time periods—their childhood, teenage years and in their 60s—each with a different trio of actors bringing the characters to life. All are stunning examples of the acting prowess of wāhine Māori, with Ana Scotney, Tanea Heke, and Tioreore Melbourne among the standouts (though it's exceptionally difficult playing favourites with the talent on show). Among the film's many strengths is how this cast fits together so organically across the various time periods. That's not just a reflection on how different actors convincingly play the same character at various stages of life, but how the relationships between the characters over time live and breathe on screen.
That's an essential element, because Cousins is not told in linear fashion and instead the film jumps around chronologically as its story is told. Sometimes we find ourselves spending a good chunk of time in one setting, while elsewhere Cousins may just allow a glimpse at a specific moment before moving back or forward in the timeline. While Cousins may provide plenty to ponder throughout, this structure is less about gradually revealing a mystery, and more about evoking a sense of memory. One detail or recollection may inspire another in a rhythm that becomes engrossing to watch and impacts deeply on an emotional level.
Anchored by superb performances, and with the impacts of systemic dislocation and colonisation on Māori evident throughout, Cousins is a deeply moving dramatic triumph, one that stayed with me for some time after the cinema lights came back on.