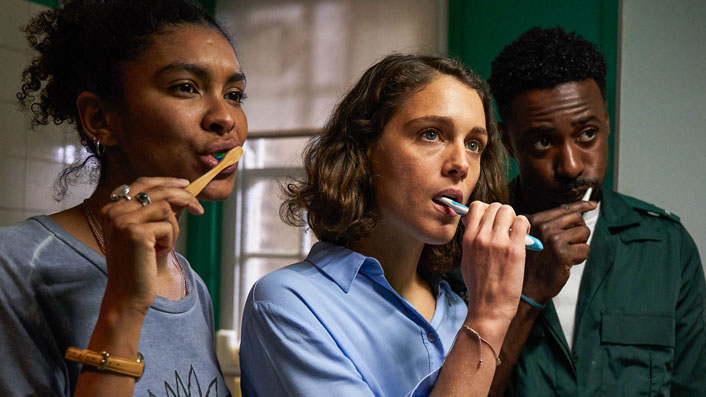 Trigonometry elevates ménage à trois romance above clickbait sensationalism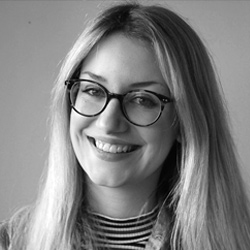 ---

A couple expands their domestic and romantic lives to a third in BBC relationship drama Trigonometry – stream it now on Neon. Unfazed by the sensationalism with which its subject is so often associated, it takes seriously a topic which has long been little more than clickbait, observes Katie Parker.
For years, decades maybe, the practice of having more than two people in a relationship has been the cause of much hand wringing, pearl clutching and, if we're honest, outright mockery. It probably doesn't help every six months or so, a major publication will invariably investigate the wild and woolly world of polyamory, ostensibly with an open mind—only to expose the individuals involved to the derision of an audience who can't resist a hate click.
See also:
* Everything new coming to Neon
* The 20 best movies on Neon
* All new streaming movies & series
Whether it's your cup of tea or not, it seems fair to say that, for the poly community, PR is an issue. Now a new show from the BBC aims to reimagine what we think about when we think about these relationships—and it's a long way from the tacky trend pieces you might be used to.
Trigonometry sets the scene with young London couple Gemma (Thalissa Teixeira) and Kieran (Gary Carr), whose functional and flirty relationship is being dragged down by the same predicament most modern couples face: all they seem to do is work, Kieran as a paramedic and Gemma trying to keep her struggling cafe afloat. And yet, at the end of the day, they barely have enough to scrape between them to stay afloat. And so they decide to take on a tenant, renting their flat's spare bedroom to what in England is apparently known as a 'lodger'.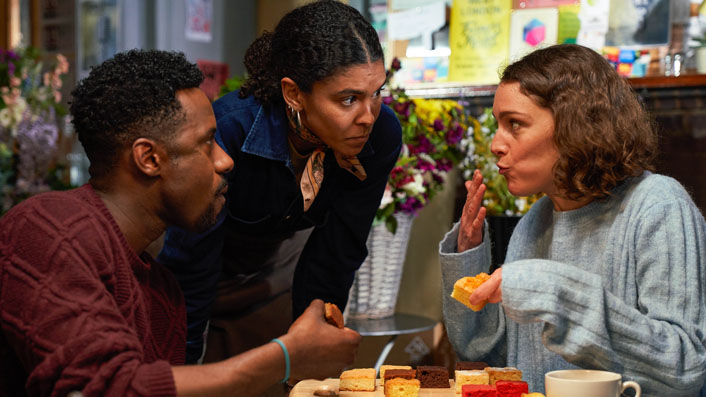 Enter Ray (Ariane Labed), a willowy, wan looking French woman who, at 30, is freshly retired—having spent her life thus far putting everything into her career as an Olympic level synchronised swimmer, only to exit the sport disillusioned and demoralised.
At first it seems as though Ray will cramp Gemma and Kieran's style, her skittish shyness and naïveté no match for their worldly exuberance. But quickly they find that, actually, everything works a bit better with Ray in the mix. Balancing out the fiery haphazard Gemma and anxious, uncertain Kieran and buoyed by their energetic enthusiasm, Ray hits it off with both of them—and the three settle into the kind of domestic bliss we all dream of one day sharing with our landlords.
Gradually though, the trio's undeniable compatibility fosters feelings of another kind and each begins to open up to the idea that, contrary to popular belief, three is not actually a crowd (nudge nudge, wink wink).
From The Dreamers to Y tu mamá también to Vicky Christina Barcelona, the ménage à trois has traditionally been central to some of cinema's sexiest scenarios. But there's a lot more to Trigonometry than mere titillation. Instead, across the show's eight episodes, writers and creators Duncan Macmillan and Effie Woods investigate Gemma, Kieran and Ray's relationship in all its forms: from stolen glances and longing looks to farting in front of the TV, their dynamic is told with sensitivity but also humour—and with an unapologetic acknowledgement that, no matter how unconventional the situation, behind closed doors everyone is pretty much the same.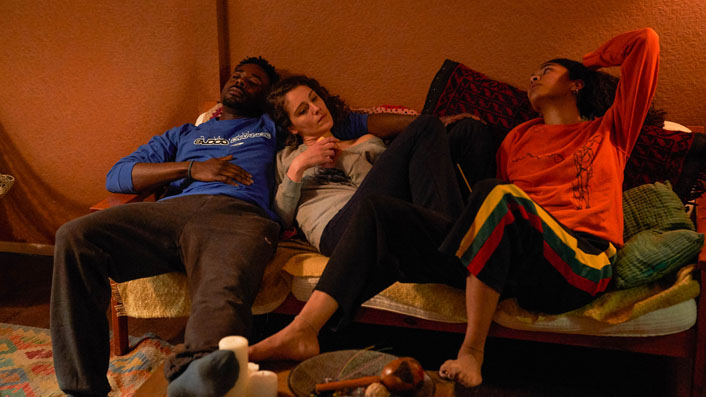 With so much depending on the dynamic between Gemma, Kieran and Ray, it is perhaps in part due to the pitch perfect casting that Trigonometry so successfully convinces us of the authenticity of their newfound intimacy. French arthouse star Labed, known for highbrow credits like Attenberg, The Lobster, The Souvenir (and being married to acclaimed Greek auteur Yorgos Lanthimos) eschews her usual remoteness for vulnerability and frailty. She's the perfect foil for Teixeira and Carr's outgoing affability and the three's intimacy emerges organically, authentically and, most importantly, believably.
Though it would have been so easy to lean into cliché, melodrama and of course, pornographic potential, Trigonometry is unfazed by the sensationalism with which its subject is so often associated—and takes seriously a topic which has long been little more than clickbait.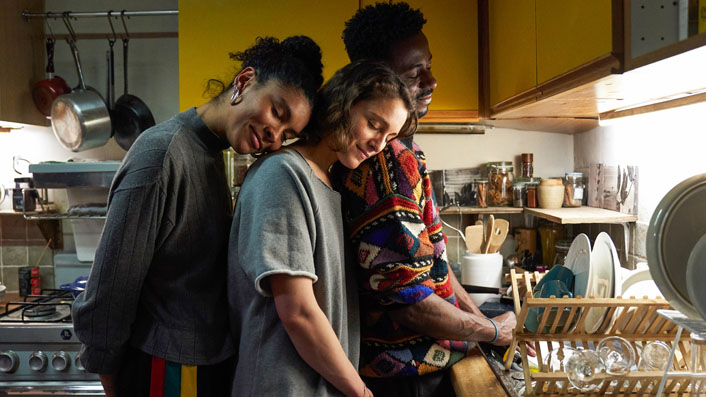 Gemma, Keiran and Ray's relationship budding relationship blossoms quietly, carefully, in a way that is more sensuous than outright erotic. Sex here is not the serious, sinewy, sterile affair that usually graces our screens. Instead, it's clumsy, funny, messy, and sweet, an approach that demystifies without deromanticising and somehow renders the entire situation surprisingly relatable.
Sign up for Flicks updates
Telling their story with gentle curiosity rather than judgment, Trigonometry is not all sunshine and roses—and just as the three become aware of their new dynamic, so too do the other, less open-minded, people in their orbit. Between the three of them as well, jealousy and confusion do emerge and, just like all relationships, they are not always on the same page. But Macmillan and Woods do not imagine these moments as breaking points so much as milestones—and it is refreshing and somehow more real to see a world where relationships can grow through conflict rather than be destroyed by it.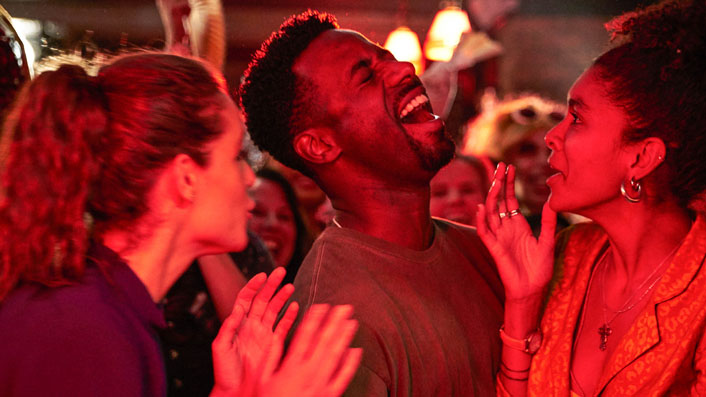 Uninterested in salaciousness or scandal, Trigonometry is a bit of a dark horse in the current crime thriller-obsessed television landscape. Yes, it can be sexy, but more than that, it is unexpectedly compelling—not for its drama but for the way it enthralls us in genuine intimacy and the generosity with which it allows this to play out. Quiet, unassuming, and sweetly sincere, Trigonometry is not so much an interrogation of the polyamorous lifestyle as it is an in depth look at human connection—in all its messy, strange, silly glory.