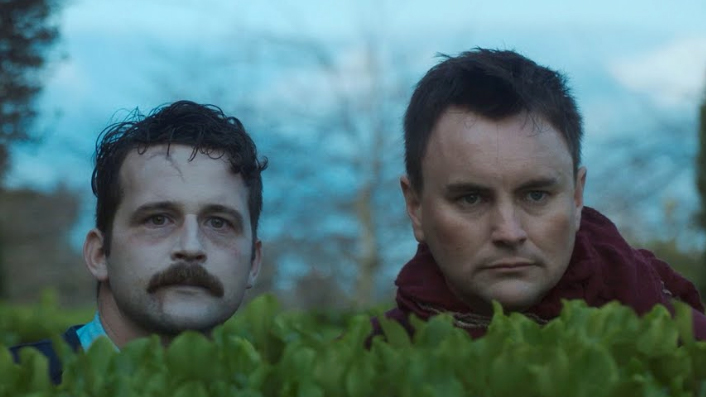 Tom Sainsbury smokes weed, sees ghosts in entertaining comedy Dead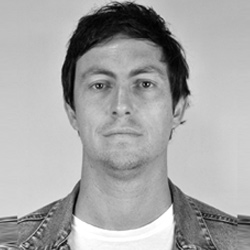 ---
In cinemas now, Hayden J. Weal (Chronesthesia) directs and stars in New Zealand paranormal comedy Dead as a deceased cop reliant on a ghost-talking stoner (Tom Sainsbury) to help catch a serial killer. Steve Newall enjoyed the film's balance of gags and ghouls, finding Dead more assured and entertaining than some other recent local comedy efforts.
To say there's a lot going on in Hayden J Weal's Dead would be something of an understatement. There's a murder mystery to unravel, mismatched buddy-cop comedy, a couple of narrative ticking clocks, pharmaceutically-enhanced contact with the paranormal, a leery old sex pest, Kiwi acting royalty, horrifying ghouls, and a hefty dose of Tom Sainsbury deadpan English-mangling line readings.
As Dane "Marbles" Marbeck, Sainsbury steps into a feature film leading role, as a chap who's stumbled onto a combo of weed and medication that lets him commune with the undead (acting as a "condweet", he declares with a straight face, at one point). Marbles is a nice-enough if socially-isolated character, struggling to move on with his life after the death of his father (Michael Hurst), and barely able to sustain a relationship with his drug dealer, let alone his stern mother (Jennifer Ward-Lealand). Toking up and helping out, Marbles assists fellow people who've lost loved ones, their dearly departed stuck in a supernatural limbo that mirrors the stoned seer's own—including their risk of turning into mindless zombies if they can't find the closure they're looking for.
Opposite Sainsbury is director Hayden J. Weal as Tagg, a cop who despite being recently murdered (and now a ghost in his gruds) is still on the trail of a serial killer who now counts the slain officer among their victims. Of course, the pair (who share writing credits on Dead) find themselves teaming up despite their many differences to sort the situation out, to pleasantly watchable results.
Sign up for Flicks updates
Among the film's key strengths is Sainsbury, whose time on screen wisely leans more to subdued silliness than scene-stealing, as befits his lead role. That's not to say he isn't frequently funny, but his comedic presence is more underplayed than outrageous, which provides consistent chuckles alongside the narrative complexities the film has to navigate. Weal's handle on this, including how he weaves the potentially head-scratching rules of the film's afterlife into proceedings, keeps Dead moving at a pretty jaunty pace without needing to abandon momentum too often for exposition—and sees the film climax in some entertainingly OTT performances.
Never feeling like it has bitten off more than it can chew despite setting itself plenty of challenges, Dead is a satisfying watch that might not trigger a ton of belly laughs, but turns out to be more assured and entertaining than some other recent local comedy efforts.