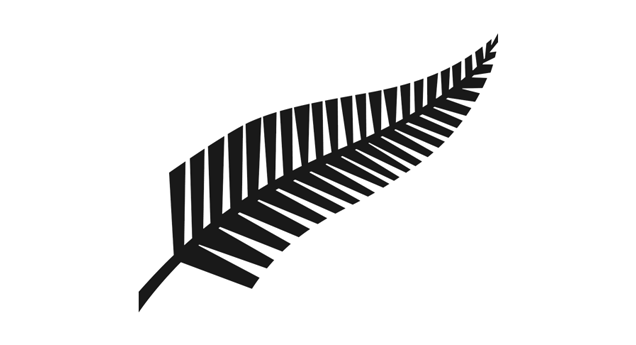 Around this time last year, I wrote about the New Zealand films of 2015 and how bad of a year it was compared to 2014. Very bluntly titled 'How badly did this year suck for New Zealand film?', I went into detail about what made those 12 months lacklustre – from the flaccid types of films being released to the fact that we couldn't even do an official NZ Film Awards.
You might think I had a good point that needed to be made. You might think I'm a wannabe hack who failed film school and is taking it out on those with actual talent.
Saying negative things about our films and our industry is never fun, but I feel it's necessary when appropriate. The same goes for the positive, and it's only fair to follow up that piece with one saying just how super ridiculously great 2016 has been.
Because, my God, it has been super ridiculously great.
Let's start off with Hunt for the Wilderpeople, the #1 Kiwi film of all time at the NZ Box Office and the movie Empire Magazine called the best of 2016. Taika Waititi already had the nation glued to his every move after slamming it with Boy and What We Do in the Shadows. With Wilderpeople, he honed his craft and formed a zen-like balance of comedy, drama, and action that managed to be both artful (but not art-wank) and broad (but not brainless).
This year also saw the long-awaited return of two local filmmaking legends, each releasing a feature on home soil. Director Lee Tamahori and his Once Were Warriors star Temuera Morrison did respectable business with audiences and critics with Mahana, based on the Witi Ihimaera novel Bulibasha. Director Alison Maclean also made her presence known with the world premiere of The Rehearsal at the New Zealand International Film Festival, an adaptation of Eleanor Catton's debut novel that bravely went against the grain of typical Kiwi coming-of-age tales.
Also making a resounding impact at NZIFF and beyond was Poi E: The Story of Our Song. While plenty of music docos struggle to maintain 90 minutes, director Tearepa Kahi's focus on this one song feels jam-packed and is – to arrogantly quote my own review – "an unstoppable joy."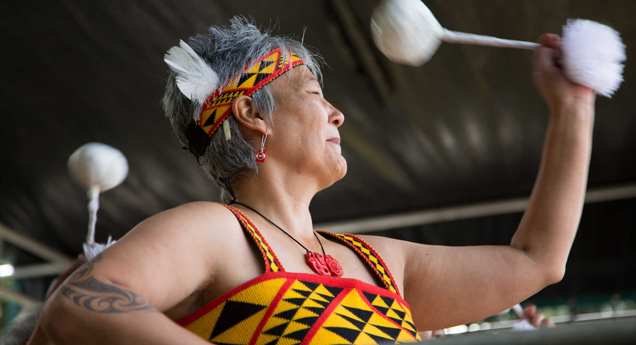 No local doco saw greater success in NZ than Chasing Great, the portrait of All Black deity Richie McCaw. To hell with what we thought of it – Kiwis came out in the masses to make this the highest grossing Kiwi documentary of all time.
But the global market is an entirely different Wicker Man, one that has been set ablaze by investigative documentarians David Farrier and Dylan Reeve. Tickled lit a seemingly innocuous match – videos of online competitive tickling – and followed a wildfire of lawsuits and online abuse, creating one of the most talked-about documentaries to tour the international film festival circuits.
Also up for Oscars consideration (NZ's official submission for 'Best Foreign Language Film') is Pietra Brettkelly's documentary A Flickering Truth, which follows an Afghan filmmaker who returns to Kabul to undertake an immensely important mission: recovering and restoring local film archives. The film played well to NZIFF audiences, as did The 5th Eye – a thoroughly-assembled summary of our contribution to mass surveillance – and Le Ride – which is getting a nationwide release 15 December.
Another NZIFF 2016 banger is the award-winning, film festival-touring, potential Oscar-winner (in some bizarre lubricated alternate universe) The Greasy Strangler. Producer Ant Timpson's fingerprint stains are all over this crazy cinema concoction – a comedy slasher father-and-son romance about the competing love an adult man and his senior have for the same woman. There's also butts, cock, a serial killer covered in grease, and can be found in that aforementioned Empire Best Of list.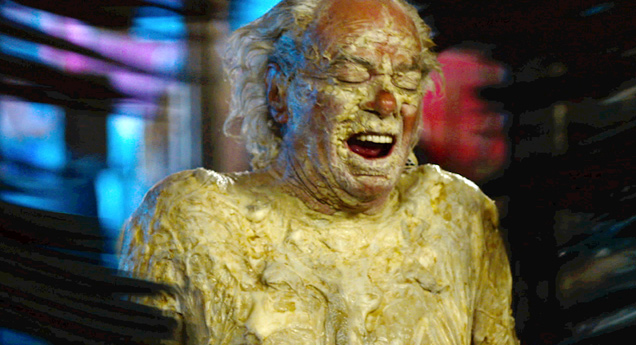 The start of the year saw a 2015 NZIFF title make the national rounds: Crossing Rachmaninoff. Director Rebecca Tansley laid out a sort-of real-life Whiplash that happened in our own backyard (as well as Italy's backyard).
A few months later, cinemas were graced with NZ's second animated feature ever in 25 April. Essentially an ANZAC version of Waltz with Bashir, director Leanne Pooley used the diaries of real people on the front lines to illustrate Gallipoli. It's earnest, confronting, anguishing, angering, Kiwi, genuine, and not enough people saw it.
Fortunately, HEAPS of people saw Samoan rom-com Three Wise Cousins. Writer-director Stallone Vaiaoga-Ioasa's feature debut catered to a largely-ignored NZ demographic, making the most of "Poly Social Media" to get audiences into cinemas. There are so many lessons to be learned from this film's existence, making it the best success story in NZ film this year (IMO).
And that's not to ignore all the other indie Kiwi films that found their way into a cinema, which I will attempt to wedge into this one paragraph. Paolo Rotondo's Orphans and Kingdoms squeezed suspense and drama out of a solid premise and a rich white dude's Waiheke home. The Great Maiden's Blush, from Shane Loader and Andrea Bosshard, gave the spotlight to two of the hardest-working women in the NZ acting scene – Miriama McDowell and Renee Lyons. Hayden J Weal's time-travel-ish romance Chronesthesia was made on a no-budget plan and a rambunctious attitude to create something wholly unique and very Wellington. Pele Nili's Manukau musical Groove City came straight out of the heart and into the ears of South Auckland audiences. Christian Nicolson pushed a metaphorical papier mâché boulder up a hill and succeeded, releasing his self-funded lo-fi sci-fi This Giant Papier Mache Boulder is Actually Really Heavy. You think that'd win the award for Longest NZ Film Title of the Year, but that actually goes to On the Conditions and Possibilities of Hillary Clinton Taking Me As Her Young Lover from director Dean Hewison and co-writer Arthur Meek.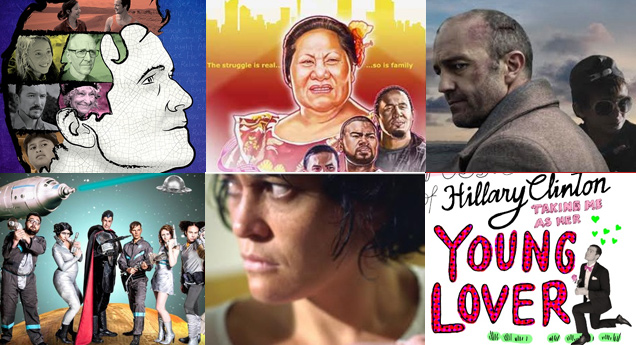 The sheer output of cinema releases that came from NZ filmmakers is, in itself, worthy of accolades. But 2016 ascends to another tier when you break down the diversity in this range of films: an historical Maori period piece, a coming-of-age book adaptation, a rural adventure comedy, a Kiwi-Samoan rom-com, a maternal tragedy, a journalistic cyber-thriller, a feel-good doco on a single song, A GODDAMN ANIMATED FILM, a South Auckland musical, a bonkers lo-fi sci-fi, a biographical portrait of one of our country's greatest sportspeople, and whatever the fuck The Greasy Strangler is.
And there are still films I haven't been able to mention.
Perhaps, given the size of our industry, it's unfair to expect every year to be a cracker. Maybe the New Zealand film scene is destined to have one year on, one year off. But that would suggest 2017 is our destined 'off year', and I'm not willing to submit to that attitude. Especially when we have Pork Pie coming out – which sees writer-director Matt Murphy (son of Geoff) following in his father's tyre tracks with the aid of producer Tom Hern (The Dark Horse); The Inland Road – feature debut from writer-director-actor Jackie van Beek (What We Do in the Shadows); and the mighty comedy chief Josh Thomson's overdue leading man turn in international TV darlings thedownlowconcept's Gary of the Pacific.
We should demand more from our films and our filmmakers because, as this year proves, they can deliver.