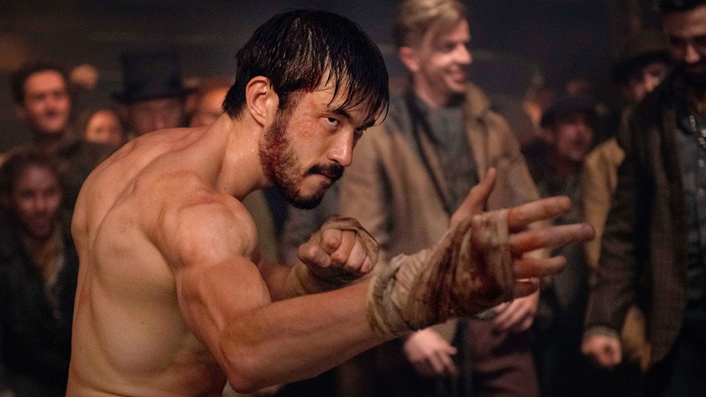 Bruce Lee's dream project, Warrior blends brutal action and dramatic intrigue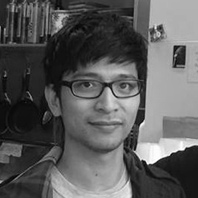 ---

Set in San Francisco's Chinatown during the late 19th century, Warrior adapts a concept by Bruce Lee to tell the tale of a martial arts prodigy who immigrates from China and becomes a hatchet man for one of Chinatown's most powerful tongs. As season two arrives on Neon, Aaron Yap outlines what made him a fan of the show.
I'm gonna miss Warrior. Just as the second season of this martial arts-infused crime drama kicked off, it was announced that Cinemax Originals, the show's HBO-sister producers, will be shuttering as part of WarnerMedia's restructuring to focus all efforts on HBO Max. After these ten episodes are up, there is no third season in sight.
See also:
* New release movies & series on Neon
* Everything coming to Neon this month
It's a real kick in the guts for viewers who stuck through the first season and were rewarded with a show that found its feet very quickly. Charged with plotty political intrigue, compelling, nuanced characters, and best of all, astoundingly brutal, crisply choreographed action, Warrior proved to be frequently exciting, an involving period piece as beautifully mounted as Deadwood or Peaky Blinders.
Perhaps the biggest loss is the opportunity to maximise the full potential of its selling hook; after all, "Based on the writings of Bruce Lee" is not a line one gets to brandish everyday. In fact, the discontinuation of the martial arts icon's dream project feels like a cruelly ironic twist that circles back to the business-risk-averse circumstances that led to its initial rejection.
Sign up for Flicks updates
Almost 50 years ago, Lee's eight-page treatment—discovered in 2001 by his daughter, and tirelessly vigilant estate gatekeeper, Shannon—failed to receive the greenlight by Warner Bros. The casting of an Asian-American in the lead on primetime TV was then a too-wild prospect for the studio, who instead went on to make Kung Fu with the 100%-not-Asian David Carradine as a Shaolin monk, telling a story that strangely, was not all that dissimilar to Lee's Warrior. The long-gestating period reflected Shannon's fastidious protection of her father's legacy (see her recent criticism of Tarantino's portrayal of Lee in Once Upon a Time in…Hollywood); if it couldn't be done right, it wouldn't be done at all .
Only with Justin Lin (Fast & Furious) coming on board as an executive producer did the project gain traction, and sealing the deal was Jonathan Tropper signing on as showrunner. Tropper, an avid veteran martial artist himself, was previously behind the extraordinary pulp-noir series Banshee—arguably the quintessential Cinemax show. His consummate handle on the addictive "Skinemax" cocktail of steamy sex and savage violence fed comfortably into Warrior's lurid gangland-and-politics template. And in a cultural climate that was favourable to Asian representation as the heartening successes of such films as Crazy Rich Asians and The Farewell have demonstrated, Warrior certainly materialised at the right time.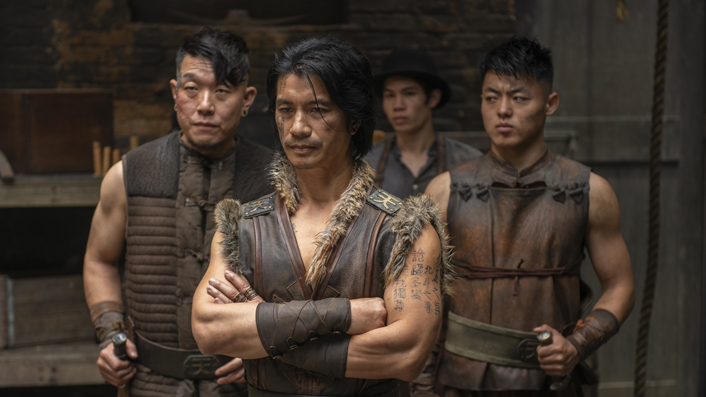 Featuring a top-heavy Asian cast, Warrior represents something of an oasis in the Western world of scripted cable drama. Needless to say, this is not The Green Hornet nor Kung Fu. Easily the best of the recent crop of live-action martial arts shows—Into the Badlands, Wu Assassins, Iron Fist—it has much more in common with the grounded feel of the John Wick, Ip Man and The Raid films.
The show puts a contemporary-feeling spin on a rarely-depicted period of Asian-American history: the Tong Wars of the late 19th century. Through this prism, it illustrates not only the brunt of the rampant racist attitudes and social ills faced by the immigrants of the era (indeed, the stereotype of Chinese immigrants as carriers of disease is, unfortunately, still alarmingly relevant today), but also the extent to which America was built on the backs of Chinese labourers.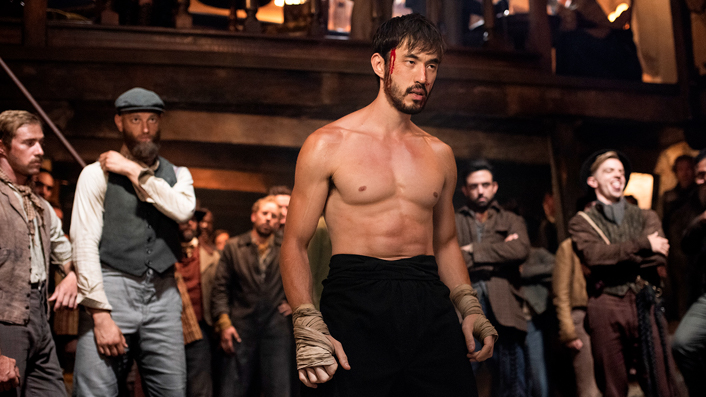 Its protagonist, Ah Sahm (portrayed with flinty, cocky focus by Andrew Koji), a fresh-off-the-boat "onion" turned gang hatchet-man, is no Bruce Lee clone. A few nods to Lee aside—though nothing as bald-faced as Uma Thurman donning a yellow tracksuit à la Kill Bill—Warrior can stand by its robust storytelling, which thematically leans towards the iron-willed, mindful spirit of Lee's philosophies rather than overtly referencing his iconic pop-culture signatures.
The fights? Plentiful, mostly coherently photographed, and some of the bloodiest and most visceral this side of Gangs of London. Banshee fans will know Tropper is skilled at optimising landing blows that hurt, and boy does Warrior come to the party. The variety of kills—limb-snappings, throat-slashings, beheadings—are matched by the variety of styles on display. There's Wing Chun, Jeet Kune Do, Irish bare-knuckle boxing, plus axes, swords and machetes thrown in for good measure. But the action is never mindless, and always there to support and develop character and narrative. It's worth staying for season one's climactic bout between Koji and Joe Taslim (The Raid), one of those tremendously cathartic brawls that pays off viewer anticipation while delivering satisfying character arcs.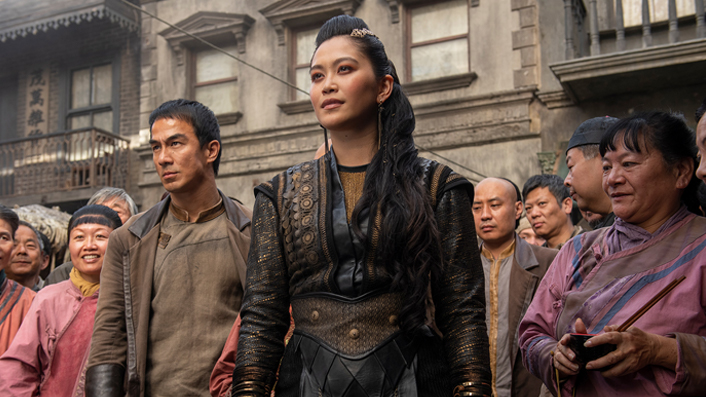 Warrior also mines similarly rich layers elsewhere. The central female characters are all equipped with as much presence and purpose as the men, whether it's the entrepreneurial pluck of Penelope Blake (Joanna Vanderham) driving political stakes, or the ambitious power-play of Mai Ling (Dianne Doan), Ah Sahm's sister who, as a rival gang's second-in-command, is a pivotal figure in orchestrating the erupting turf war.
The production, shot in Cape Town, builds a truly textured and immersive 1800s San Francisco, enveloping the viewer in an atmospheric web of seedy opium dens, luxurious brothels, grimy steelworks, bustling ports and cobblestone-paved alleyways lined with stalls.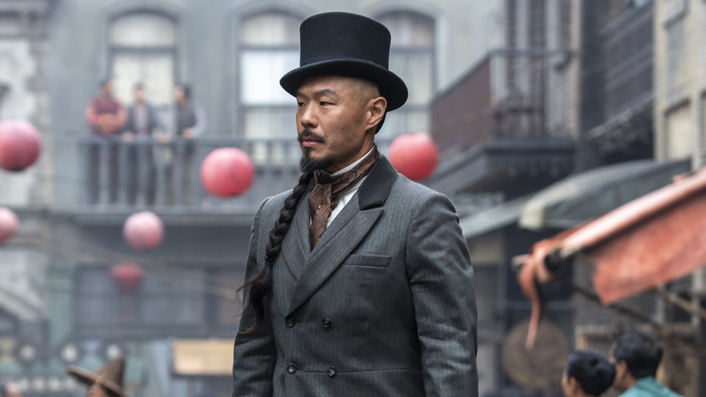 More intricate and impressive still is the show's approach to language and subtitling, which takes a page out of The Hunt for Red October playbook. The Chinese characters speak among themselves in perfect English, but when they speak to the white characters, it's more accented, and when their Cantonese dialogue is overheard from the perspective of white characters, it's subtitled in English. It takes a little adjusting to, but once you're in, it's a clever way of combining the best of both worlds, and highlighting the necessary bilingualism of the immigrant experience.
Ultimately Warrior is a Cinemax show, thriving when it's administering the same pulpy, over-the-top rush you get when you're watching Strike Back or Banshee at their most sublime. Season two is off to a great start in this sense, serving up a new anti-Chinese cell called the "Teddy Boys" for the glorious slaughter—Nazi-punching, anyone? I'd like to think Bruce Lee would be proud, or least, okay with it, and let's hope this enthralling piece of his legacy will live to see another season it definitely deserves.