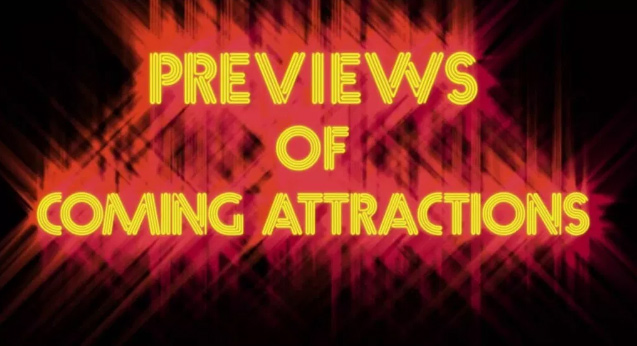 Ok, that title might be a slight oversell – but hey, this is showbiz. Put your feet up and watch some of our fave trailers for local films – some of which offer an international perspective on how to sell a Kiwi movie (or just pretend it isn't from here in the first place).
---
Scarfies
Not shy to show a fresh-faced Taika Waititi saying "Wicked!" and the idea of free rent being plausible, this trailer to director Robert Sarkies' feature debut is a two-minute adrenalin shot of NZ '90s nostalgia. What's more striking about it, however, is how much the Saw franchise seemingly lifts from it. That scummy-as bathroom, the "make a decision" taglines, John Brazier's uncanny resemblance to Tobin Bell… it makes you think this was destined for seven unnecessary sequels. Glad it didn't, though.
---
Footrot Flats: The Dog's Tale
While NZ's first animated feature did have a generic advert, the music video for Dave Dobbyn and Herbs' classic Slice of Heaven did such an astronomically better job selling the movie that it pretty much doubles as the official trailer. Sure, the song itself has almost nothing to do with the actual plot of the film, but splicing a feel-good anthem with clips from the movie (as well as some only-in-the-'80s dancing) generated nothing but pure joy. That's exactly what they were going for.
---
River Queen
There's a bittersweet tinge to why this trailer is so good. The combination of Alun Bollinger's incredible cinematography and the soaring orchestral score depicts an Aotearoa epic for the ages. Unfortunately, an infamous chain of heart-breaking production woes resulted in a muddled film that sadly missed its shot at greatness. This trailer, at least, provides a window for what that greatness could have looked like.
---
"It's alright. He's queer and I'm driving." And with that painfully dated homophobic slur, the very start of Goodbye Pork Pie trailer shows how few shits it has to give about your sensibilities, which is really the perfect sell for Geoff Murphy's 1981 crime comedy. There isn't a noticeable rhythm to how this trailer's edited – some cuts feels sudden and haphazard while the soundtrack jumps from pop to Benny Hill to rock-n-roll to dramatic orchestral. It's organized chaos, much like the film itself, which is why it actually works so well.
---
There's Goodbye Pork Pie-levels of not giving a shit, and then there's the trailer to The Devil Dared Me To. After an opening shot of Aotearoa 300 times bigger than it actually is, the next scene openly mocks our obsession with showing off the New Zealand environment by showing a kid and his bike as the camera Michael Bays its way around him and a clean green backdrop. From here, it's a ferocious flurry of violent stuff, sex stuff, exploding stuff, and [bleep] [bleep] [bleep]ingly [bleep] stuff. And also film festival laurels.
---
Topless Women Talk About Their Lives



"In the tradition of The Godfather… Part III, Room With a View, and Vertigo" proclaims a lols-y trailer voiceover, setting the scene for this depiction of late 90s 20-somethings in Auckland – including a pregnant Danielle Cormack who forgot her abortion; her current squeeze Andrew Binns (who's not in a relationship with her since they've only had sex "what, ten or fifteen times?"); Joel Tobeck in a Soundgarden t-shirt; Ian Hughes as a horribly insufferable filmmaker; and more – including the best Kiwi soundtrack of all time. Fact.
---
Mr. Wrong



Gaylene Preston's first feature was retitled Dark of the Night for its US release, paving the way for its original title to be used on a 1996 Ellen DeGeneres romcom (both a commercial and critical failure). This trailer from the States plays up the genre elements without really explaining the plot and like much genre fare sold into the US, has no dialogue (so as not to give away where it's from, presumably). Don't think there were very many malevolent Jags stateside though…
---
Meet the Feebles
Another US trailer starts off selling this as something akin to Saving Puppet Ryan, before getting into its puppet and furry depravity – so keen to sell the raunch that it includes the same shot of an aroused hippo breaking a bed not once but twice… "The adult puppet movie with something to offend everyone" indeed – stop looking so smug, The Happytime Murders, you're very much the second cab off the rank here…
---
Never Say Die
Probably Aotearoa's first full-tilt action movie, Never Say Die manages to get a ton of its budget into this trailer – once it dispenses with the opening raunchiness. There are heaps of guns and explosions; second-tier US TV star George Wendt (Cheers) is visible for a moment; Bunny Walters' catchy theme zips along in the background; cars do sweet stunts like jumping through boxes, and driving through a KFC; and there are even aerial elements – "It's a bloody chopper!" exclaims Tem. "We're in the big league now," the cop in the back seat rightly observes.
---
Deathgasm
OK, it's not markedly different to how the metal splatter comedy was pitched elsewhere, but there's something pleasing in hearing Deathgasm dubbed into Deutsch. It gives lines like "Das ist pisse" so much more… class, y'know? And satisfies stereotypes of Germans by offering a glimpse at the film's notorious dildos-as-weapons sequence – among some sweet review quotes.
---
This story is part of our month-long celebration of 40 years of NZ film. Follow all our daily coverage here.