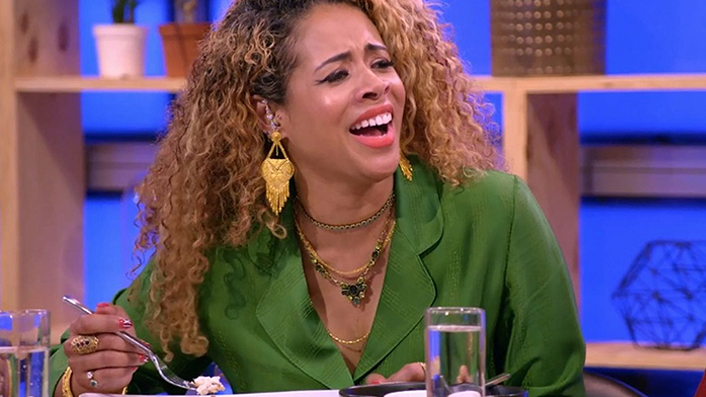 Netflix cooking show showcases a special herbacious ingredient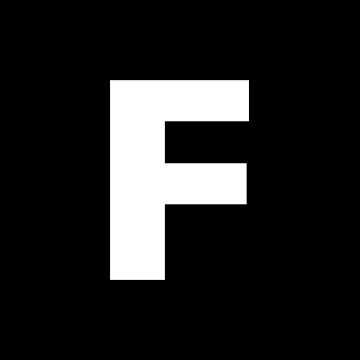 ---
A new competitive cooking show on Netflix—released high-lariously on 4/20—pits chefs against one another to come up with the best weed-infused meals. As Steve Newall notes, Cooked with Cannabis offers a glimpse at culinary culture that might not be too far away in Aotearoa, with our own cannabis referendum on the horizon.
It's time to admit something publicly that I usually keep to myself. In my spare time, I am a recreational consumer of… competitive cooking shows. My favourite strain—an oldie but a goodie—is the ever-dependable Top Chef, currently mid-way through it's 17th(!) season in the US. Others with the word "chef" in the title sparked my interest for a while, shows like MasterChef Australia or Iron Chef, which offered multiple seasons of viewing before I stubbed 'em out for one reason or another.
See also
* All new movies & series on Netflix
* All new streaming movies & series
As with lots of other genres, Netflix made their own forays into cooking shows of this type, and the results were not great. The Final Table was a flashy exercise that ended up showing how hard it is to make a cooking show more than it showed how hard it is to make a particular dish. And the less said of Cooking on High, the better, unless you were the Washington Post reviewer who called it "the worst food show on Netflix".
It should be said that there are plenty of food shows to enjoy on Netflix—Salt, Fat, Acid, Heat or Ugly Delicious, for instance—but there's something about good chefs going head to head and coming up with the goods under pressure that really appeals to me, and it's in this tradition that Netflix's Cooked with Cannabis is made.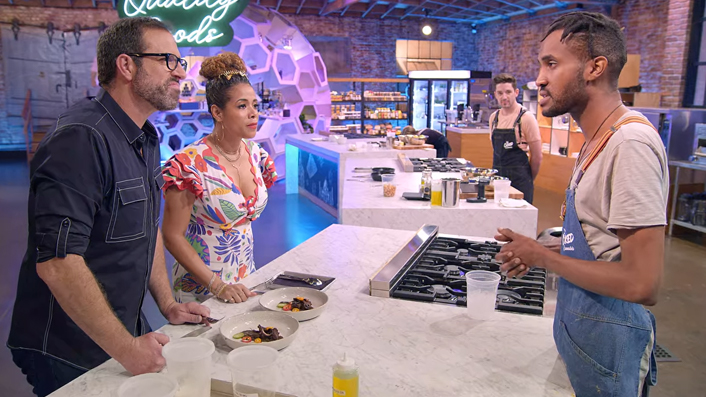 The show is hosted by musician (and trained saucier) Kelis, alongside the incredibly named Leather Storrs (yes, it does seem to be his real name), a chef who's been incorporating weed in his food for a while now. Each episode sees them task three chefs with making a three-course meal each, showcasing their skill in including cannabis's psycho-active component THC and its therapeutic cousin CBD. They do so in all manner of ways, from making their own infusions ahead of time to using off-the-shelf products.
Sign up for Flicks updates
Cooked with Cannabis is eye-opening in showing what's available if you're in the right US states. The chefs cook with off-the-shelf THC-infused olive oil, use THC-infused honey in desserts, and even sprinkle THC powder in cocktails. Then there's the microplaned bud scattered across the top of a meal, pot leaves pressed into tortillas, weed smoke used as a flavour and aromatic device and other applications of the herbacious variety.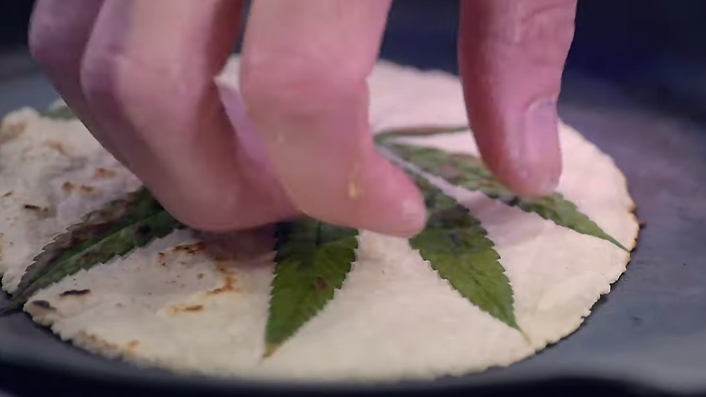 As you may expect from the specific nature of this show, the contestants are a fairly chill bunch. Most work as private chefs who put on dinners in client's homes or operate pop-up experiences. Some of the drama I usually enjoy is missing from the show as chefs don't roll over from episode to episode, but in not going down a weekly elimination route, Cooked with Cannabis is able to showcase a number of different approaches across its six episodes. And with $10,000 up for grabs in each ep, as well as the majority of these chefs doing a great job of promoting their abilities, there's plenty to motivate the participants.
Enjoying the fruits of their labour each episode are the hosts, who form a decent-enough double act in chatting with the chefs and evaluating their work. Yes, they do get stoned, with the three-course meals designed to take one on a journey that differs from chef to chef in how they apply their quantities of THC and CBD. Some come in hot with big whacks of THC, others build it across the meal, and the effects are also seen around a table of guests who enjoy the fruits of their labour.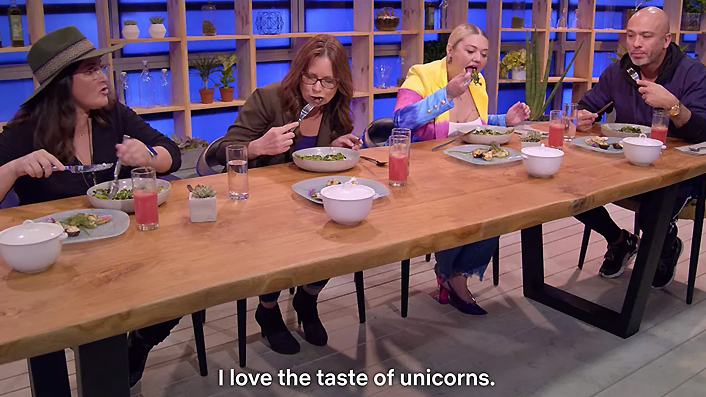 Ricki Lake and 24's Mary Lynn Rajskub are among those getting high on camera in the first episode, while subsequent episodes see folks like El-P of hip hop duo Run the Jewels and the NBA's John Salley and Nate Robinson fall under the spell of delicious dishes, prepared to a different theme each week. Themes include the likes of High Holidays, Comfort Food to High Cuisine, Futurist Food and even an episode devoted to cannabis catering for a wedding.
Grilled Backyard BBQ kicks the season off, with the following dishes among those being served:
Grilled Broccolini Salad
Grilled Broccolini with Queso Fresco
THC olive oil-infused peach and habanero salsa
"Mimosa" flower topper
2mg THC
Grilled figs & Gorgonzola
Grilled figs & Gorgonzola
"Sour diesel lemon kush" infused balsamic reduction
Served with a THC powder infused Elderflower & Watermelon cocktail
3mg THC
Grilled Sweet Corn gazpacho and halibut ceviche
THC Olive Oil infused Sweet corn gazpacho
"Mimosa" smoked halibut ceviche
Grilled vegetables
3mg THC
Mango Pie w/ infused whipped cream
"Mimosa" butter infused vanilla cookie & cracker crust
Grilled mango & passion fruit filling w/ CBD infused mezcal
Kief cream infused whipped cream
2mg THC CBD 5mg
Grilled Mango & Peach crumble
CBD honey infused mango & pech filing
CDB sugar infused berries
THC powder infused whiskey whipped cream
1mg THC, 60mg CBD
And yes, they all look freaking delicious.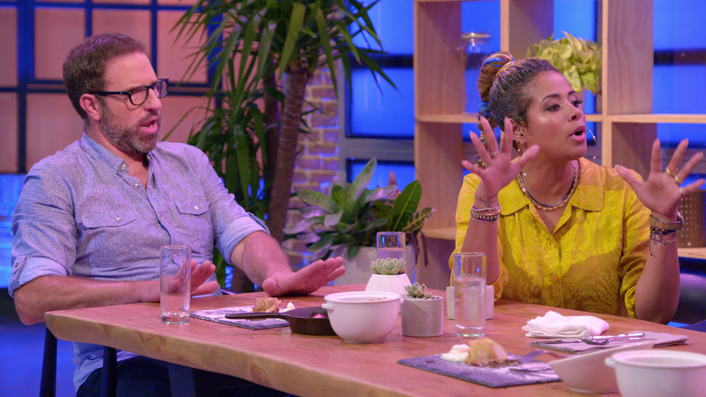 As with many cooking shows, Cooked with Cannabis may take time to truly find its feet. But this first batch of eps, with an economical running time of around half an hour each, constantly proves well-paced and interesting, and definitely whets the appetite for this type of dining experience. It ain't your garden-variety hippie's weed brownie at a music festival, that's for sure (especially by the time you get to the lab-grown tartare with sativa-infused mealworm).
So, binge away, but bear in mind best practice for all culinary television—don't go in with an empty stomach (or any other kind of appetite for that matter).