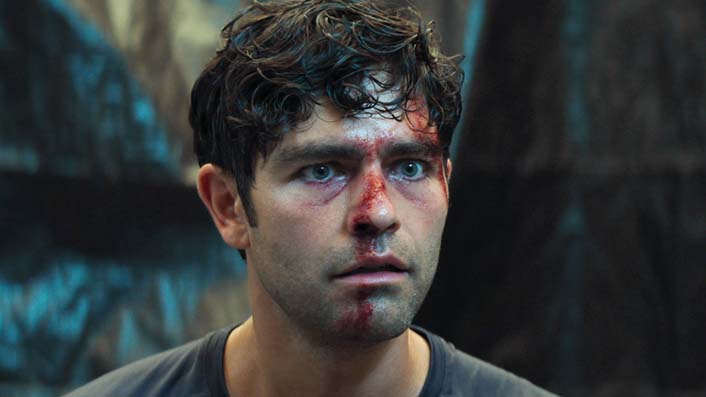 Silly, suspenseful, and not too serious, Netflix thriller Clickbait lives up to its title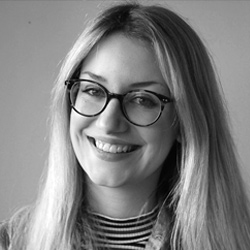 ---
Adrian Grenier stars in Netflix thriller series Clickbait, as a seemingly unassuming family man whose secrets are exposed online – with the threat of fatal consequences. Laden with twists, Katie Parker relished the show's addictively unpredictable and insanely bingeable path to the final, refreshingly unforeseeable, truth.
There's nothing better than a twist, and nothing rarer than a good one. With crime thrillers now perhaps one of the most popular and proliferate television genres, we've seen a lot of them in recent years: From The Undoing to Mare of Easttown to Behind Her Eyes to The Stranger to about 1000 similar titles, the streaming service powers-that-be have figured out that there is nothing more compelling, more addictive, more bingeable, than a show that keeps viewers guessing right to the very end. Whether that end is satisfying, or even logical however, is of course another matter.
See also
* Best new movies & series on Netflix
* The 50 best movies on Netflix
Clickbait, the new Netflix thriller, is yet another addition to this ever growing oeuvre, and an ambitious one—fitting what may be a record number of twists into its 8 episodes, and all the while building up to one very big one indeed.
Following the family and friends of teacher Nick Brewer (former faux-celeb Adrian Grenier), Clickbait's character's lives are turned upside down when he abruptly disappears. It's not long until they see him again, though, broadcast to the world in a hostage style online video in which he appears to be coerced into admitting to some awful crimes. Worst of all the video comes with a threat: if it reaches 5 million views, Nick will be goneburgers. Of course, it quickly goes viral.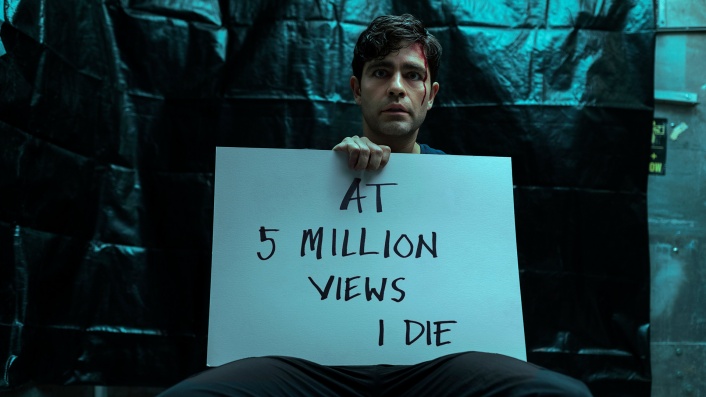 To his sister (Zoe Kazan), wife (Betty Gabriel), and teenage sons, the allegations are astounding—Brewer had, until now, been a seemingly steadfast family man. To the rest of the world, however, he's just another abuser, righteously exposed online for actions so commonplace it's easy to assume his guilt. So was Nick really as he seemed? Or is the court of public opinion correct?
With every episode told from the perspective of a different person in Nick's orbit, Clickbait slyly, suspensefully, reveals its secrets—paving an addictively unpredictable and insanely bingeable path to the final, refreshingly unforeseeable, truth.
Like Black Mirror, Clickbait takes issue with the way technology twists our most human instincts into something monstrous, but, happily, it's not nearly as cynical. Instead, Clickbait has most of its fun playing with our perceptions—is it really always naive to give someone the benefit of the doubt, or is this something we've unwisely internalised?
Thankfully, this is about as deep as it goes. An Aussie-American coproduction (if the anonymous American city in which it's set looks familiar that's because it's actually Melbourne) Clickbait is decidedly not prestige TV, and while we all enjoyed the gritty character study that was Mare of Easttown, it's a relief to sit down with something silly, suspenseful and not too serious.
Sign up for Flicks updates
With a good cast (could it finally be time for the Grenaissance?), some enjoyably clunky dialogue and a LOT of red herrings, Clickbait would be an ideal lockdown watch whether or not it stuck the landing. Honestly, I was absolutely fine to settle for any of the outcomes it appeared to be heading towards.
But, lo and behold, the final twist, is genuinely unexpected. And, love it or hate it, it's even thematically consistent, nicely punctuating the parable that has come before it without pretension or overintellectualising.
Currently sitting near to the top of most country's Netflix streaming charts (bumped in NZ only by the understandably irresistible abomination He's All That) Clickbait is taking the world by storm and it's not hard to see why. A satisfyingly bingeable, crazily convoluted Netflix show that doesn't end in utter disappointment? That's the biggest twist of all.