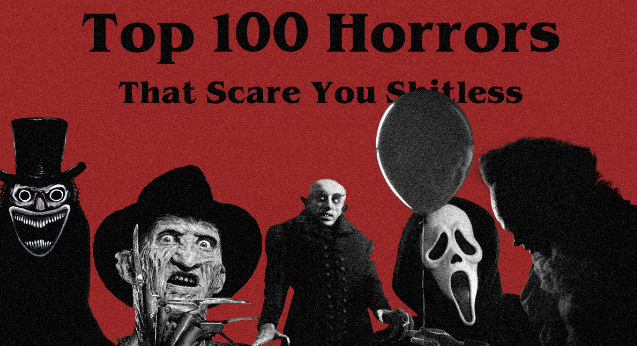 Top 100 Horrors That Scare You Shitless: Part 2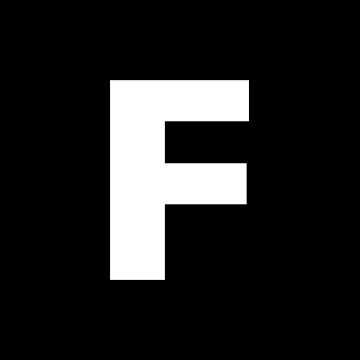 ---
If you've gone through the previous post and thought there were some obvious omissions, well, you may well find them here as we pick up the Top 100 Horrors That Scare You Shitless, as chosen by your fellow citizens, at number 60.
---
Doctor Strange and Sinister director Scott Derrickson's breakout film depicts the trial of a priest that takes place following the death of a young girl during an exorcism.
Read more / find out where to watch it
---
George A. Romero showed us all what to do in a zombie apocalypse here—head to the mall, which is what both human survivors and habitual consumers-turned-zombies do after the undead rise across the United States, with both gaudy 70s interior design and gory special effects rendered in bright hues as opposed to Night of the Living Dead's black-and-white palette.
---
Lars Von Trier dumps Willem Dafoe and Charlotte Gainsbourg in an isolated location, where unsettling events accumulate weight as the couple's relationship frays, before they do basically the worst things people can do to one another and themselves in uncompromisingly-depicted fashion.
Read more / find out where to watch it
---
Jessica Chastain, miscast perhaps for the first time ever as a gothy bass player, and Game of Thrones' Nikolaj Coster-Waldau take in two young girls who've lived in isolation for five years in a forest cabin—followed by the powerful entity that's looked after them all this time, one they creepily, repeatedly, refer to as "Mama".
Read more / find out where to watch it
---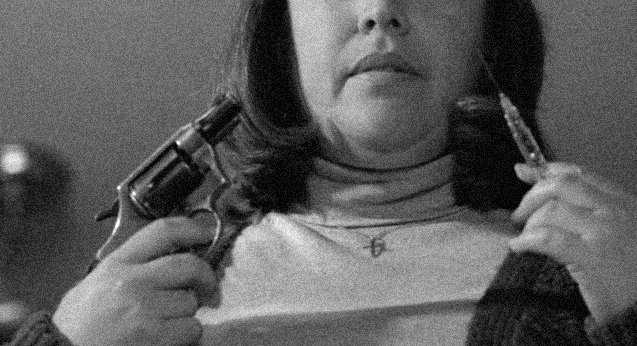 Kathy Bates won an Oscar for her outstanding performance in this Stephen King adaptation, the obsessive fan who first rescues a successful author (James Caan), then revives him before keeping him trapped and tormented. In the words of King, "Misery is a book about cocaine. Annie Wilkes is cocaine. She was my number-one fan."
Read more / find out where to watch it
---
The horrors of Hollywood and the downside of the allure of fame are on full display here, depicted in the way that only David Lynch can, as a young ingénue (Naomi Watts) and an amnesiac try and solve her mysterious appearance while the grotesque machinations of Tinseltown play out, and dream logic confounds linear narrative.
Read more / find out where to watch it
---
Wes Craven followed up The Last House on the Left with a similarly harrowing tale featuring Nevada desert cannibals who torment a vacationing suburban family, starring Michael Berryman, whose face bore the signs of many birth defects and is now synonymous with cover art and posters for the film.
---
This home invasion thriller sees a group of masked intruders violently toy with Liv Tyler and Scott Speedman—famliar stuff, but earning this spot halfway up the list in no small part thanks to director Bryan Bertino's knack for subtlely inserting the villains into the rear of shot, leaving the audience to discover them in their own, sweet, anxiety-inducing time.
Read more / find out where to watch it
---
A disparate group of people hole up in a house, trying to survive a zombie outbreak in this all-time horror classic, one that cemented the conventions of the zombie genre to be followed (and occasionally broken) for half a century, including the social commentary that would be a hallmark of Romero's other undead efforts.
---
About time for another Stephen King adaptation on this list, we suppose, this time following a family moving into their new house that backs on to a Native American burial ground, used as a cemetery for pets and with the ability to raise the dead. A new version is due out April next year.
Read more / find out where to watch it
---
The only thing more terrifying than waking alone in a deserted London is finding out you're not alone after all, in Danny Boyle's modern classic that starts all The Quiet Earth and then skews all Romero (and beat Zack Snyder to the fast zombies punch).
Read more / find out where to watch it
---
The notion that your loved ones have been replaced is deeply unsettling in its own right, but this Donald Sutherland-starring sci-fi dials up the creepiness factor with imagery that's the stuff of nightmares—from the depiction of said replication to the now-iconic bellow/scream used as an alert by the invaders.
Read more / find out where to watch it
---
As Aaron Yap puts it in a piece about the forthcoming remake: "Known for its baroque, Bava-on-roids gaudiness, the original Suspiria always packed a violently feverish wallop." The colour palette, massive sets, score by prog-masters Goblin, witchery, maggots—and the on-screen deaths, of course—combine to stunning effect in Dario Argento's classic for the ages.
Read more / find out where to watch it
---
Atmospheric thriller set in the wilderness of New England focuses more on the unseen things that feed irrational fear, as a devout family is banished by their God-fearing community. In a precursor to the Salem witch trials which would take place some 60 years later, historical drama and horror intermingle to chilling effect.
Read more / find out where to watch it
---
You can nitpick all you like about some of the more glaringly on-the-nose elements (like the much-derided "what is the weakness?" whiteboard), but there's no denying how this post-alien invasion tale kept audiences glued to the edge of their seats—and unusually quiet!—in a rural setting where the slightest noise might mean gruesome death.
Read more / find out where to watch it
---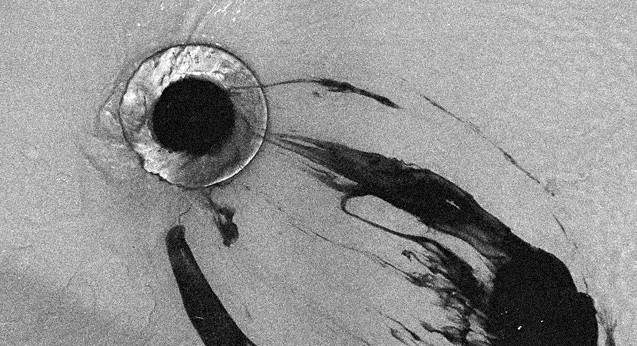 Would there be a slasher genre without Psycho? Not the way we know it today, anyway, thanks to Norman Bates' mummy issues and the most famous onscreen murder of all time. With many things to trouble the US censors, they somehow found time to be upset at a shot of a toilet being flushed with some contents (toilet paper!) visible, the first time this had been seen in the US. Now, that's truly terrifying.
Read more / find out where to watch it
---
The case files of real-life paranormal investigators Ed and Lorraine Warren may not include 100% verifiable proof of the paranormal, but certainly proved lucrative on screen. The Conjuring 2 focuses on the Enfield Poltergeist, introduces a spooky-looking nun, and upon release became the second-highest grossing horror film of all time—part of series that has now sold more than $1.5 billion in tix.
Read more / find out where to watch it
---
Brian De Palma and Stephen King are a marriage made in heaven in this classic tale of puberty, bullying and deadly telekinesis. The first King writing to be brought to the screen, Carrie is also one of the best, and features some of the most iconic horror imagery of all time as it follows a young Sissy Spacek through all kinds of humiliations at the hands of cruel classmates and a fanatically religous mother before all hell breaks loose.
Read more / find out where to watch it
---
A sadistic killer stalks the Australian outback in this horror by Greg McLean, who used the real-life murders of tourists traveling across Australia as inspiration for the murderous Mick Taylor, brought to life in truly vile fashion here as he toys with, and tortures, his human prey.
Read more / find out where to watch it
---
Kids can be a great shortcut to creepy cinema, and in this Guillermo Del Toro-produced pic they do one of the things they do best—see dead people. This ghost story set in a former orphanage (no, really!) sees a former adoptee return as an adult, with her son Simón, who begins drawing pictures of an imaginary friend wearing a sackcloth mask. And then Simón goes missing…
Read more / find out where to watch it

Sign up for Flicks updates
Scary dolls are a horror staple [also see below], and Annabelle is what happens when you make a spin-off to The Conjuring that features home invasion, devil worship and a ridiculously ugly porcelain doll that screams evil from the get-go—making such an impression that this got its own prequel to help make the Conjuring franchise timeline wonderfully convoluted.
Read more / find out where to watch it
---
It's not often that a mega-hit and multiple Oscar winner is the stuff of nightmares, but just as Hannibal Lecter crept into Clarice Starling's head, Anthony Hopkins' portrayal of Lecter found its way into ours as a horrific villain was born (all but erasing Brian Cox's Lecter in Michael Mann's Manhunter), what with his talk of crying lambs and pairing human liver with fava beans and a nice chianti; his iconic prison uniform, face mask and gurney combo; and most of all, seductive charm.
Read more / find out where to watch it
---
The throaty noise! The crawling down the stairs! The slow-building anxiety of what lies around corners! Ju-On: The Grudge rose to the challenge of turning an everyday home into a house of horrors, aided by a nonlinear narrative that added to its nightmarish elements, once again using a creepy child to full effect, and wringing everything it could out of its dread-inducing elements and frequent jump scares.
---
Using genre conventions to skewer and expose the insidious nature of racism, Jordan Peele's feature debut connects in all sorts of ways—it's funny, topical, revealing, squirm-inducing, and eventually outlandish and over-the-top. Drawing on many familiar horror tropes from Hammer to Carpenter, Get Out remains gripping after multiple viewings, and its observations about prejudice and "the sunken place" live long after, not least of all in their contribution to discourse on the subject.
Read more / find out where to watch it
---
Having already observed that scary dolls are a horror staple, when they're infused with the spirit of a slasher film, they are even scarier. Much of what makes Child's Play so effective is that the Good Guys doll that eventually turns murderous is unsettling to the eye in both its retail and really evil guises—not to mention how the voice of Brad Dourif, the serial killer whose soul ends up inside Chucky, is simultaneously utterly inappropriate to be coming out of its mouth, and therefore also perfect.
Read more / find out where to watch it
---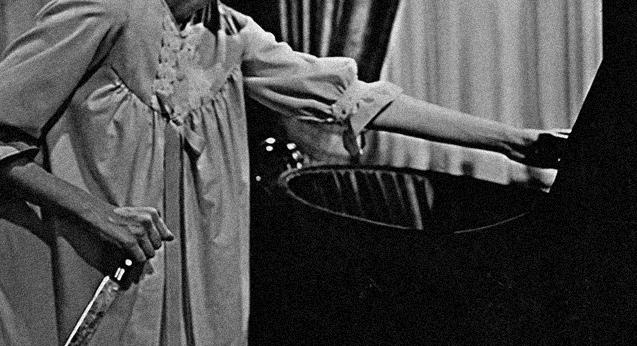 Loneliness, paranoia, pregnancy and the occult collide in this all-time classic that infuses apartment living and impending motherhood with dread at every turn. Mia Farrow is brilliant as a woman whose pregnancy, after moving into a new apartment building, comes with odd visions, strange circumstances, and the odd attention of her new neighbours. Building on Rosemary's unease about those around her (including her husband) who dismiss her increasing concerns, the result is a gripping portrait of a woman who can't trust anyone around her—or what is growing inside her.
Read more / find out where to watch it
---
Spielberg's classic may or may not have actually scared a generation out of the water, but it certainly provided an onscreen representation of what so many of us were afraid of in the ocean for decades to come. That's a testament to the filmmaking powers on display here, given how Bruce the shark wasn't exactly the most realistic contraption and Spielberg was forced to mostly suggest its presence, aided by John Williams' unmistakable score.
Read more / find out where to watch it
---
Jessica Biel stars in this remake of the Tobe Hooper classic, directed by Marcus Nispel (who also had a crack at Friday the 13th, too) who adds a 2000s aesthetic to proceedings. Unrelenting once it gets underway, if anyone needed to be reminded why you shouldn't get mixed up with families of psychopathic killers who collect faces and chainsaws, well, here you have it.
Read more / find out where to watch it
---
The genre "torture porn" may have found its name here, in Eli Roth's follow up to Cabin Fever. Tourists of different stripes come together in Slovakia as backpackers fall victim to businessman paying for the pleasure of gruesomely torturing them, depicted in detail as a couple of college buddies, lured by the prospect of easy women, try to escape from the sickest recesses of human cruelty.
Read more / find out where to watch it
---
True crime writer Ethan Hawke discovers old home movies in his new house, depicting the gruesome demise of different families—each with the same mysterious symbol and masked figure visible in the footage, a character that quickly inspires dread. Boasting found-footage killings and haunted house elements, Sinister relishes terrifying viewers in various, increasingly panic-inducing ways as Hawke goes about uncovering the truth behind the disturbing movies.
Read more / find out where to watch it
---
A young woman seeking revenge for her childhood torture, along with her closest friend, discover terrifying depravity in this controversial psychological horror that flips the usual home invasion script and continues to up the ante in unsettling throughout.
Read more / find out where to watch it
---
Wes Craven's bravura meta-horror not only deconstructed the slasher genre but made it terrifying at the same time, a bloody hard balancing act that showed cynicism about horror tropes and evaporates on the blade of an evilly-wielded knife.
Read more / find out where to watch it
---
Dread-infused horror that, like many of the best, stems from a simple premise—it is following you, it can take many forms, it will keep coming until it kills you—and pairs a breakout performance from Maika Monroe with a growing sense of paranoia and helplessness as you join Monroe in scanning the frame for the most current version of the film's relentless entity.
Read more / find out where to watch it
---
Five kids, a getaway, a cabin, and an audiotape—what could go wrong? In Sam Raimi's hands, bolstered by Bruce Campbell's chin, demonic possession becomes gorefest in this low-budget horror that begets a bunch more in the same bloody vein.
Read more / find out where to watch it
---
One of the most iconic lines in horror movie history, a bunch of different things to trigger the scare-o-meter, a warning about immoral gentrification/colonisation AND the enduring speculation about whether Steven Spielberg actually directed this—there's plenty to enjoy between your fingers while watching this tale of a family whose home is plagued by the supernatural.
Read more / find out where to watch it
---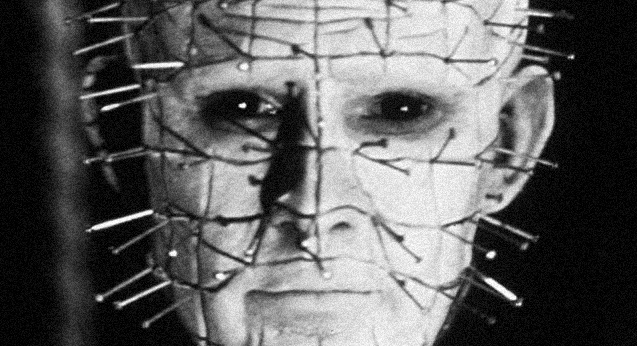 There's something perfectly English about a bare-bones London home being the place in which a Chinese puzzle box opens the door to a dimension populated by mutilated Cenobites that promise experiences far beyond anything Earthly, such as garden-variety S&M—"Explorers in the further regions of experience" says Pinhead, "Demons to some, angels to others", and watchable for all (censorship depending).
Read more / find out where to watch it
---
Tim Curry left big clown shoes to fill, but Bill Skarsgård stepped up to the task in Andy Muschietti's It, offering a different take on Pennywise to scare the shit out of a new generation. Wisely ignoring the most dubious group-of-kids sequence in Stephen King's novel, now we're all waiting to see if they stick the landing in part 2.
Read more / find out where to watch it
---
The title alone grabs hold of your imagination so tight that you might not think the film could live up to it—but add a twisted family and Leatherface's pursuit of victims to the mix (including one of cinema's most gripping chase sequences) and you see just why Tobe Hooper's pic inspired so much attention and so many remakes.
Read more / find out where to watch it
---
After an initially soap-y start, The Descent quickly startles, and then sets about mining some primal fears. First, there's the claustrophobia that comes with caving in confined spaces. Then there's the "what the hell was that?!" moment that takes things up a bunch of terrifying gears all at once, making for an increasingly nerve-wracking struggle for survival that wrings every drop of tension and blood out of its premise.
Read more / find out where to watch it
---
Director Oren Peli's confidence in his alarmingly simple found footage premise—young couple uses camera to record strange events in their home—results in the smallest of noises and movement becoming scary to startling effect. Alert for anything happening in the frame, we're in the palm of Peli's hand as he increases the tension, palpable in both cinemas and living rooms when this (and the later films to follow the template), play.
Read more / find out where to watch it
---
See the final Top 20 Horrors That Scare You Shitless here.