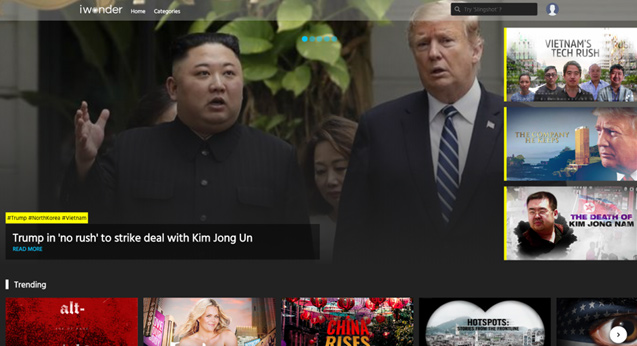 Documentary and current affairs streaming service iWonder has announced the launch of its service in New Zealand. The unique SVOD platform puts a heavy emphasis on curation with a homepage that highlights docos reflecting current events and trending news stories.
There are currently 500 hours of content covering a wide range of topics. This includes political doco Alt Right: Age of Rage, Jim Jarmusch's Cannes Film Festival Golden Eye-nominated Stooges pic Gimme Danger, Oscar winner 20 Feet from Stardom, and Black Code, a look at the global impact the internet has on free speech, privacy and activism.
Subscriptions cost NZ $6.99 per month, or $69.99 for an annual subscription, and new users will receive one month free (sign up here). You can watch on your iOS and Android mobile and tablet via the app, on browsers at http://www.iwonder.com, and on big screens via Chromecast or Airplay. The platform previously launched to 15 million users via the iflix platform in Southeast Asia, Africa and the Middle East.
iWonder co-founder and CEO, James Bridges said, "High-quality, engaging stories that give much deeper context into what is happening in the world today will be the bedrock of our service. For example, when students around the world continue to take to the streets to demand a response from world leaders on climate change later this month, iWonder will respond by featuring the news on our home page and pairing content which delves deeper into surrounding issues on climate, politics and activism. iWonder  will always focus first on great storytelling that helps us understand more about our world and ourselves. We are passionate about connecting the best of the 30,000 or so documentaries produced each year, so many of which fly under the radar without Hollywood marketing budgets, to audiences that are increasingly migrating to streaming."
Sign up for Flicks updates