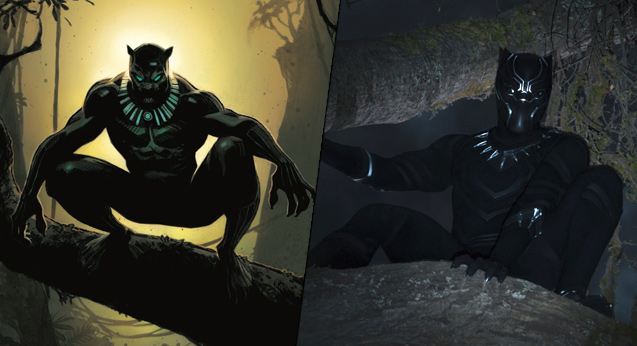 A look at the Oscar nominations Black Panther deserves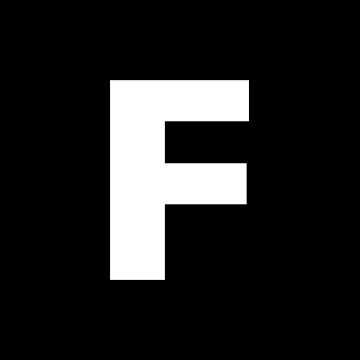 ---
Black Panther is available on NEON from December 7 and it has a good shot of being an Oscar nominee. We're not talking that bollocks 'Popular Oscar' category that's been rightfully dumped. We're talking about an actual, proper, yes-we're-serious Oscar contender.
To that news, one reaction you'll hear is "Of course, that movie's amazing, I'm watching it right now during office hours."
Then there's, "That film!? No way! It isn't Oscar-worthy!" You'll hear that a lot too, and it's not surprising. There's always somebody with an umbrage umbrella looking to throw some shade at a major Oscar nominee, from La La Land to 12 Years a Slave. I'm pretty sure I still have my 'Lincoln sux!' picket sign lying around.
Some things cannot be denied, though. Black Panther is the highest grossing film of 2018 at the US box office. Second-highest worldwide. It currently holds the highest Rotten Tomatoes rating of any film in Marvel Cinematic Universe. Audience members were attending screenings dressed in their finest dashikis. It was still in the US Top 5 when Avengers: Infinity War got released months later.
Black Panther is undeniably a phenomenon.
The Academy can be forgetful of films released earlier in the year though, so the publicity push needs to be louder than, say, recent awards probable A Star is Born. It's worth reminding ourselves of the Oscar nominations Black Panther deserves the most.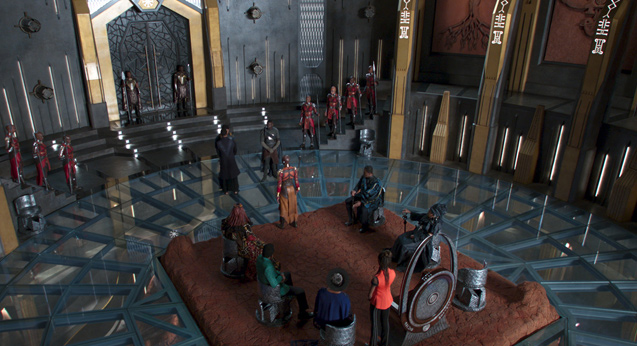 Best Production Design
A wealth of vibrant interior designs and a creative vision of otherworldly technology gave Wakanda large lungs and a thumping heart. The awe-striking architecture delivers a sense of might and majesty while remaining firmly rooted in its Afrofuturist theme.
Emmy-nominated production designer Hannah Beachler has a rich history of working with black artists. She not only worked on director Ryan Coogler's previous two films (Creed, Fruitvale Station), she's also assisted Don Cheadle (Miles Ahead), Queen Bey (Lemonade), and Barry Jenkins on Oscar winner Moonlight.
Beachler's experience combined with intensive cultural research resulted in a magnificently-dressed production that took every opportunity to ignite the imagination. She describes this vision for Wakanda best in this interview: "It's a connection to the continent our ancestors came from, and indicative of what could have been, and what could still be, in unity."
Best Original Score
Original scores for Marvel films tend to deliver a bland bowl of orchestral mash potatoes. Black Panther actively defied that. Composed by Swede Ludwig Göransson, another consistent Coogler colleague, the film's score makes its identity known with a superb infusion of African sounds and instruments.
It's in the talking drums that heighten the pulse of the fight scenes. It's in the Fula flute that follows Killmonger's presence. It's in Baaba Maal's soulful voice that bookends the film. This identity is everywhere, proud and pronounced, resulting in a score that's as moving as it is memorable.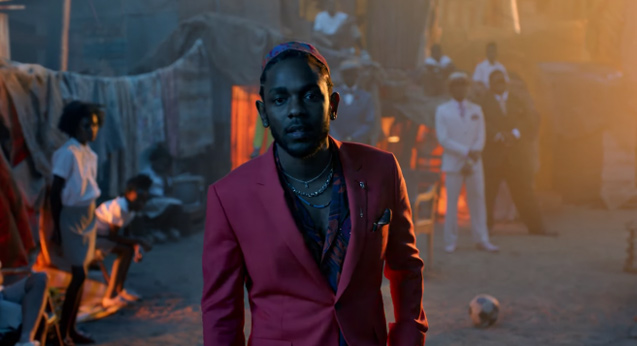 Best Original Song
Let's be real: this award is going to Shallow from A Star is Born. So let's not even pretend another film has a shot at winning this one. With that said, SZA and Kendrick Lamar's All the Stars is more than worthy to stand side-by-side with the other inevitable losers nominated in this category—and hey, it'd be fun to see performed live on the Oscars stage if nothing else.
Set to an uplifting beat and a chorus that affirmed dreams being within reach, this end-credits track was the perfect way to decompress an emotional and elated audience. Dig further into Lamar's lyrics and you'll find plenty that magnifies the film's themes, such as the Killmonger-y line "skin covered in ego."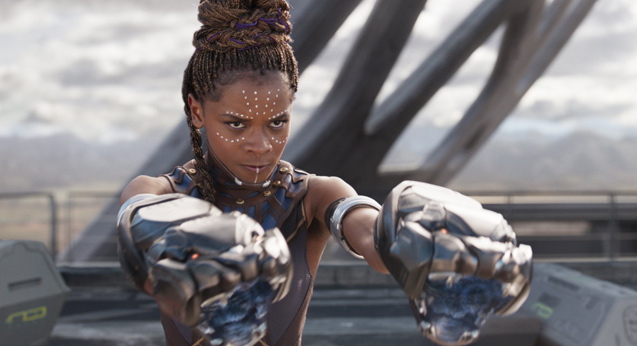 Best Makeup and Hairstyling
From Killmonger's intimidating body-count scars to the subtle distinctive marks on individual Dora Milaje soldier, the makeup work is rich and plentiful. It's the kind of AAA work you'd expect from Oscar winner Joel Harlow, who also headed the makeup work on other powerhouse titles like Star Trek, Alice in Wonderland and Pirates of the Caribbean.
Camille Friend's talent adds just as much to the nomination possibility. The head hairstylist has regularly contributed to the MCU as well as The Hunger Games, Dreamgirls and Django Unchained. I particularly love how Killmonger's contemporary cut seems at odds with everyone else's in Wakanda, adding even more to his status as an outsider. I'm also a fan of the wig that Okoye defiantly throws into some dude's face.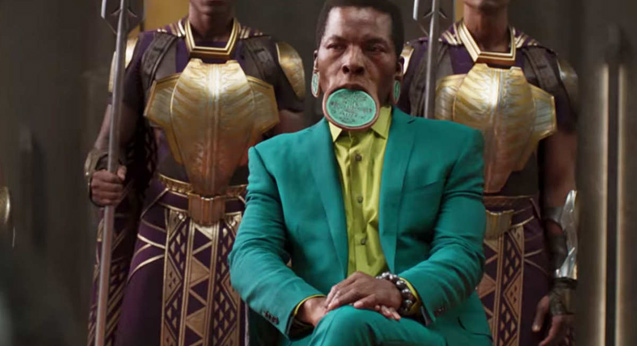 Best Costume Design
There's so much to love in this department. Shuri's white dress that pulled a twist on the traditional lab coat. The insanely in-depth and detailed Dora Milaje uniform. The classy green suit that works effortlessly and elegantly with an elder's distinctive lip plate.
Out of all the potential nominations, this is the one I'd put money on to secure an Academy Award. Costume designer Ruth Carter has already been nominated twice for her work—Stephen Spielberg's Amistad and Spike Lee's Malcolm X. This could be Carter's year.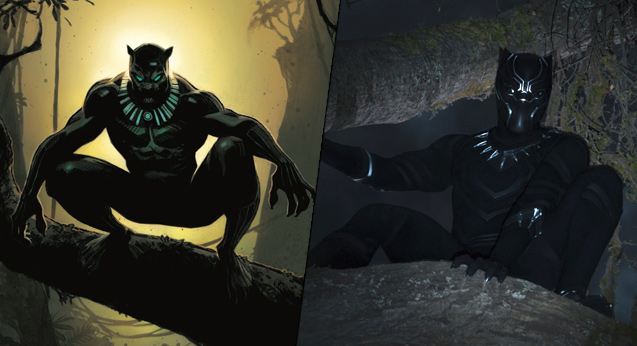 Best Adapted Screenplay
Much like Crazy Rich Asians, Black Panther excelled at adapting a wealth of side-characters and subplots from its source material into a feature-length script. Everyone gets their time to make an impression, lay out their desires, affirm their allegiances, kick an ass or two, and drop a one-liner.
More importantly, they told a serious and complex story with elegance and clarity, one that laments the pains of a colonialist past while igniting a path to a better future. This sturdy ground helped create Michael B Jordan's tragic and memorable antagonist Erik Killmonger, which went on to lift the Marvel Cinematic Universe's generally poor record with villains.
Jack Kirby and Stan Lee's comic broke ground back in its day. Miraculously, Coogler and Emmy-nominated screenwriter Joe Robert Cole transferred that same social impact to 2018. They didn't simply adapt a story; they adopted its spirit.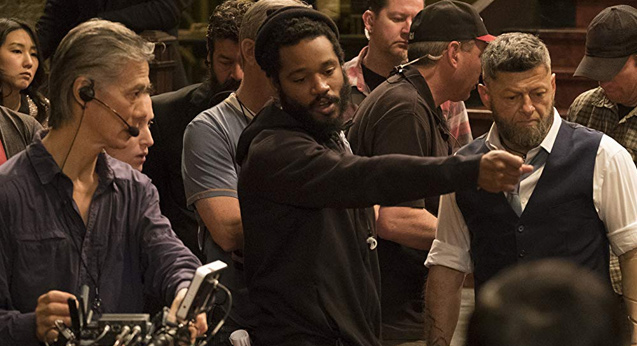 Best Director
Of course, the shiniest of tools would be wasted on a poor builder. Coogler proved an exceptional craftsman, however, getting the most out of the aforementioned talent and combining them all seamlessly and cinematically while never losing sight of a story that needed to be told.
People can lay legitimate complaints about those CG rhinos until the poorly-rendered cows come home. In the long run, that slight issue doesn't matter, because almost everything else on Coogler's production reeks of excellence.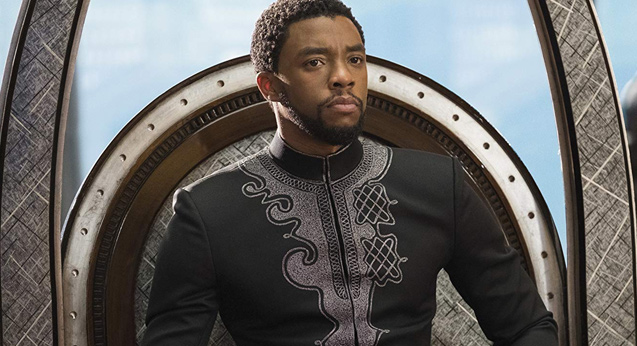 Best Picture
The Academy Awards have previously used this category to honour fantasy-sci-fi that either expanded our imagination or used the genre to say something socially profound. Black Panther does both by showing us a fantastical universe with its feet planted in the real world. As a result, it connected to its audience and beyond in a manner not seen on a blockbuster scale before.
For that reason and all the previous ones listed, it deserves to stand side-by-side with the likes of The Shape of Water, Life of Pi, District 9 and Avatar—all previous nominees for Best Picture.
Should it win? I won't make that call. Should it be recognised? Absolutely.
---
This award-deserving piece is brought to you by NEON, where potential Best Picture nominee Black Panther is streaming from December 7.

If you're not on NZ's best streaming service already, click here to sign up to their TV & Movies package now.