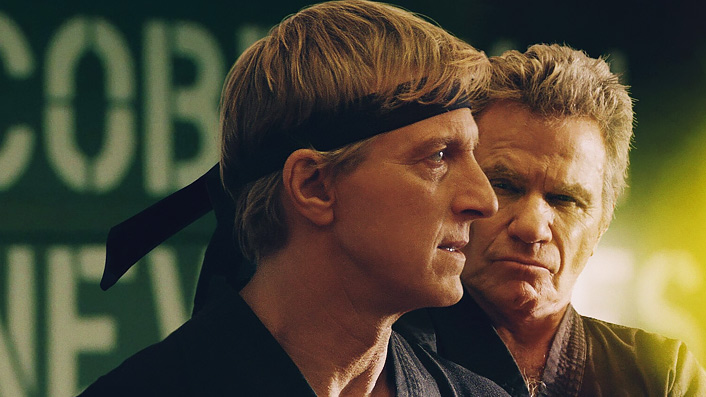 Cobra Kai cleverly flips the script, and makes us empathise with the bad guy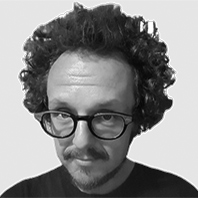 ---
Karate soap opera Cobra Kai (now on Netflix) isn't just totally addictive. It's also a pretty damn clever exercise in rearranging audience expectations, says critic Luke Buckmaster.

Who would have thought a belated TV sequel to The Karate Kid, arriving three and a half decades after Mr Miyagi turned car cleaning into quasi-spiritual balderdash, would be morally and philosophically interesting? Who would have thought a soap opera about allegiances, betrayals, adolescent romance and kung-pow action—with a bangin' 80s soundtrack and a sentimental kind of metaness—would have something interesting to say about using narrative framing to rearrange audience empathy?
See also
* The 50 best movies on Netflix New Zealand
* All new streaming movies & series
Early in Cobra Kai, a wimpy bullied kid with a lip disfigurement, Eli (Jacob Bertrand), gets new clothes, a wild haircut and a bad attitude, declaring to his karate class that he is "flipping the script"—morphing from feckless pushover to total bad arse. The series, which launched in 2018 as a YouTube original and found a second life after arriving on Netflix late last month, flips the script also, casting Karate Kid's original villain Johnny (William Zabka) as underdog and protagonist.
He was the bully we longed to see disgraced and defeated. Which he was. Fast forward to present day and we learn his life hasn't amounted to much. Johnny is on the skids, living in a crummy apartment, gulping booze to ease the pain, scrounging together cash by doing handyman jobs for ungrateful clients and an even less grateful boss.
Sign up for Flicks updates
Daniel is now painfully smug
To rub salt in the wound—the gaping one of Johnny's lamentable life—the former, titular Karate Kid, a grown-up Daniel LaRusso (Ralph Macchio), is a hugely successful owner of multiple car dealerships with a beautiful wife (Courtney Henggeler), a loving daughter (Mary Mouser) and a palatial home. He initially comes across as so smug, so self-satisfied and so holier-than-thou I wanted to slap him in the face with a cold fish—but as the series progresses we learn to like him again.
Johnny is demeaned by virtually everybody, from the slacker at the convenience store to his ex-wife (Shannon Michelle Keene) and 16-year-old son (Tanner Buchanan), who sums up the common view by calling him a "pathetic loser." Meanwhile Johnny's stepfather (Edward Asner) derides him for being "like the meat in your fridge"—as in, spoiled and expired. The point is made, again and again, that Johnny is the kind of bloke people meet and cast aside, immediately deeming him a creep not worthy of their time.
We learn he experiences what is in effect PTSD from his days as a teen villain, which is part of the aforementioned narrative reframing. Flashbacks to the original film, showing Daniel prevailing against his nemesis, transform what were once fist-pumping retaliations—the put-upon hero fights back!—into haunting memories for the person on the receiving end. Daniel has, as Johnny puts it, "been a thorn in my side since high school" who "made my life miserable." So who's the hero now? Who's the villain?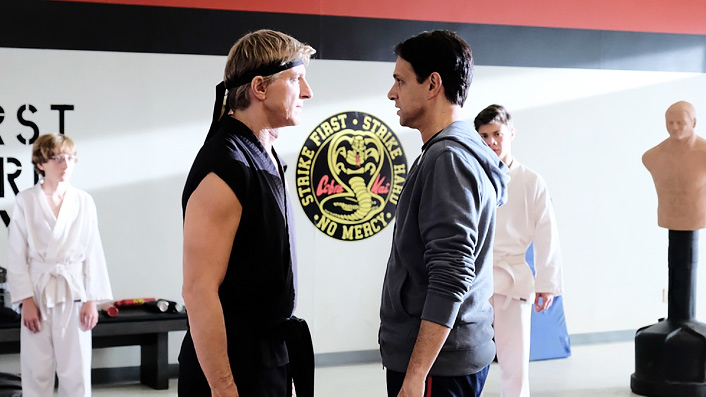 Empathising with Johnny isn't easy
Cobra Kai (created by Josh Heald, Jon Hurwitz and Hayden Schlossberg) doesn't just ask us to emphasise with Johnny; it also makes that request difficult to digest. The very first words the protagonist utters, when his friendly new neighbour and protégé-to-be Miguel (Xolo Maridueña) introduces himself, is "great, more immigrants!" When Johnny launches his own dojo, returning Cobra Kai to the neighbourhood and attempting to turn his one true talent into something that might save him from personal and financial oblivion, he inadvertently triggers a new war with Daniel that stretches out over two very entertaining seasons (with a third arriving in 2021).
As Johnny's class expands, he becomes a rascal leader in the Buttermaker from Bad News Bears ilk, swigging beer and imploring kids to cease their namby-pamby ways. He deploys a range of incongruous 'school of hard knocks' techniques, often with humorous results—the comedy riffing on Johnny being a man the world has clearly left behind: he calls asthma and peanut allergies "made-up" conditions, for instance, and responds to somebody telling him that they are on the spectrum by retorting: "I don't know what that is, but get off it."
Johnny teaches his impressionable pipsqueaks the Cobra Kai way—"strike first, strike hard, no mercy"—while simultaneously acknowledging these values played a part in destroying his life. All this numbskull knows how to do is to teach kids the same things he knows he should never have learned, back when he was susceptible like them, led astray by a terrible role model (the wicked John Kreese, played by Martin Kove). If it wasn't so damn entertaining, it would be so damn sad.
The show is surprisingly amoral
There are times when you want to grab Johnny by the scruff of his neck and yell "grow up!" There are others when his behaviour is so pitiable, and his admissions so candid, you kind of want to hug and console him—or at least cast a sympathetic look in his direction. Such as when Johnny reflects on his legacy as a parent: "I failed my kid on his very first day in this world," he mournfully intones, "and I've been failing him every day since."
Cobra Kai largely eschews outright sentiment in favour of a view of the world that is surprisingly amoral. Despite Daniel rabbiting on about the 'right' way to do karate, there is (particularly for a soap opera) an unusual amount of moral grey area. It's all about perspective. Rarely is a character ever 'right', though they are often wrong. As well as being fast-paced and addictive, with an epic conclusion to season two (no spoilers) Cobra Kai is nuanced and interesting. Which goes back to my original question: who would have thought?