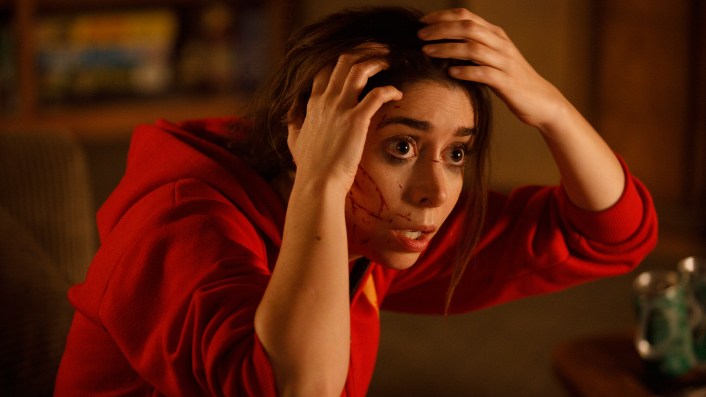 Made for Love is black comedy with great performances and a thoroughly chilling premise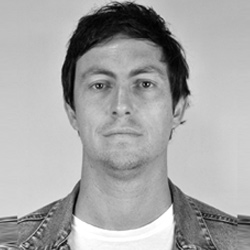 ---

Reminiscent of Black Mirror, technology comes to the fore in new black comedy series Made for Love – watch it now on Neon. The show's premise proves both thoroughly chilling and relentlessly watchable, writes Steve Newall, powered by a Cristin Milioti performance that should cement her status as a star.
Feelings of aloneness and alienation have plagued humanity for millennia, unkind mental bedfellows to distrust, jealousy and control within relationships. Made For Love posits a technological breakthrough—or at least the potential of one—to make these a thing of the past. A device called (wait for it) Made For Love that will allow couples to merge into a single mental entity, sharing "every thought, every feeling" as a network of two.
Do you feel uneasy about this prospect? Probably. Does the show make it seem appealing? Absolutely, unequivocally, 100%, no it does not.
See also:
* Everything on Neon in May
* All new streaming movies & series
Cristin Milioti stars as Hazel in Made For Love, a woman we meet soaking wet as she emerges from a hatch in the desert and then directs a rage-filled middle finger back at a distant compound. In true TV fashion, subsequent episodes will flesh out where she's come from (cue the onscreen graphic "24 hours earlier") and where she's going but the setup is pretty straightforward.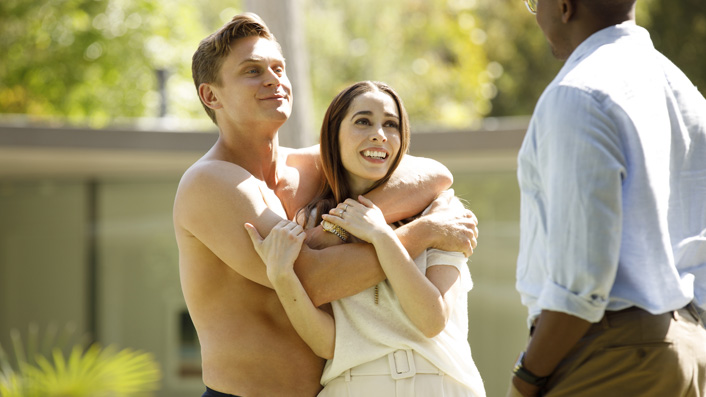 Hazel's exited what has been for her an unhappy marriage to megalomaniacal and immensely wealthy tech entrepreneur Byron Gogol that's seen them both spend the past decade shut away from the world in "the Cube". It's a technological wonderland, replicating environments and catering to one's every whim—provided you are Gogol, who it enables to indulge his desire for control over every facet of his existence.
For Gogol (Billy Magnusson), whose insincere grin unsuccessfully masks a much more sinister personality, Made For Love solves a dilemma of other people's personalities being unknown territory to him. No matter how many times Hazel is prompted by Cube technology to rate her daily orgasms and provide feedback, Gogol has no inkling what's really going on with her. Probably for the best, as Hazel's been feigning love, keeping her true feelings obscured from him for some time—hence her escape before the pair become the initial adopters of Made For Love.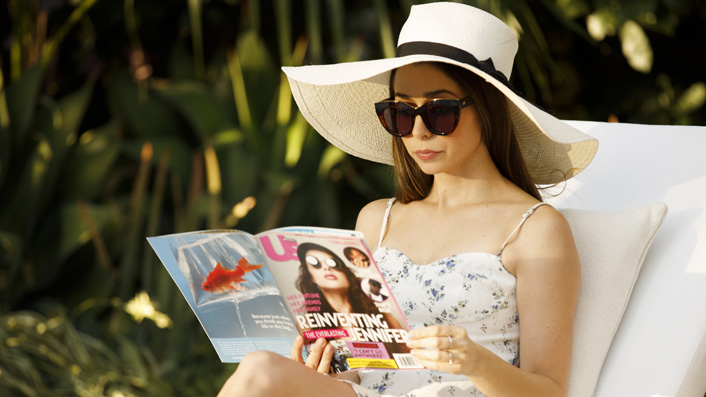 But there's one big thing Hazel did not see coming—without her knowledge and without her consent, Gogol has already had his medical staff insert the chip into Hazel's brain. While its full functionality hasn't been activated, he now has what every sick controlling piece of shit would want—a feed straight out of her mind.
It's this dimension to the show's narrative that sees Made For Love inhabit a similar world of vile controlling masculinity to Leigh Whannell's recent take on The Invisible Man, albeit tempered by its black comedy. As if it wasn't hard enough to escape the prison she was trapped in and to stay one step ahead of one of the world's most well-resourced sociopaths, Hazel soon discovers Gogol can see what she sees, hearing what she hears (and to his eventual chagrin, detect when she's aroused).
It's a thoroughly awful and relentlessly watchable premise, and one that stacks the odds hugely against Hazel—compounded by the fact that she's reemerged into everyday life with nothing but the (freshly stolen) clothes on her back. In desperation, she returns to her "shithole" hometown, reacquainting herself with her disappointment of a dad (Ray Romano) as she tries to put miles between herself and Gogol.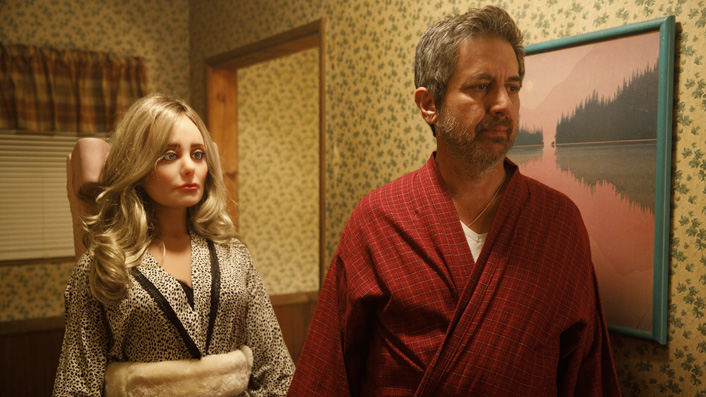 Romano is in excellent form here, from the moment the widower is caught in the throes of passion with his new partner—a "living doll" named Dianne. Yes, this unconventional inanimate relationship will be mined for laughs as the show progresses, but Romano somehow manages to ground it and convey the isolation it's caused him among his fellow townsfolk.
Sign up for Flicks updates
As he previously showcased in The Big Sick, there are some surprisingly strong dramatic chops on display here, even in a frequently unsympathetic character. Like the best comics, Romano is firmly in touch with his sadness, and his performance takes on an increasingly moving and convincing dimension as the series progresses, even amid its crazier narrative elements.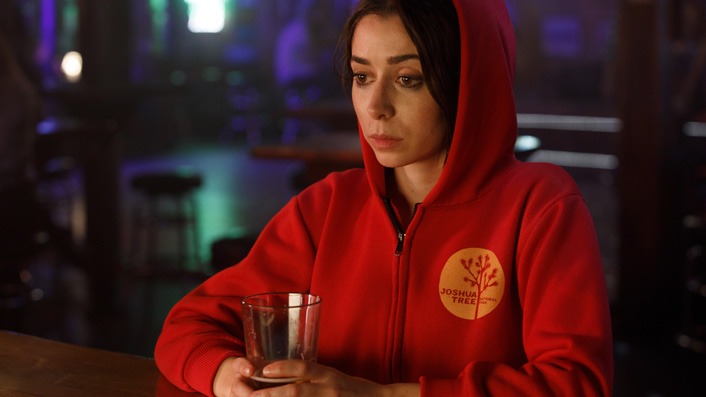 Made For Love belongs to Milioti, though. Without her compelling central performance—which builds on her strengths seen previously in thematically similar roles in both Black Mirror and time-loop rom-com Palm Springs—the show would find itself adrift. In her hands, Hazel is rendered complex and convincing, walking a delicate line behind charm and cynicism that keeps the viewer on side even as we shake our heads at some of her decision-making.
Bringing an emotional depth to the character alongside the show's quirkiness really anchors the relationships—the fractured one with her dad; scene-stealing best friend from a past life Patti Harrison—and Milioti exhibits a gravitational force that the more disparate elements of the show can orbit around, in what deserves to cement her status as a star.