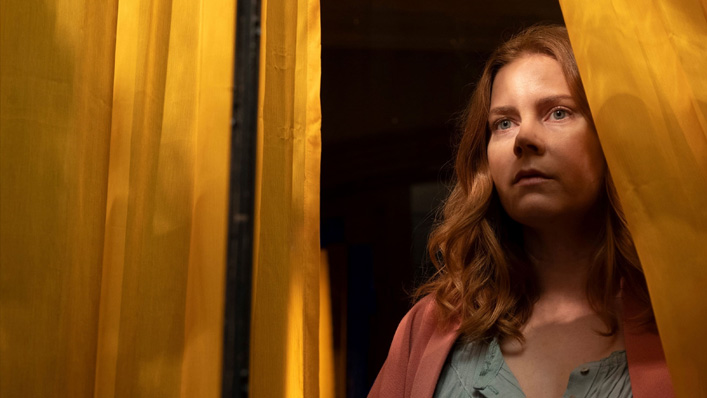 The Woman in the Window just feels sillier the longer it drags on

---
Supposed shock reveals are entirely predictable in Netflix's lacklustre thriller starring Amy Adams as a voyeuristic child psychologist. Here's critic Sarah Ward's review.

No one should judge a movie on the time or path it took to the screen, or the type of screen it ultimately plays on. But little about long-delayed, now straight-to-Netflix thriller The Woman in the Window screams for a cinematic viewing. That would've been evident even if that's where the Amy Adams-starring Rear Window clone had actually played back in 2019, when it was originally scheduled to release. Its plethora of peering shots out of its main brownstone setting would've had more room to breathe on a larger canvas, undoubtedly, but the film's glaringly obvious twists and love of all things derivative would've also been pushed under a bigger microscope.
See also:
* All new movies & series on Netflix
* All new streaming movies & series
The debts to multiple Hitchcock pictures, the attempt to cash in on Gone Girl and The Girl on the Train's page-to-screen success, the fact that every actor in its star-studded cast seems to think they're in a different film—no one needs help seeing any of that. Nor does the audience require any assistance working out the feature's supposed shock reveals, one of which is so apparent from the outset that the movie just feels sillier the longer it drags it out.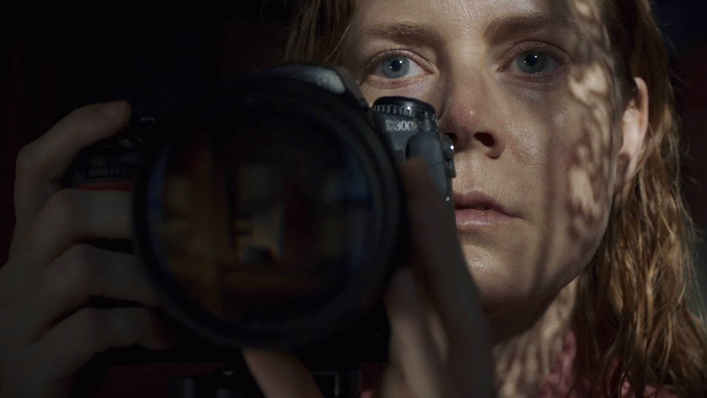 A pajama-clad work-from-home devotee in a world where that's the exception, not the pandemic-enforced new norm, Adams' Anna Fox counsels kids from her well-appointed Manhattan abode; however the child psychologist can't step outside herself. She talks to her separated husband (Anthony Mackie) and daughter (Mariah Bozeman) via phone daily. She welcomes in her own shrink (Tracy Letts, who also penned the film's adapted script) several times a week, and washes down the pills he prescribes with too much wine. Other than occasional exchanges with her lodger (Wyatt Russell), though, she experiences the world by surveilling her neighbours' comings and goings.
That makes Anna perfectly placed to notice the arrival of a new family, the Russells, across the street, all three of whom knock on her door separately in short succession. When teenager Ethan (Fred Hechinger) comes calling, he seems shy and in need of a friend. When Jane (Julianne Moore) follows, she becomes a rare pal for Anna, even just over a drink. Then Alistair (Gary Oldman) thunders in, all anger, bluster, arrogance and entitlement. After Anna sees Jane murdered through her window the next night, she knows where to point her finger—but when she informs the police (Brian Tyree Henry and Jeanine Serralles), she's introduced to someone else (Jennifer Jason Leigh) who's calling herself Mrs Russell.
In 2007, when Disturbia also took its cues from Rear Window, it kept its protagonist's stay-at-home situation simple. Rather than James Stewart being laid up with a broken leg, a teenage Shia LaBeouf was under house arrest. The Woman in the Window casts Anna as unreliable narrator instead—stuck indoors due to her psychological woes, and often so dazed from medication and alcohol that she could just be imagining the stabbing and her version of Jane. Alas, there's no weight or depth in this storytelling decision. In his purported attempt to shake up the formula, pseudonymous author AJ Finn (the pen name of Daniel Mallory) simply takes inspiration from other cinematic sources. Fittingly, 1995's Copycat is one of them.
Sign up for Flicks updates
Material this hackneyed was always going to struggle on the screen, big or small. The Girl on the Train did, too. Indeed, The Woman in the Window's stacked list of on-screen talent can't patch up a tale this simultaneously over the top and stale, especially given that director Joe Wright is happy to let them all do their own thing. Adams won't finally be claiming an Oscar for her work here, but she is the primary reason that the film doesn't crumble within minutes. With her piercing gaze, she screams for an escape she can't quite grasp—a description that doesn't just apply to her character.
A seasoned helmer of book-to-movie fare about complicated women (see also: Pride & Prejudice, Atonement and Anna Karenina), Wright does at least layer The Woman in the Window with visual sheen. This is a darkly, moodily handsome feature, even if its imagery can segue from restrained to lurid at whiplash-inducing speed. Still, all of its glances at and through windows ultimately just serve up an unintended reminder—because even the most alluring of frames remains empty without something substantial within its borders.