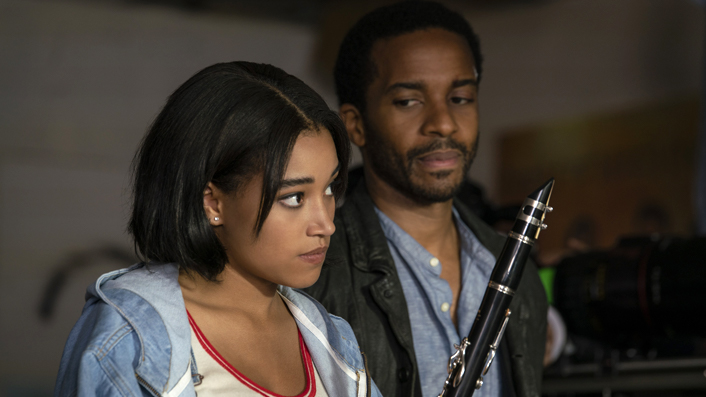 New Netflix music drama The Eddy captures the feel of jazz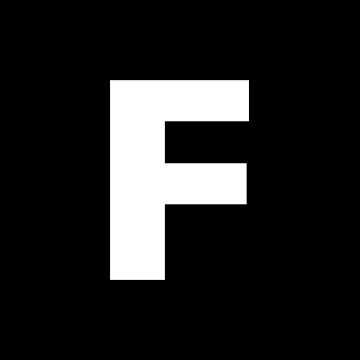 ---
Director Damien Chazelle (La La Land, Whiplash) seemingly just can't stay away from jazz, directing the first episodes of this new drama set in modern-day Paris music club. As Liam Maguren notes, the cast, narrative and pace of The Eddy are all top-notch, and as for the look and feel of the show— well, in his words, "it's jazz as fuck".
On a streaming platform dominated by true crime docos and teens-run-amok series, it's always admirable to see Netflix release a film or show well outside its 'trending' genres. With The Eddy, an eight-episode series about a struggling late-night jazz club in France, you couldn't get more out-of-trend than this. And that's exactly where this show wants to be.
See also
* All new movies & series on Netflix
* All new streaming movies & series
* The best drama movies of last decade
The Eddy comes from BAFTA-winning British writer Jack Thorne, who recently adapted His Dark Materials for HBO. For those unaware of Thorne's This is England series, the jump from fantastical worlds to the gutter-hole streets might come as a surprise.
It should surprise absolutely no-one, however, that the first two episodes were directed by Oscar-winner Damien Chazelle. You know, the filmmaker who turned jazz drumming into a horror film with Whiplash and made Ryan Gosling decree how "jazz is dying and no-one cares!" in 2016's La La Land. As if the pairing couldn't be more fitting, Chazelle is also part-American and part-French—just like the show.
While I'm by no means a scholar, I've always had a fondness for jazz, which proved a big enough opening for the series to enter my veins. If you hate jazz, however, you sure as shit won't jive with The Eddy—and The Eddy doesn't care.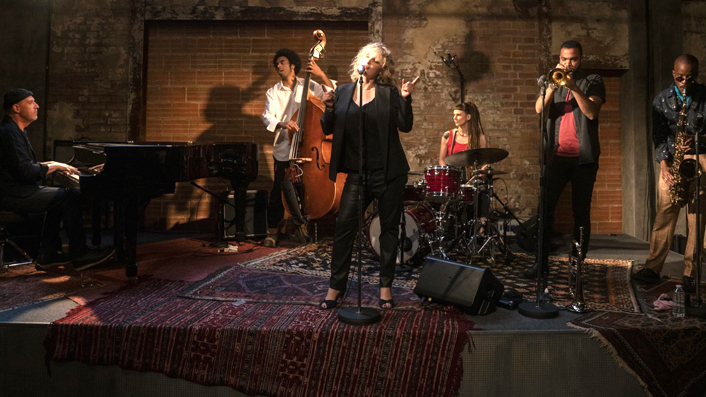 Around 40 original tracks were composed for the series, and from the very first ep, the music numbers are given more time to breathe than any non-musical show would typically allow. It's understandable, given all the songs were played live and recorded while filming. The opening track plays out almost in full while a long, unflashy one-shot establishes the club environment perfectly.
And it was a damn fine performance, I thought, until the next scene showed the performers shaming themselves for being utter shit. Shows how much I know. They were practically begging JK Simmons to throw a chair at them.
Sign up for Flicks updates
Retaining that grounded feel that worked so well with First Man, Chazelle's cinematic eye and musical ear paint the face of this bluesy eight-episode series. Using a very nimble camera crew, the show achieves a look that reflects the music's reputation for unrestrained improv. The filter's grainy. The camera's shaky. The lighting's murky. It's the visual equivalent of an ashy cigarette, simultaneously alluring and grimy, which is to say—it's jazz as fuck.
That mood reflects the characters, too, with each episode dedicated to a different person. The first focuses on American club owner Elliot (André Holland) and his nightly scramble to keep the place afloat. He deals with violent debt collectors; searches for his missing singer Maja (Joanna Kulig); picks up his 16-year-old daughter Julie (Amandla Stenberg) from the airport. It's a bit like Uncut Gems if you were to replace all the shouting with piano keys and wind instruments.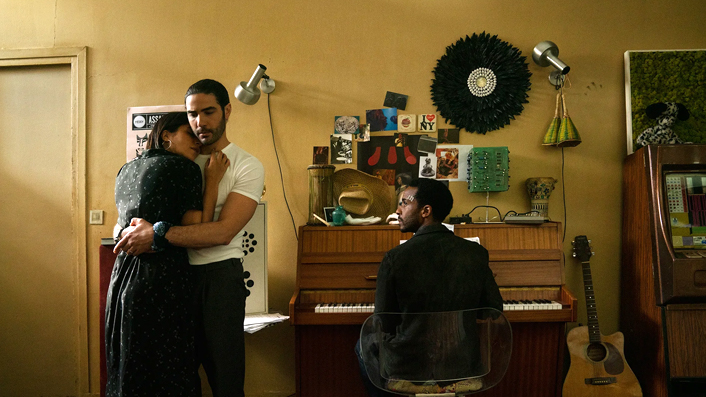 Holland, who burned the screen in Moonlight and High Flying Bird, continues to be a forceful presence. Not only can he brood with a whiskey like a modern Humphrey Bogart, but his refined performance also grants his character the simmering sense that he's dealt with tremendous pressure throughout his entire life. His tired eyes tell a story we'll only partly hear, gifting the character even more sympathy than what's on the page. That is, until we see things from another character's perspective.
Behaviours that transpire in one episode are often explained in another. For example, why is Maja so standoffish in episode one? She and Elliot clearly have history, but in the Julie-centric episode two, it turns out he can also be a giant asshole when he wants to be.
Not that this surprises Julie, who carries a conveyor belt of luggage when it comes to her family. Without revealing the conflict at heart, it's a tussle that could've easily turned her into an annoying brat. But fortune favours the bold casting choice of Amandla Stenberg, who harbours an eclectic filmography so early in her career (The Hunger Games, Everything, Everything, Where Hands Touch, The Hate U Give). Though appearing confident and all-knowing, there's an uncertainty in her eyes and occasional trembles in her voice that root Julie's "acting out" moments in buried hurt and raw anguish. She's great in this.
Episode three gives the director's chair to Houda Benyamina, who turned heads at Cannes with her Golden Camera-winning coming-of-age crime drama Divines. As with that film, which charms and chars in equal measure, Benyamina treats The Eddy's French Muslim characters with a caring heart and an understanding mind. An essential trait, given how one plot thread revolves around a funeral and the child of the deceased calls "bullshit" on the proceedings.
Just like Chazelle, Benyamina was tailor-fit to tell these stories. She makes an absolute meal of one of the more uplifting moments of the show, which places the music in a more joyous and soulful light. One character also delivers a funny and much-needed burn to the jazz scene, saying it's "too irritating, too snobby… it's no Céline Dion."
Centred on Amira, played by the blisteringly good Leïla Bekhti (A Prophet), the third ep doubles down on the show's adherence to reflecting the multiculturalism of modern-day France. The hefty talent on display proves just as diverse.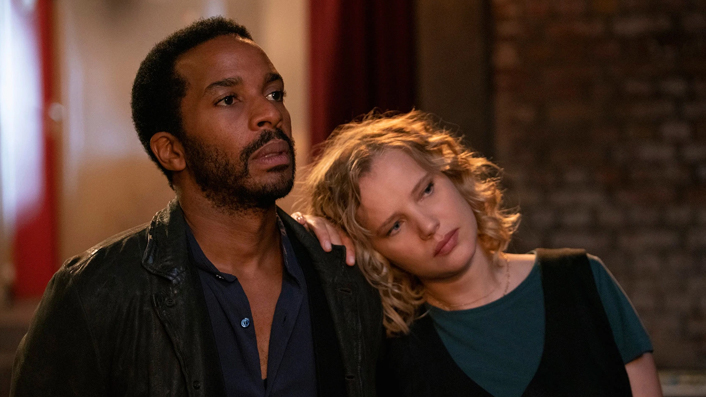 Singing and acting sensation Joanna Kulig delivered a juggernaut performance in 2018's phenomenal Cold War, a 90-minute black-n-white Polish romance epic nominated for three Academy Awards. Her role in The Eddy doesn't put her in wildly different territory, which is to say, she stuns in more ways than one. She reportedly auditioned for the role while nine-months pregnant and read for the part on her due date. This woman is superhuman.
The rest of the band are assembled by non-professional actors like cellist Damian Nueva and drummer Lada Obradovic, who more than earn their keep as amazing musicians with personalities that effortlessly fill the screen.
It's a natural decision for a show so dedicated to its musical performances. Not only is the music great in its own right, but it's also the underlying force that drives the story and unifies the characters. Given how episodes are named after the central characters they follow, it's an important trait to recognise. Appropriately, the concluding episode is simply titled The Eddy.
The series' unique grove makes me wonder about the term 'binge-worthy'; as if a show's worth is dictated solely by episode-ending cliff-hangers. But that's not how this show plays the game. With an assortment of live performance music and a narrative that freely goes in different tangents, The Eddy's episodes are perhaps best enjoyed on separate occasions. Something to savour and come back to, like visiting a jazz club.
It's also the only show on Netflix where I found myself hitting the 'Watch Credits' button, just so I could sink further into the music as the list of names rolled by.