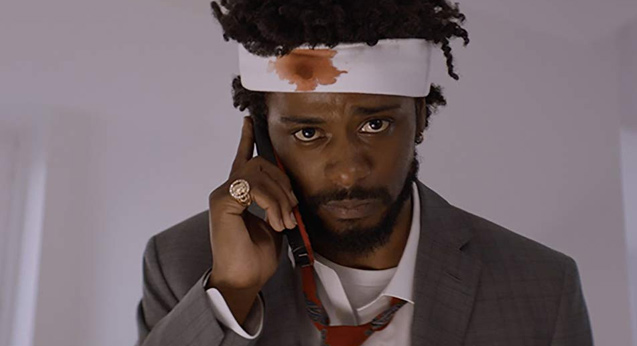 Yes, it's finally happening. The oddball American comedy hit Sorry to Bother You is coming to Auckland, Wellington and Christchurch cinemas from November 29.
SWEDEN, NORWAY, DENMARK, FINLAND, NETHERLANDS
2 November

AUSTRALIA & NEW ZEALAND
29 November

UK & IRELAND
7 December

FRANCE
16 January

They've all got festivals or screenings playing it before that as well. More dates for other countries soon. https://t.co/S7Y6VcTDDd

— Boots Riley (@BootsRiley) October 22, 2018
Lakeith Stanfield (Get Out) stars as a black telemarketer who discovers the secret to professional success and alternate universes – putting on a white voice. Also stars Tessa Thompson (Thor: Ragnarok), Steven Yeun (Okja), Armie Hammer (Call Me By Your Name), the almighty Terry Crews, & David Cross as The White Voice.
With a Rotten Tomatoes score of 94% and a Metacritic rating of 81/100, the film has been a critical success. We at Flicks are also very pleased to see this feature coming to our shores, for now we can answer all the emails and DMs from film-hungry cinema nerds asking for a release date.
Here are just a few people who loved to be bothered:
Do go see @Sorry2BotherYou by @BootsRiley this weekend, if you can. A scathingly funny absurdist satire with a touch of Spikes Lee & Jonze, but with a gonzo horsepower all its own. (NB: I thought @TessaThompson_x's other voice sounded familiar to me, then I checked the credits!) https://t.co/65f2pzNOQW

— edgarwright (@edgarwright) July 6, 2018
#SorryToBotherYou . @BootsRiley is being compared to many great directors, but the truth is he's a one-of-a-kind unique voice. Fun, brilliant and totally different than anything ever. Catch it this weekend!

— Jordan Peele (@JordanPeele) July 7, 2018
yes, "Sorry To Bother You" is as good as you think it is.

— Mark Ronson (@MarkRonson) July 7, 2018