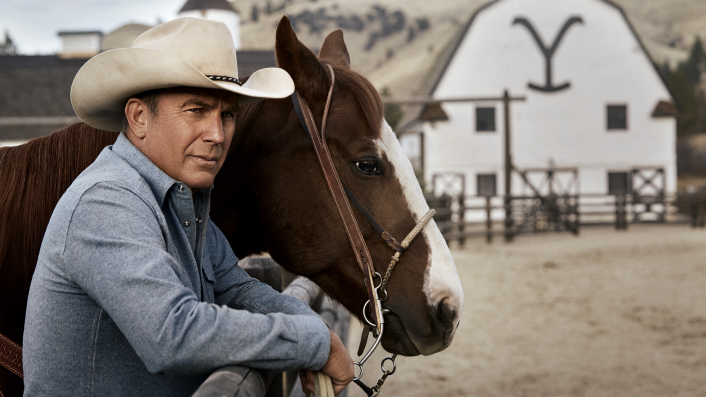 Five (of the many) reasons you should binge Yellowstone this summer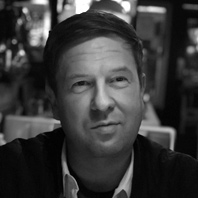 ---

Kevin Costner stars in action-drama series Yellowstone, three seasons of which are now streaming on Neon. Dominic Corry dives into why you should be starting this year off with a binge.
Finally, New Zealanders get to see Yellowstone, following the conflicts between a contemporary cattle ranch and their neighbours. It's a series boasting great pedigree from its stars to its writer-director. Here are five—of the many—reasons you'll want to start watching asap.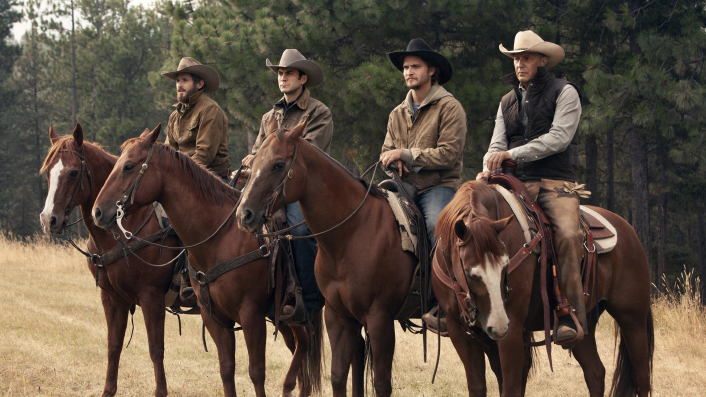 Horses
The opening shot of Yellowstone's first episode depicts a man's hand reaching out to a distressed horse to calm the creature. It's designed to look like a scene that's been in a million Westerns—a cowboy attempting to tame a wild beast. But then the camera goes wide and we see that the horse is actually trapped inside a horse-trailer that has crashed on a tar-sealed highway, and that the hand belongs to a man about to put it out of its misery with a gun.
The reveal serves as an efficient introductory metaphor for Yellowstone, a Montana-set action drama series where much of the conflict comes from how ideas forged in the American West have an uneasy, often violent relationship with the modern world.
Horses remain the modern world's most tangible connection to the Old West, and most of the characters in Yellowstone ride them. Not all the characters long for the old ways, but they're all caught up in that tussle with the present and the series gains a lot from the cowboy iconography that the image of someone atop a horse evokes.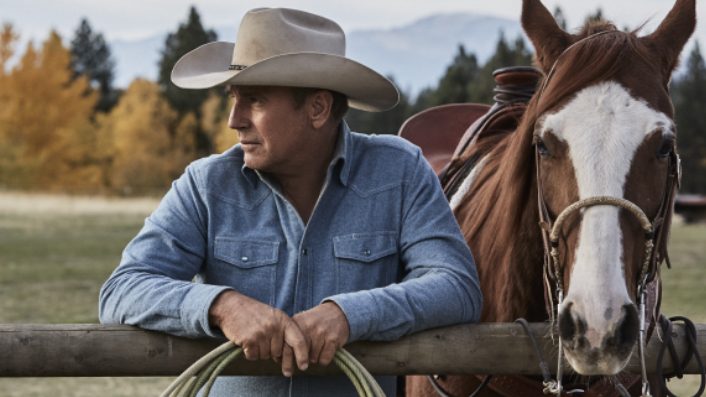 K. Cost.
The man in the opening scene is rancher John Dutton, played by Kevin Costner, a former A-List movie star who has moved into his more… weathered period with more grace than many actors who once enjoyed his past stature. Costner seems acutely aware of his wheelhouse, and he is well-suited to the occasionally wistful tone of Yellowstone.
Dutton owns the titular cattle ranch (the show has nothing to do with the eponymous national park), described as the largest contiguous ranch in the United States. Yellowstone is beset from all sides by land developers wanting to build up Montana, Native Americans wanting to reclaim their stolen lands, and rival ranchers.
Dutton initially presents as a man of honour, but the series quickly reveals him to be more than ready to engage in severe criminality to maintain his holdings. Costner walks this line effectively and is an appropriate vessel for the show's dual nature.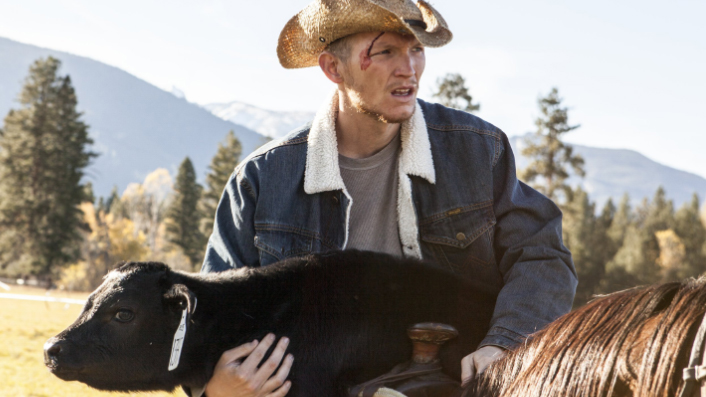 Taylor Sheridan
The actor (Veronica Mars, Sons of Anarchy) turned screenwriter (Sicario, Hell or High Water) turned writer/director (Wind River) co-created Yellowstone with Sons of Anarchy EP John Linson. Sheridan writes practically every single episode of the show and directed the entire first season, and his identifiable sensibility is all over it.
Sheridan trades in old-fashioned American tropes surrounding duty, masculinity, and family, but his style isn't mired in the past. He has a clear-eyed view of the corrupt, violent nature of the modern world, and isn't necessarily calling for the return of what used to be.
Sheridan also loves a visual metaphor (see paragraph one), such as the moment in episode two when Dutton rides his horse through a rough patch of his ranch up to the edge of a pristine green golf course to confront a nefarious developer played by the great Danny Huston, an actor in possession of perhaps the greatest evil smile the screen has ever seen.
Dynasties
Costner's taciturn patriarch may lead Yellowstone, but the show is equally interested in John Dutton's adult children, one of whom doesn't survive the first episode. There's eldest son Lee (Dave Annable), who works the ranch with John; lawyer Jamie (Wes Bentley), who has political ambitions; corporate raider Beth (Kelly Reilly), perhaps the most savage Dutton of them all; and prodigal son Kayce (Luke Grimes), the youngest Dutton who lives on the neighbouring reservation with his Native American wife Monica (Kelsey Asbille).
With its complicated familial conflict (flashbacks with Josh Lucas as a young John fill in the Dutton backstory), and constantly-tested loyalties, the show appreciably evokes the likes of '80s nighttime business soaps Dallas and Dynasty, although it's far less campy and much more of an action drama than those two notable forebears. You could think of it as Succession without the cynical bite. And with more gunplay.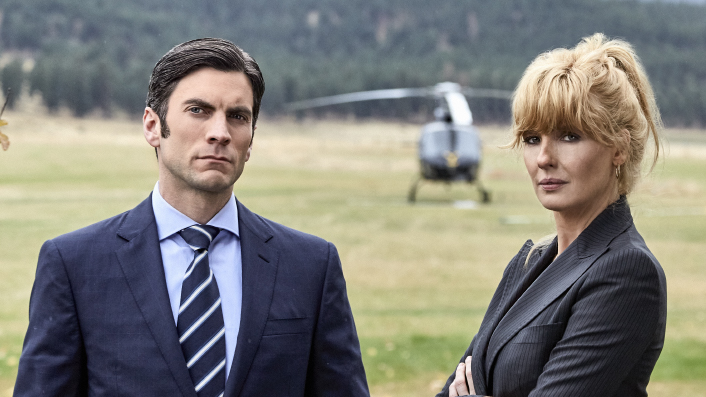 A Deep Cast
As mid-size dramas and thrillers have become less of a priority for movie studios, television has stepped in to provide meaty roles for the kinds of actors who might've once been big-screen stars through these diminished cinematic genres. Underappreciated Irish firebrand Reilly (Flight, Calvary) makes the biggest impression in this regard, her Beth presenting as a captivatingly messy ball of contradictions.
Wes Bentley, still probably best known as American Beauty's disturbed teen Ricky despite notable recent supporting turns in Interstellar, Mission: Impossible – Fallout and American Horror Story, wears the hell out of a suit, and Grimes, who raised a few eyebrows in the Fifty Shades franchise, gets his rough-trade smoulder on something chronic as former NAVY Seal Kayce.
In addition to the aforementioned Huston, there's a surfeit of welcome talent filling out Yellowstone's supporting cast, such as Native American actor Gil Birmingham (who appeared in Sheridan's Wind River) as the Chief of the reservation that borders the Dutton ranch, Gretchen Mol (Boardwalk Empire) as the deceased Dutton matriarch Evelyn, who appears in flashbacks, and the stone-faced Neal McDonough as the season two bad guy. Even Sheridan himself eventually shows up onscreen as a horse trader.
And, with Sons of Anarchy off the air, Yellowstone is helping keep frowny American character actors in employment, most notably Cole Hauser (Dazed and Confused) as Dutton's lead ranch hand/enforcer/surrogate son Rip, who enjoys a dysfunctional romance with Beth.
Old-school without being old-fashioned, Yellowstone occupies a somewhat undernourished niche in contemporary popular culture. It debuts on Neon with three full seasons, so it's well placed for a solid holiday binge.