We're almost halfway through 2018 (yeah, we can't believe it either) which means: 1) New Zealand is approaching the eye of the winter storm and 2) a lot more people are going to bunker down with some flicks at home.
Here's what's new and good on NEON, Netflix, and everything else that plays a movie at home.
---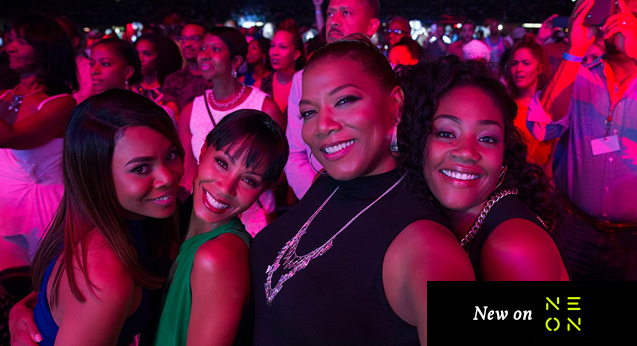 New to NEON
Jada Pinkett Smith, Queen Latifah, Regina Hall and Tiffany Haddish star in this summer holiday comedy.
"The funniest, filthiest and one of the most likeable films of 2017." -Graeme Tuckett, STUFF
Oscar winner Anne Hathaway somehow has a psychic link to a giant monster in South Korea in the latest from filmmaker Nacho Vigalondo (Timecrimes, Open Windows).
"Audiences would be missing out on something really special here," -Steve Newall, FLICKS
The Brian Cox one. Not the Gary Oldman one.
"Brian Cox gives good Churchill." -Paul Casserly, FLICKS
Tom Cruise plays real-life pilot Barry Seal, who transported contraband for the CIA and the Medellin cartel in the '80s in this crime thriller.
"Cruise goes all in as Barry, and in having a ball delivers his best performance in years." -Adam Fresco, FLICKS
Director Raoul Peck envisions the book James Baldwin never finished – a radical narration about race in America – in this Oscar nominee.
"Poetic, inspiring, haunting, and absolutely necessary." -Aaron Yap, FLICKS
Documentary telling the story of Bruce McLaren, the Kiwi founder of the McLaren Motor Racing team. From the director of The World's Fastest Indian.
"Stands as more a celebration than sombre eulogy," -Steve Newall, FLICKS
Documentary from New Zealand filmmaker Florian Habicht (Pulp: A Film About Life, Death, and Supermarkets) on the most successful haunted attraction in the Southern Hemisphere.
"Highly watchable exploration of scares and self-expression." -Steve Newall, FLICKS
Naomi Watts plays the mother of a gifted child in this next-door-neighbour mystery from director Colin Trevorrow (Jurassic World).
"The performances, especially from Jaeden Lieberher, are strong and it delivers that rare cinematic treat: a real surprise." -EMPIRE
A girls boarding school takes in an injured, scheming, Civil War defector in this Cannes Best Director-winning period drama from Sofia Coppola.
"Engaging and dryly funny, with ironic bite," -Tony Stamp, FLICKS
Lightning McQueen is back and determined to prove himself to a new generation of race cars in Disney/Pixar's third instalment in the Cars series.
"Cars 3 has a trick up its glovebox that makes this film the best of the series." -Liam Maguren, FLICKS
Streaming in NEON from June 21
---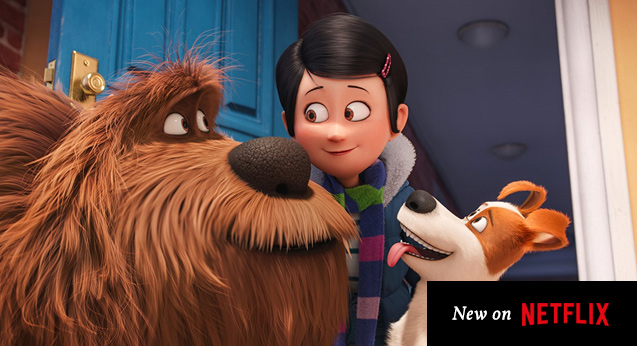 New to Netflix
From the studio behind Despicable Me comes this family animation that looks at the lives of faithful pets when their owners are away.
"For what The Secret Life of Pets lacks in story, it makes up for in character." -Liam Maguren, FLICKS
On the cusp of losing his virginity to his girlfriend, a teen finds himself attracted to a guy from the other side of town in this sexual exploration coming-of-age tale from the director of The Skeleton Twins.
"This is a lively, resourceful and tightly paced enterprise," -VARIETY
A psychological thriller from Darren Aronofsky (director of The Wrestler and Requiem for a Dream) starring Natalie Portman in an Academy, BAFTA and Golden Globe-winning performance.
"Darren Aronofsky cements his place as one of the most exciting directors working in Hollywood," -Andrew Hedley, FLICKS
Workplace romantic comedy from TV director Claire Scanlon (Brooklyn Nine-Nine) starring Zoey Deutch, Glen Powell, Lucy Liu and Taye Diggs.
This fifth entry in the Bourne series sees Matt Damon return along with director Paul Greengrass. Oscar-winners Alicia Vikander and Tommy Lee Jones join the franchise.
"While Greengrass can't resist shaking the camera too much, he's staged some impressive, tense, set-pieces," -Steve Newall, FLICKS
Renée Zellweger returns alongside Colin Firth and Patrick Dempsey in the third instalment in the Bridget Jones franchise.
"Rosy, relatable and entertaining enough for a rewatch with some takeaways and a bottle of wine." -Leonie Hayden, FLICKS
Streaming from June 21 on Netflix
Chloë Grace Moretz plays a young woman who is suddenly struck with a mysterious mental illness in this true-story drama.
Streaming from June 22 on Netflix
---
Sign up for Flicks updates
---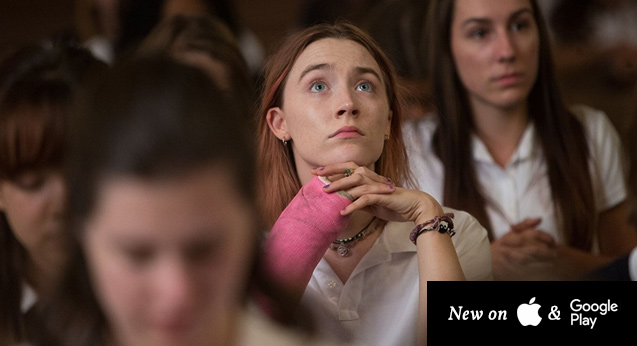 New to Everything Else
Saoirse Ronan, Laurie Metcalf and Tracy Letts star in this Golden Globe-winning, Oscar-nominated coming-of-age drama written and directed by Greta Gerwig.
"Exquisitely renders the complex, funny, turbulent love between mother and daughter, which is to say, the way desire can feel like betrayal." -Amanda Robinson, FLICKS
Jennifer Lawrence is a Russian spy who falls for a CIA officer (Joel Edgerton) in this thriller based on the novel by Jason Matthews.
"Elegant, engaging and a nice detour from a genre that condescends to women far more often than it 'empowers' them." -Katie Parker, FLICKS
Find it on Blu-ray, DVD and VOD
Cate Blanchett plays 13 different roles in this homage to the great artistic manifestos of our time.
"Stunning. A masterclass in performance." -INDIEWIRE
Friends who meet for game nights find themselves solving a murder mystery in this comedy starring Jason Bateman and Rachel McAdams.
"It's surprisingly good." -Tony Stamp, FLICKS
Find it on Blu-ray, DVD and VOD
Oscar winner Alicia Vikander leads this videogame-to-film adaptation of the modern Lara Croft third-person shooters.
"It definitely won't zap any new life into the genre." -Tony Stamp, FLICKS
Find it on Blu-ray, DVD and VOD
Annette Bening and Jamie Bell star in this adaptation of British actor Peter Turner's memoir, directed by Emmy-nominee Paul McGuigan.
"This bookend of Grahame's latter life — though entertaining and not without wonderful nuanced moments, an evocative soundtrack and light laughs — is maddeningly gun shy." -Sarah Voon, FLICKS
Timothy Spall and Colm Meaney star in this drama chronicling the events preceding the 2006 St. Andrews Agreement, which brought peace to Northern Ireland.
"Makes for a fine buddy-road movie," -Aaron Yap, FLICKS
Daniel Radcliffe's last job running cocaine for a cartel goes horribly wrong in this low budget crime thriller.
Traces the life of the magnetic, world-conquering, Jamaican musician, model and party queen Grace Jones.
"An entertaining, engaging and somewhat enlightening look at a complicated woman." -James Croot, STUFF
Available on DVD and VOD from June 20
An ex-gang leader must choose between forgiveness or revenge when his daughter is murdered by an old rival gang in Kiwi filmmaker Tarry Mortlock's debut.
"May be a labour of love, but there is nothing amateurish about it." -Graeme Tuckett, STUFF
Available on DVD and VOD from June 27
A girl falls for a person that wakes up in a different body every day in this unconventional teen romance.
"Set aside the contrivances and creepy plot twists, and Michael Suscy's Every Day offers up a timely message about acceptance and the nature of love…" -INDIEWIRE
Available on DVD and VOD from June 27
Hidden Figures' Taraji P. Henson is a hitwoman who kills a drug boss only to learn that she has left a boy orphaned.
"Henson is the right actress to play a contract killer grown weary, but as a thriller Proud Mary doesn't quite do her justice." -VARIETY
Available on DVD and VOD from June 27
Colin Firth and Rachel Weisz star in this drama based on Donald Crowhurst's fatal 1968 attempt at yachting victory.
"Firth is good as ever, but the sense is of a selfish, foolish man who'd sooner drown than admit defeat." -Matt Glasby, FLICKS
Available on DVD and VOD from June 27
Helen Mirren is haunted firearm heiress Sarah Winchester in this mystery thriller from the Speirig brothers (Jigsaw, Predestination).
"Largely pedestrian, a things-go-bump-fest that's milder than a trip to Spookers." -Aaron Yap, FLICKS
Available on DVD and VOD from June 27
True story drama about the singer of Christian band MercyMe, whose loss of his father to cancer inspires him to write the titular hit song.