The last month of Autumn brings with it a generous collection of fresh films for your TV or device. The last of the modern Planet of the Apes films comes to NEON, a unique outback zombie thriller graces Netflix, and a bunch of this year's Academy Award winners are ready for your movie shelf.
---
New to NEON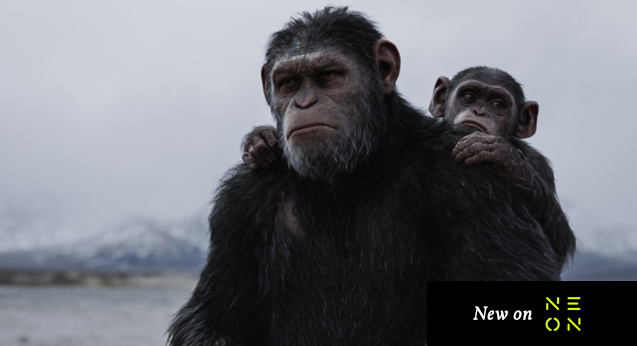 Following Rise and Dawn, this third film in the modern Planet of the Apes trilogy sees Caesar (Andy Serkis) and his kind at war with an army of humans – led by Woody Harrelson.
"It's a fantastic finish to a brainy trilogy that favours moral dilemmas over explosions, but finds room for a few of those too." -Tony Stamp, FLICKS
Charlize Theron is an undercover MI6 agent sent to Berlin during the Cold War in this action spy thriller from the director of John Wick and Deadpool 2.
"I can guarantee you at least one moment of ass-kicking amazement that will make the whole film feel like it was worth seeing." -Liam Maguren, FLICKS
A young street artist in East Los Angeles is caught between his father's obsession with lowrider car culture, his ex-felon brother and his need for self-expression.
"Isn't always persuasive, but it has plenty of heart." -HOLLYWOOD REPORTER
The sequel to the spinoff of The Conjuring is – surprisingly – almost unanimously considered far better than the first film.
"Guess what? It ain't bad." -Aaron Yap, FLICKS
Office Space meets Battle Royale in this horror-thriller written by James Gunn (Guardians of the Galaxy) and directed by Greg McLean (Wolf Creek).
"Tense and inventively gory, but lacks substance and characters to root for." -TOTAL FILM
Disney Animated Classics
Straight from the Disney vault comes a bunch of family animated favourites from the hand-drawn legends to the modern Pixar classics.
The line-up includes: Beauty and the Beast, The Jungle Book, Lady and the Tramp, Pocahontas, Wall.E, Up
---
New to Netflix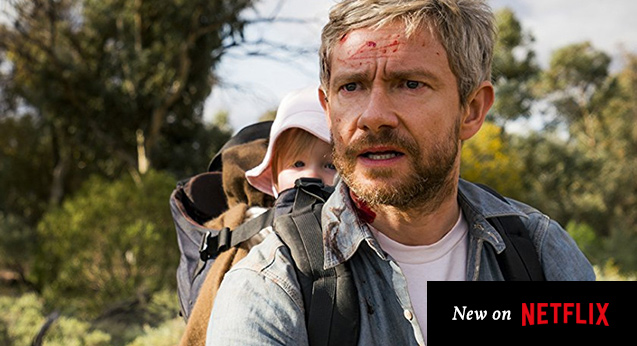 Martin Freeman leads this against-the-clock outback thriller as a zombie-bitten father looking for salvation for his baby daughter before he turns.
"Who'd have thought that the secret to new life would be to inject a little humanity into the old shambling corpse?" -FILMINK
Clive Owen is a detective in a world with no privacy or anonymity in this sci-fi thriller from Kiwi filmmaker Andrew Niccol (Gattaca).
"For a time when digital privacy and surveillance could hardly be a more #hotbutton issue, Anon's vision of a world without anonymity is strikingly banal," -Katie Parker, FLICKS
Kirsten Dunst, Isla Fisher and Lizzy Caplan star in this comedy about three coked-up, foul-mouthed friends asked to be bridesmaids for the woman they ridiculed back in high school.
"After a promisingly funny first half, this tale of three coke-snorting gal-pals trying not to screw up their friend's nuptials all but drowns in its own catty cynicism." -VARIETY
The 13th Star Trek film, the third in the newly rebooted series.
"It's a thrilling and honourable ode to what makes the property special," -Dominic Corry, FLICKS
Oscar-winning World War II true story of the English mathematician and logician, played by Benedict Cumberbatch, who set out to break the Enigma code used by the Nazis.
"Even though its construction feels formulaic and by-the-numbers, it's all in service of making Alan Turing's legend known," -Liam Maguren, FLICKS
A geek from a tough neighbourhood in LA tries to find his place in academia in this high-energy coming-of-age tale.
"A crowd-pleaser from start to finish." -HOLLYWOOD REPORTER
The movie with the Simpsons in it.
"It's certainly much funnier than most, but there's the inescapable feeling that we've seen it all before." -Andrew Hedley, FLICKS
David Lynch applies his nightmare logic to The Hollywood Dream in this 2001 feature that scored him Best Director at Cannes.
Gillian Jacobs, star of Netflix series Love, goes on a business trip to Spain only to get sidetracked by a hot DJ in this Netflix original rom-com.
---
New to Everything Else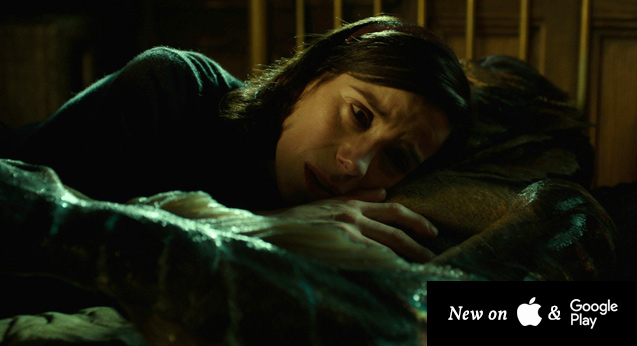 Sally Hawkins (Paddington) leads this Best Picture Oscar winner, other-worldly fairy tale from Pan's Labyrinth director Guillermo del Toro.
"While the parallels Del Toro is drawing will be too clunky for some, the film's huge heart and good intentions are always on display." -Tony Stamp, FLICKS
Frances McDormand and Sam Rockwell give Oscar-winning performances in this darkly comic crime mystery from the writer-director of In Bruges.
"Think the dramatic power of Coen brothers' No Country for Old Men, and the outrageous humour of The Big Lebowski, and you're within a billboard's-length of getting the picture." -Adam Fresco, FLICKS
Sam Elliott is an ailing movie star who comes to terms with his past and mortality in this Sundance Grand Jury Prize-nominated comedy-drama.
"For long-time fans, Elliott's stirring performance is still worth treasuring," -Aaron Yap, FLICKS
Hugh Jackman stars in this original musical inspired by the life of American showman P.T. Barnum, founder of the Ringling Bros. and Barnum Bailey Circus.
"There is fun to be had here. As long as you do your best not to think about it too hard. And can stomach plenty of earnest cheese." -Dominic Corry, FLICKS
This time, the director of Non-Stop puts Liam Neeson on a train in this crime conspiracy thriller.
"Eager to entertain, logic be damned." -Tony Stamp, FLICKS
Oscar-nominee Andrew Garfield (Hacksaw Ridge) and Claire Foy (The Crown) lead the directorial feature debut from actor Andy Serkis (War for the Planet of the Apes).
"Superbly acted drama, beautifully shot by Tarantino's go-to cinematographer, Robert Richardson." -Adam Fresco, FLICKS
A widower struggles to appease Orthodox tradition and raise his son in this observational drama, shot in a camera-shy Hasidic Brooklyn neighbourhood.
"The film doesn't give straight answers, and it's all the more thought-provoking for it." -Liam Maguren, FLICKS
Hand-painted animated Oscar nominee about the life and mysterious death of Vincent Van Gogh. Around 100 artists have been involved in the film, and in the process have composed more than 56,000 paintings.
"A visual astonishment," -Liam Maguren, FLICKS
Surf documentary from Oscar-nominated documentarian Rory Kennedy that captures the remarkable life of legendary big-wave surfer Laird Hamilton.
"Kennedy steers the audience on an exhilarating ride," -HOLLYWOOD REPORTER
They get married in this one.
"Ends abruptly and without satisfaction." -Amanda Robinson, FLICKS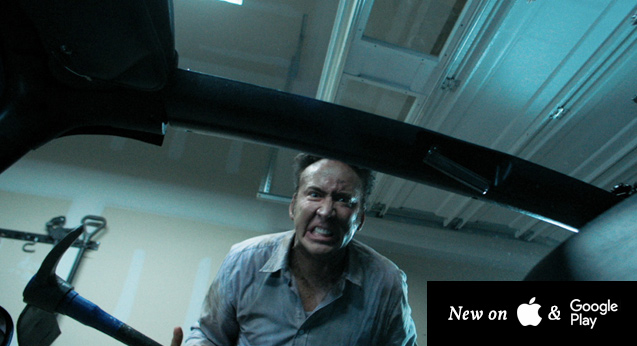 Nicholas Cage and Selma Blair are two parents on a mission to murder their kids in this black horror comedy from Crank director Brian Taylor.
"Though sure to be distasteful for some viewers even to ponder, this giddy exercise transcends mere bad-taste humor to become one of the great jet-black comedies about suburbia." -VARIETY
Jake Gyllenhaal is a Boston Marathon bombing victim helping police track down the killers while struggling to recover from devastating trauma.
"This isn't the positive movie many will want, but it's something better: a window into post-traumatic stress and exploded identity." -TIME OUT NEW YORK
Director Paul Thomas Anderson and star Daniel Day-Lewis reteam, after 2007's brilliant There Will Be Blood, for this Best Picture Academy Award nominee.
"Everything about the production is immaculate: the clothing, the camerawork and Jonny Greenwood's score, alternatively opulent and haunted." -Matt Glasby, FLICKS
The directorial debut of Oscar-winning screenwriting Aaron Sorkin (The Social Network), based on the real-life misadventures of high-stakes poker queen-pin Molly Bloom (Jessica Chastain).
"Jessica Chastain makes a good fist of Molly but it's hard yakka when the character is starring in her own hagiography." -Paul Casserly, FLICKS
Gerard Butler, 50 Cent, and O'Shea Jackson Jr. lead this bank heist action thriller.
"This is poor-man's action cinema with zero characterization." -TIME OUT NEW YORK
Chadwick Boseman reprises his titular role in the Marvel Cinematic Universe's 18th film, which went on to become one of the biggest box office smashes in history.
"If anyone deserves to retire as kings and queens, it's the art department." -Liam Maguren, FLICKS
A marine corporal (Kate Mara) builds a lifelong relationship with a military combat dog in this war drama based on a true story.
"It's hard to completely dismiss any movie with a soul this strong, just as it would be hard to dismiss a disobedient puppy so long as its tail keeps wagging." -INDIEWIRE