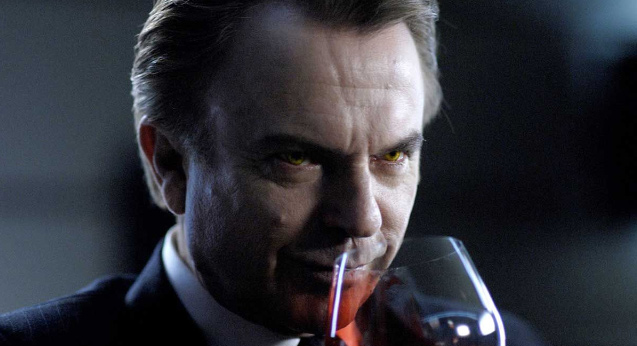 Perfect pairings: Sam Neill's films with Sam Neill's wines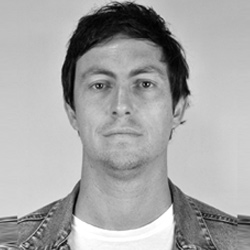 ---
His film career spans the entire modern era of cinema in Aotearoa, from Sleeping Dogs forty years ago to reigning all-time homegrown box office champ Hunt for the Wilderpeople. Over the past couple of decades Sam Neill has followed his nose in another direction – producing top-notch wine through his winery Two Paddocks (which you may also recognise as the name of Neill's excellent Twitter account).
Some films find the perfect accompaniment in a box of popcorn and disposable post-mix soda, but very few can't be considerably improved by a bloody good pinot noir. We set out to follow in the footsteps of great restaurants the world over and find some ideal pairings between Neill's wines and his films. Slight problem – we're ok at writing about film, but wouldn't know where to start with tasting notes. Enter Master of Wine Stephen Wong from Wine Sentience, whose selections and descriptions introduced us to many (too many?) delicious wines at the much-missed Golden Dawn Tavern of Power (RIP).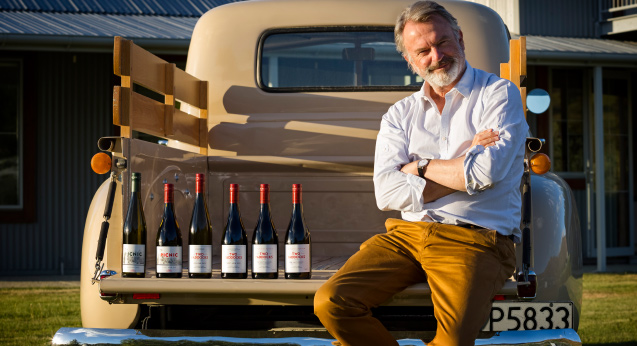 Using Stephen's tasting notes below, we've gone rifling through the Kiwi acting icon's body of film work from here and abroad to come up with the perfect pairings.
---
Picnic Riesling 2017 – Alexandra
Bright, fresh, zingy, lemon sherbet, lime blossom aromatics. Off-dry with a juicy, tart and lip-smacking acidity. Lovely drive, but not austere, serious or bony.
A sunny, friendly, jumping in a fresh pool kinda a wine. Light-hearted and easy-going.
Lovely drive, you say? That might suggest Tommy's Honour, in which Neill plays Captain of the Royal and Ancient Golf Club of St Andrews.  There's a better dish to go with this Riesling though – Aussie comedy The Dish. Telling the true story of the team-up between NASA and Australian scientists at the Parkes Radio Telescope to broadcast live pictures of the moon landing. Not only is there the odd attempted cover drive, as the Aussies play cricket on the enormous dish, but as it's from the makers of The Castle, there's a dry and easy-going sense of humour, with a zinger here and there. Though the comedy can veer towards the acidic it never strays far from friendly – if not outright irresistible.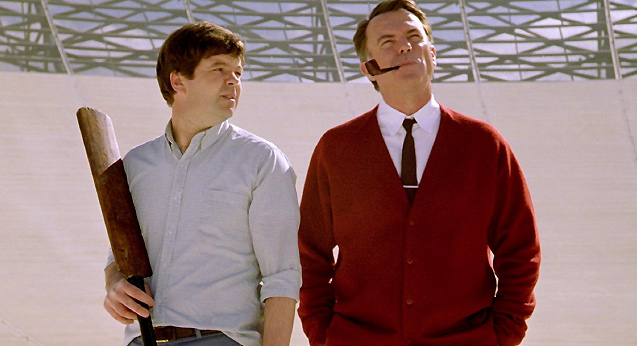 ---
Picnic Pinot Noir 2017 – regional blend
Reductive, stinky nose, complex and quite earthy/spicy WB components
Quite fluid, silky tannins, floral back-palate. Lovely stuff for the price. Delicate and perfumed. Elegant, lacy Pinot Noir without being pretentious. A light-hearted but beautifully composed example with moderate concentration and complexity. Something which you don't expect to be as classy as it is; and certainly more so than it has any right to be at this price!
While most of these attributes can be found in one place or another in Jane Campion's The Piano, this pairing falls down when considering the light-hearted aspect. To tell you the truth, that's going to pose a wee problem for most local films. As we know, though, damn near anything from Aotearoa punches above its budget – and there's no more an overachiever in this department than Hunt for the Wilderpeople, smashing box office records as it sketches the delicately blossoming relationship between Neill and Julian Dennison against a floral bush backdrop, and boasting exactly the unpretentious attitude needed to bowl the world over.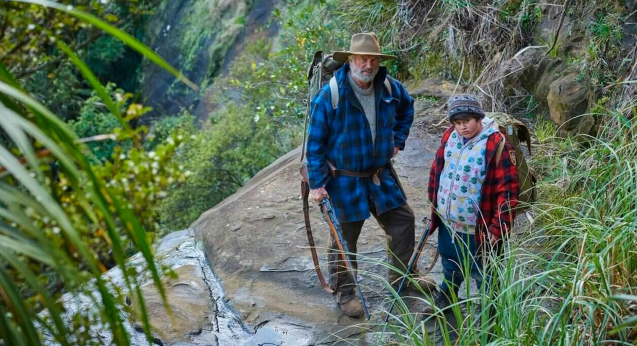 ---
Two Paddocks Pinot Noir 2016 – regional blend
Subtle WB funk, subtle floral notes with a lifted smoky/earth warmth from Bannockburn contribution. Structurally, quite refined with a Chambolle-like elegance framed by Central heat/power. Perfumed and light-bodied but driven, fine-grained, primarily raspberry leaning to plum fruit through to the end. There is a clean chalky minerality on the finish which freshens up the phenolic shape of the wine. Quite tight, this is a silky, lacy style with upfront complexity and plenty of secondary interest – a bit of everything in it. Not a terribly clear narrative but very enjoyable despite not being high-brow.
With the silky robes of Taika Waititi's Wilderpeople priest spoken for already, that characteristic – alongside lacy – is best found in Sirens. That is, when the women of the film haven't discarded their smalls to be painted in the nuddy by Neill. Extremely upfront about female nudity among a cast including Elle Macpherson, there are refined elements in the film's depiction of art and a progressive attitude to sexuality. Not to mention a spot of voyeurism aka secondary interest.
In a positive review that observes "Strange: it's not often you smile this much during an erotic film," Roger Ebert noted of the narrative (or lack thereof) "There is no particular plot in Sirens so much as a general observation of the process by which [characters] are gradually transformed".  Need further convincing? "Earthiness is all in John Duigan's Sirens" wrote the Independent.
---
Two Paddocks The Last Chance Pinot Noir 2016 – Alexandra
Significant WB and reduction on the nose. Soft flavour expression, gentle and flowing red fruit with savoury tomato notes. The tannins are somewhat chunkier, more raw and firm on the back-palate but the wine is also more sustained. Better concentration here but this is a sleeper and needs time to shake the grip of reduction. There is an airy floral/rosehip layer which will no doubt emerge. This is a slow-burner but I suspect when it finally unfurls, it will be a delicate, romantic beauty.
There's an ominous reading to the name The Last Chance that could see this Pinot Noir paired with Neill's apocalyptic films on that basis alone – Omen III: The Final Conflict; In the Mouth of Madness; Until the End of the World; even Event Horizon. But when Stephen notes this as a sleeper needing time to shake the grip of reduction its hard to go past dystopian Kiwi classic Sleeping Dogs, in which a totalitarian state has imposed martial law and clenched freedom in its fist. A slow-burner it is, in the finest of 70s cinema fashion, and with the raw element you'd expect from director Roger Donaldson's first feature. While its ending may not be strictly romantic, it could definitely be considered poetic – close enough to give this a shot.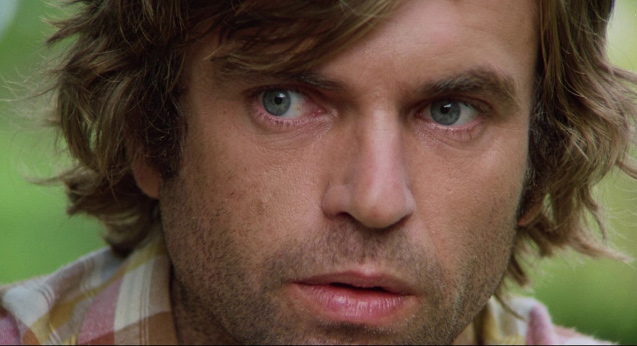 ---
Two Paddocks The First Paddock Pinot Noir 2016 – Gibbston
Very sweet, intense, rich red fruit coulis with a compost note and some noticeable green oak sweetness. A touch over-ripe here with some unusual seed/stem notes which I suspect come from an attempt to build structure on an otherwise very sweet-fruited wine. Overall a very powerful example of Gibbston; very concentrated and intense but lacking grace and finesse. A guilty pleasures, swimming in a tub of chocolate ice-cream kind of wine. For a sub-region which is associated most with precise, piercing wines, this has a surprising amount of 'special effects' and it's questionable if the wine is better for it?
By the time the third Jurassic Park film arrived, it was a case of diminishing returns for the franchise, and Jurassic Park III unfortunately bears all the hallmarks of trying to build structure as filmmaking went along, having thrown its script away five weeks before shooting, according to the director. Really though, Jurassic Park III mostly exists as a vehicle for special effects (see pic below), and by this stage in the franchise the thrill of seeing dinos brought to life on screen had worn off a bit, and wasn't really enough without the other elements working in harmony. Having Spielberg out of the director's chair further compounded the film's lack of grace and finesse, but at least having Neill back to share the screen with deadly dinosaurs went well with a choc-top from the confectionary counter.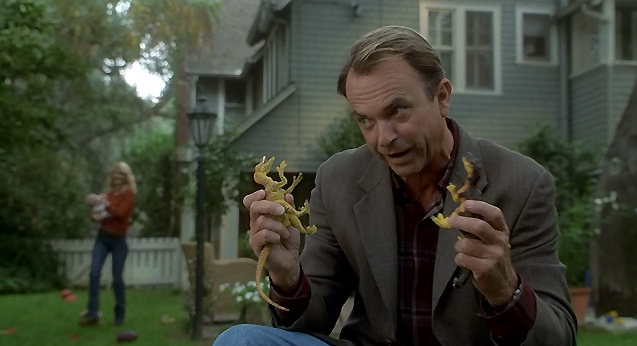 Also worth pouring a glass of this pinot noir while watching is The Spierig Brothers' sci-fi vampire pic Daybreakers, in which Neill quaffs the richest of red – human blood – from a wine glass as a ruthless vampire tycoon (it's complicated).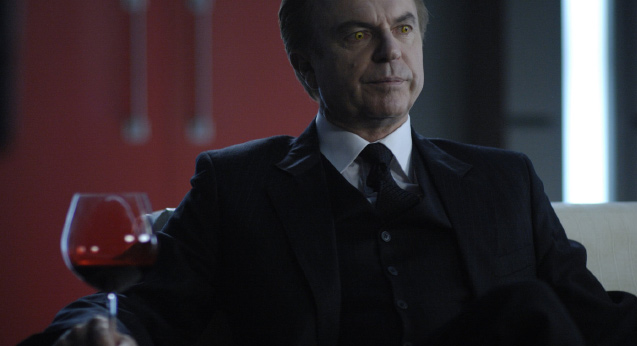 ---
Two Paddocks The Fusilier Pinot Noir 2016 – Bannockburn
Restrained, dark earthy/mineral nose. There is noticeable WB contribution on the palate where tannins come in early. Slightly 'green' notes to accompany peppery spice and crystalline purple fruit/violet flavours. Good tension here despite a traditionally warmer region. Savoury edge to the otherwise just-ripe fruit flavours. Reasonably direct in narrative but it takes a circuitous route to get there, maintaining interest along the way. In terms of New Zealand Pinot Noir, this sub-region is well-known for high-budget blockbusters, but this one is a bit artsy and contemplative.
A noticeable WB contribution pops up early in the days of watching Dead Calm at home on VHS – the Warner Bros. logo appearing ahead of the film as documented in this YouTube video (for some unknown bloody reason). The ocean-set thriller on a becalmed yacht sees a bit of spice emerge when Neill and wife Nicole Kidman are joined by handsome stranger Billy Zane and a threatening love triangle forms. Like all good psychological thrillers, there are plenty of twists and turns in the plot, and Philip Noyce's direction helps to elevate the film above its (delightfully) trashier elements. If he could, Billy Zane's character would attest to Neill's own skill as a fusilier, thinking about the name of this Pinot Noir.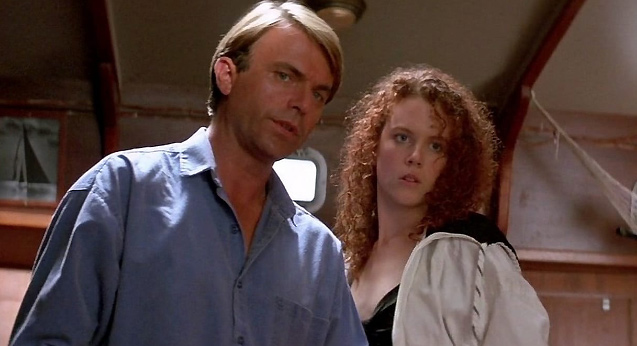 For a bolder pairing, one that's more challenging than simply entertainment, consider Gaylene Preston's drama Perfect Strangers.
---
Bonus pairing for non-wine fans:
Pairing Sam Neill and John Clarke, black comedy Death in Brunswick is set in Melbourne. That plus a six-pack of VB – what more could a Victorian want?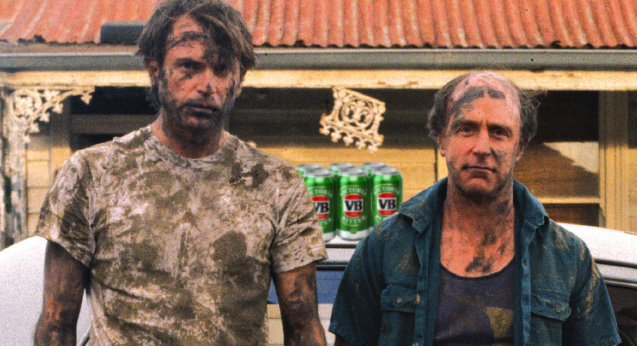 ---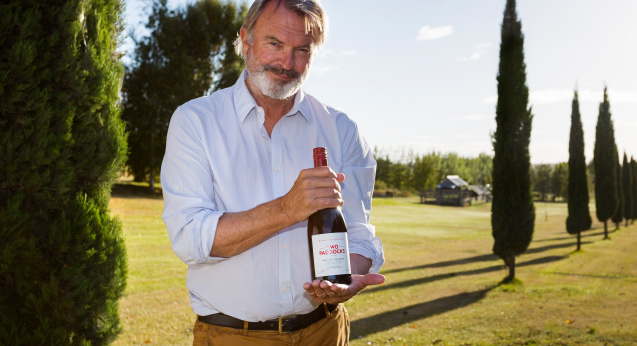 This story is part of our month-long celebration of 40 years of NZ film. Follow all our daily coverage here.
For more on the wines of Two Paddocks visit their website.
Find out more about Wine Sentience here, including their Wellington tastings.
Sign up for Flicks updates