Whether you're a fan of spies, tennis, Christopher Nolan, Josh Brolin, 'good bad movies', good classic movies, Harry Potter, Agnès Varda, Michael Haneke, big robots, big monsters, or big robots fighting big monsters, there's a film for you on your device of choice.
---
New to NEON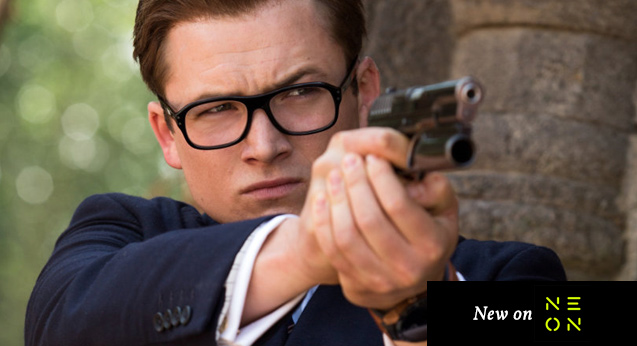 Taron Egerton and Mark Strong return to their roles in the sequel to 2014's spy action comedy Kingsman: The Secret Service.
"By the standards of the first film, it's merely enjoyable." -Steve Newall, FLICKS
From a Creepypasta internet scare to viral phenomenon, The Slender Man cast a sinister, if harmless, shadow – until two 12-year-old girls stabbed their best friend to appease the fictional entity. This documentary explores the horrifying crime.
Emma Stone is Billie Jean King, the 1973 World Number 1 tennis player who fought for gender-equal tournament winnings, in this sports film.
"A breezy, funny film about serious subject matter," -Dominic Corry, FLICKS
Queen Victoria (Judi Dench) strikes up an unlikely friendship with a young Indian clerk in this period drama.
"Like putting truffle oil on a Twinkie doesn't instantly make it gourmet, putting Dame Judi Dench in a film doesn't instantly make it a masterpiece." -Alex Casey, FLICKS
A dog wants to rock in this animated family film.
Aubrey Plaza, Alison Brie and Kate Micucci are repressed nuns in filmmaker Jeff Baena's (Joshy) take on Boccaccio's sex comedy, The Decameron.
"A winning ensemble brings present-day attitude to Boccaccio's irreverent sex comedy." -THE HOLLYWOOD REPORTER
Streaming on NEON from July 14
Ed Helms, Kevin Hart and Nick Kroll star in this DreamWorks animated feature based on the children's novel series by Dav Pilkey.
"This is an amusing film that never ceases to bring a smile to your face." -OscarSM, FLICKS USER
Streaming on NEON from July 16
Christopher Nolan's Oscar-winning World War II thriller, with Tom Hardy, Cillian Murphy and Mark Rylance (Bridge of Spies).
"You'll leave thrilled and shaken by the scale of the real-life endeavour as well as Nolan's cinematic version." -Steve Newall, FLICKS
Six teens are high school students by day and ninjas defending their homeland of Ninjago by night in this CGI martial arts comedy.
"It doesn't have the smarts to follow the rectangular footsteps of the previous LEGO films." -Liam Maguren, FLICKS
Streaming on NEON from July 23
Idris Elba and Kate Winslet survive an alpine plane crash in this adaptation of Charles Martin's novel.
"It's a love story first and foremost, doing a better job serving that crowd than most Nicholas Sparks bollocks adapted to screen." -Liam Maguren, FLICKS
Streaming on NEON from July 24
Jessica Rothe (La La Land) plays a sorority sister who must relive the same day over and over until she figures out who is trying to kill her and why.
"Has enough glimmers of inspiration to hope for good things from the filmmakers next time, and Rothe is fun." -Tony Stamp, FLICKS
Streaming on NEON from July 27
The end of the world looms and the only solution is to send Gerard Butler into space.
"If you're the kind of person who hunts for a 'good bad movie' then beer yourself up because this is the most entertaining two-star film of 2017."
Streaming on NEON from July 28
---
New to Netflix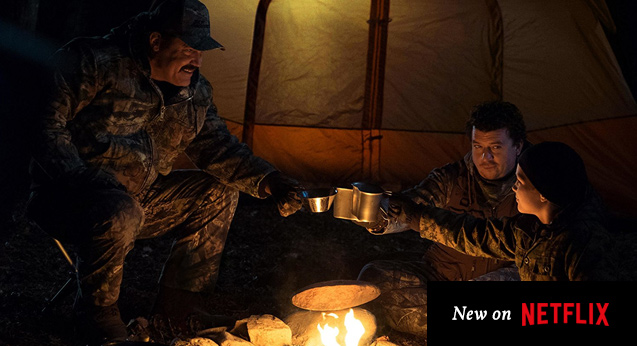 Josh Brolin plays the father to Montana Jordan (TV's Young Sheldon), hoping to bond with his son during a hunt in the wilderness in this comedy co-written and co-starring Danny McBride.
"Brolin remains the main attraction, and the saving grace," -VARIETY
Joseph Gordon-Levitt is Philippe Petit, the real-life Frenchman who walked across the World Trade Center's twin towers on a tightrope in 1974.
"Given this story has already been told so well, it would be smart to simply indulge in the visuals. But The Walk isn't that smart." -Liam Maguren, FLICKS
Stanley Kubrick's masterful horror adaptation of Stephen King's novel.
"As fresh today as when released in 1980, Kubrick still packs a psychological punch…" -Adam Fresco, FLICKS
Two drunken friends argue whose dad would win in a fight and one of the fathers takes the debate seriously in this David Spade comedy.
Streaming on Netflix from July 20
Michael Peña and Lizzy Caplan (Cloverfield) head up this sci-fi thriller from Australian director Ben Young (Hounds of Love).
Streaming on Netflix from July 27
Author J. K. Rowling and director David Yates return to the Harry Potter universe with this spinoff story, starring Oscar-winner Eddie Redmayne as writer Newt Scamander.
"Fantastic Beasts is at its best when it elicits wonder through exploration." -Liam Maguren, FLICKS
---
New to Everything Else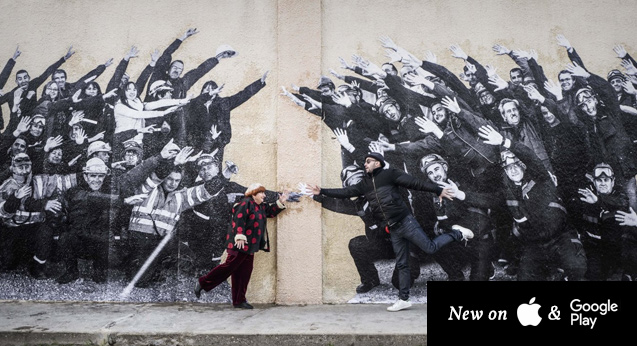 Octogenarian French director Agnès Varda hits the road with young photo-muralist JR, creating artworks, looking up old friends and making new ones.
"Sheer perfection." -ROLLING STONE
Drama revolving around nine-year-old Shula who is accused of witchcraft in Zambia, where the marginalisation of 'witches' continues in 2017.
"It's rare and exhilarating that a new filmmaker arrives on the scene so sure of herself and so willing to take bold, counter-intuitive chances." -VARIETY
A young misfit escapes into a fantasy world of magic and monsters in Oscar-winning short film director Anders Walter's feature debut.
"It's the kind of movie you ended up watching every week as a kid just because of how weird it made you feel." -VULTURE
Christina Hendricks and Martin Henderson star in the sequel to the 2008 horror hit, The Strangers. From the director of 47 Metres Down.
"Audience members will be too busy sighing at the screen to be scared." -THE GUARDIAN
Find it on Blu-ray, DVD and VOD
Three ordinary mates – Tom, Jeffrey and Gavin – end up inside a low-budget sci-fi B-movie in this New Zealand comedy.
"Will appeal to anyone who grew up in the 1970s and '80s." -James Croot, STUFF
Find it on Blu-ray, DVD and VOD
Isabelle Huppert leads this bourgeois family ensemble drama from the two-time Cannes Palme d'Or-winning Austrian auteur, Michael Haneke.
"Haneke hasn't made a Twin Peaks-style TV series, but if he did, it might look something like this spiteful but slightly drawn-out drama." -Matt Glasby, FLICKS
The work and life philosophy of the grandfather of contemporary New Zealand jewellery, Kobi Bosshard, is explored in this Kiwi documentary.
"It's a wise, gentle reminder on the intrinsic value of possessing two crafty, gifted hands." -Aaron Yap, FLICKS
John Krasinski directs, co-writes and stars alongside Emily Blunt (Edge of Tomorrow) in this year's horror hit in which a family must stay silent to hide from deadly creatures that hunt by sound.
"Demonstrates a deft and canny ability to turn the minutiae of everyday monotony into the stuff of nightmares." -Katie Parker, FLICKS
Pop culture-saturated Spielberg sci-fi based on the hit novel of the same name, set in a world where VR is way better than R.
"It's so meta it's basically South Park's taco, within a taco, inside a taco." -Adam Fresco, FLICKS
Find it on Blu-ray, DVD and VOD
Disney adaptation of Madeleine L'Engle's 1962 sci-fi novel starring Reese Witherspoon, Chris Pine, Zach Galifianakis and Oprah Winfrey.
"The whole thing looks and feels more like a video-game clip than a movie." -Adam Fresco, FLICKS
Find it on Blu-ray, DVD and VOD
Nick Robinson (Jurassic World) has yet to come out in this coming-of-age tale adapted from Becky Albertalli's acclaimed novel.
"While not necessarily queer cinema's most revelatory offering, Love, Simon is more charming than anticipated, with some truly heartwarming moments." -Amanda Robinson, FLICKS
Find it on Blu-ray, DVD and VOD
Three parents try to stop their teen daughters from having sex on prom night in this comedy starring Leslie Mann, John Cena and Ike Barinholtz (Bad Neighbours).
"There's enough originality and decent jokes in Blockers to recommend it to fans of the genre." -Daniel Rutledge, FLICKS
Find it on Blu-ray, DVD and VOD
Ewan McGregor's directorial debut, which adapts Philip Roth's Pulitzer Prize-winning novel and stars himself and Jennifer Connelly.
"It's a remarkably committed effort that takes a few seriously misguided turns along the way, even as its actors lunge at psychological depth with every scene." -TIME OUT NEW YORK
Find it on Blu-ray, DVD and VOD
Warwick Thornton's award-winning Australian western set in the outback of the Northern Territory, 1929. Stars newcomer Hamilton Morris, Bryan Brown, and Sam Neill.
"Gorgeously shot and patiently paced, the tension and drama is punctuated by moments of humour and grace…" -Steve Newall, FLICKS
A father and son find themselves in trouble in the Montana wilderness in this Sundance Grand Jury Prize-nominated survival drama.
"While Walking Out is hardly in the same league as The Grey, it is a reasonable companion piece…" -Luke Buckmaster, FLICKS
Follow-up to 2011's family animated film, Gnomeo & Juliet, helmed by the Oscar-nominated director of Kung Fu Panda.
"It's one for the gnome buffs." -SYDNEY MORNING HERALD
Find it on Blu-ray, DVD and VOD
John Boyega, Scott Eastwood, Charlie Day and Cailee Spaeny star in the sequel to Guillermo del Toro's 2013 sci-fi monster movie, Pacific Rim.
"If you enjoyed the first, this sequel delivers, but not much beyond the whizz-bang visuals of the trailer." -Adam Fresco, FLICKS
Find it on Blu-ray, DVD and VOD
Stop-frame animated film set at the dawn of time by four-time Oscar-winning Aardman director Nick Park (Curse of the Were-Rabbit).
"Take the kids, enjoy the stunning handmade animation, forgive the lazy characterisations and Palaeolithic plot…" -Adam Fresco, FLICKS
Find it on Blu-ray, DVD and VOD
James Corden stars in this live-action/CGI feature rendition of Beatrix Potter's classic character, which absolutely crushed it at the box office.
"Nowhere near as good as Paddington 2, but don't let that deter you if it's a solid, generally fun, family film for the little ones you're after." -Adam Fresco, FLICKS
Find it on Blu-ray, DVD and VOD
Director Brad Peyton's San Andreas star Dwayne Johnson leads this sci-fi action adventure based on the classic 1980s video game.
"Compared to most videogame adaptations, it's actually bloody good." -Daniel Rutledge, FLICKS
Available on Blu-ray, DVD and VOD from July 18
Sci-fi horror from filmmaking duo Justin Benson and Aaron Moorhead (Spring). Best to go into this one without knowing anything else about it.
"Akin to a 'blockbuster of the mind'." -FILMINK
Available on Blu-ray, DVD and VOD from July 18
The first feature film from Oscar-nominated ex-Ghibli lead producer Yoshiaki Nishimura's Studio Ponoc, a story of a girl who discovers a world of magic and magicians.
"There's still enough cinematic and literal magic to make this fantasy adventure watchable." -Liam Maguren, FLICKS
Available on Blu-ray, DVD and VOD from July 19
Alden Ehrenreich (Solo: A Star Wars Story) and Tye Sheridan (Ready Player One) star in this Iraq War drama.
"A lyrical and bitterly sad drama about boys ruined by war…" -VANITY FAIR