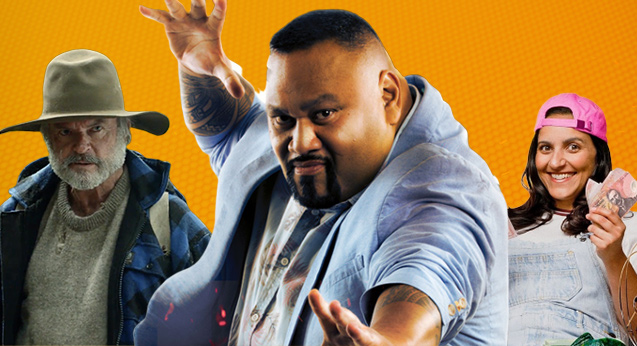 Take Home Pay and why we always need NZ-made crowd-pleasers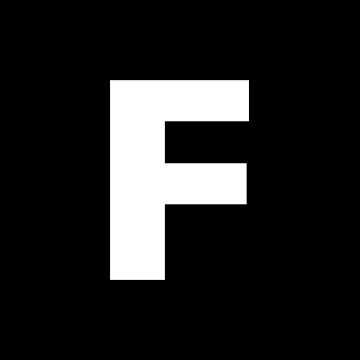 ---
There's a Samoan-NZ action-comedy coming to cinemas 5 September. After seeing the film, Liam Maguren reflects on recent local features designed for mass appeal in Aotearoa.
I'm still glowing from the fact that, just a few days ago, I saw an actual Samoan-NZ action-comedy. How many big Kiwi comedies grace our cinemas each year? One if we're lucky. How about homegrown action films? That's closer to one per decade.
Take Home Pay fulfils both and it was a joy to watch.
It's the latest from filmmaking sibling duo Stallone and Abba-Rose Vaiaoga-Ioasa, following up crowd-pleasing comedies Three Wise Cousins and Hibiscus & Ruthless. They continue to self-fund their features, which is startling considering their polished productions punch well above the 'indie' weight and the box office return rises above many Kiwi features churned through the standard processes.
It marks the film acting debut of Samoan comedy star Tofiga Fepulea'i, playing a sometimes-helpful but mostly useless private investigator helping his relative Alama (Three Wise Cousins star Vito Vito) retrieve the money stolen by his brother Popo (Longi Taulafo).
Fepulea'i's frequently funny, working in perfect comedic contrast to Vito's reliable straight-man protagonist. As Alama's conflicted/cowardly/asshole brother, Taulafo brings a liveliness that gives many of the action sequences an energy boost.
I warn you now, though: don't go expecting John Wick fight scenes. You won't see a choreographed ballet of judo throws. There's no pencil-in-the-eye violence. It isn't that kind of action movie.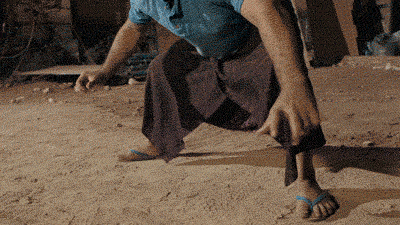 It's a comedy first and the fights are stylised and slightly exaggerated—the kind where a slow-mo punch is followed by a visual shockwave and a THX-level sound effect. While they may not have a Hollywood stunt team at their disposal, the action in Take Home Pay thankfully doesn't push its limits and should be praised for the kinetic editing and camerawork that aid—rather than hinder—the set-pieces.
The post-production works so efficiently, it makes me want to shove the film in the face of the Taken 3 filmmakers while yelling: "WHY CAN'T YOU DO THIS!?!?!?"
There are things to criticise. Not all the jokes land, the buddy-cop relationship lacks a certain buddy chemistry, and some dragging action sequences tug on the film's momentum.
Looking beyond that though, Take Home Pay stands regardless as a carefully considered and well-executed crowd-pleaser—especially for Polynesian audiences that hardly ever get to see themselves reflected on the big screen in such a fun way.
Sign up for Flicks updates
It got me thinking about recent NZ films that aimed for broad audiences within Aotearoa. Richie McCaw biography Chasing Great made our All Blacks-loving citizens perform a national duty by taking that film straight to #1 (hardly any documentary achieves that honour). Same goes for Toa Fraser's action flick The Dead Lands which combined pre-colonial Te Ao Māori with the traditional fighting art of Mau Rākau, allowing the haka to be displayed in its original context. And Taika Waititi's hilarious Hunt for the Wilderpeople captured pretty much all of Aotearoa to became the highest-grossing NZ film ever.
Passing the filmmaking power to women, last year's big Kiwi comedy The Breaker Upperers almost clocked two million during its cinema run. After landing on Netflix, the film's directors Madeleine Sami and Jackie van Beek were picked up by the streaming platform for Netflix Original Hope starring Aubrey Plaza.
The Breaker Upperers didn't make #1 during its cinema run, just like every other film that opened next to Avengers: Infinity War. However, by aiming for a demographic outside of Serious Comic Book Nerd, it worked as a clever piece of counterprogramming that saw the film hang around for weeks on end.
And the programming's important. Wilderpeople cleverly opened AFTER Batman vs. Superman, Chasing Great tackled tiny opponents Nerve and David Brent: Life on the Road in its opening week, and The Dead Lands crushed Nicolas Sparks' puke-romance drama The Best of Me.
It's rare to get a contest-free release week nowadays.
Forming a love story around an arrangement of classic Kiwi tracks, this year's pākehā-pleasing Daffodils had some foresight with its jukebox musical, a nostalgia-prodding genre that's proved popular with the likes of Bohemian Rhapsody, Rocketman, Yesterday, and recent release Blinded By the Light.
It was a commendable attempt to draw in a broad Kiwi audience, but while it saw a somewhat respectable gross, I wonder if it'd fare better had box office-crusher Captain Marvel had not continue to dominate weeks after its release.
Take Home Pay sits in a rather interesting position. It opens alongside mega-horror sequel It: Chapter Two which will certainly be the #1 film that week. But it still leaves huge chunks of audiences who'd rather not see something super violent or butt-cramp scary. The alternative? An action-comedy.
It also opens a month after Hobbs & Shaw, another huge action-comedy starring another Samoan superstar. Has it stolen some of Take Home Pay's thunder or has it made audiences hunger for more? It's hard to say; either case seems likely.
With overseas blockbusters flooding NZ cinema screens now more than ever, it's vital to have local films that can find the gap, bring people together, and present entertainment that reflects them in a medium that typically doesn't.
The space is precious. The Vaiaoga-Ioasas understand this. And they know their audience.
It was apparent from the get-go when their feature debut, Three Wise Cousins, came close to cracking a million. Approximately $980,000 after a tremendously-long 24-week run (according to the last MPDA report to list the film).
Their follow-up film, Hibiscus & Ruthless, didn't quite reach that, topping off at about $495,000 after 16 weeks. That may seem like a buzz-kill, but considering it still grossed more than many of the Oscar contenders of that year (like Molly's Game, Phantom Thread, Call Me By Your Name), it still impressed in its own right.
This brings top-tier homegrown dramas like Waru to mind, which made roughly $400,000 in NZ cinemas, and spiritual follow-up Vai made only a third of that this year. Fortunately, both films found life in numerous film festival circuits, which I'm sure was the expectation.
Sadly though, it reflects the reality that our audiences hardly ever show up in huge crowds for our super-serious cinematic dramas. Gone are the days where a challenging film like Once Were Warriors could top our charts. It's never more apparent than with Kiwi films that return from NZIFF for dwindling theatrical runs like Stray, Human Traces and Orphans & Kingdoms.
Cliff Curtis-led powerhouse drama The Dark Horse could be considered, well, a dark horse in this case. Grossing almost two million at the NZ box office, it championed 2014's golden year of NZ cinema. It was an underdog inspirational true-story tale that Kiwis latched onto, mercifully absent of in-your-face cruelty one might have seen from Jake the Muss or Uncle Bully.
Not that you need to be a serious drama to say something profound. The Vaiaoga-Ioasas understand this, as well. While Three Wise Cousins promoted itself as a comedy first, it revolved around a character suffering from a cultural identity crisis. Hibiscus & Ruthless also put its laughs first, but it was anchored by the story of a Samoan tertiary student pressured by her dominating mother to achieve absolute excellence.
Take Home Pay finds its core with Samoa's history of sending seasonal workers to New Zealand and bringing their earnings back to provide for the family. Wrapped up by a wonderful conclusion that's both wholesome and unexpected, the story lands on something truly heartfelt.
It just also happens to have heaps of laughs and sonic boom punches.