Winter is finishing. Cap off the last of the cold with a creepy clown on NEON, a ditched bride on Netflix, or a purple supervillain on Blu-ray.
---
New to NEON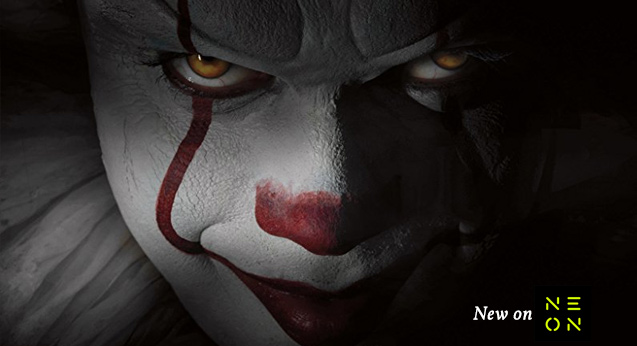 Bill Skarsgård is It, a being that terrorises seven small town Maine children in this supernatural horror adapted from Stephen King's 1986 novel.
"His scares feel contemporary but [director Andy] Muschietti defies dating them through modern conventions, his added set piece scares seamlessly woven into the DNA of King's tale." -Steve Newall, FLICKS
Domhnall Gleeson (Ex Machina) is author AA Milne in this drama about Milne's son Christopher Robin and how his birth would lead to the creation of Winnie the Pooh.
"If you're not averse to well-wrought sentimentality, this solidly acted and directed small-scale family relationship melodrama should have you shedding a tear, or three" -Adam Fresco, FLICKS
Taika Waititi's (Boy) adaptation of Barry Crump's Wild Pork and Watercress and the highest grossing New Zealand film ever at the New Zealand box office (before AND after adjustment for inflation).
"A hilarious, heartwarming tale that harnesses script, direction and performances and takes plenty of creative risks on its way to delivering movie magic." -Steve Newall, FLICKS
Animated feature based on the My Little Pony: Friendship is Magic TV series with an all-star supporting cast including Emily Blunt and Zoe Saldana.
"Your tolerance for nearly two hours of at times garish, throwback animation will also depend on how many empowering songs and equine wordplay you (and your kids) can handle in one sitting." -James Croot, STUFF.CO.NZ
The third Thor film, infused with the trademark humour of director Taika Waititi (Hunt for the Wilderpeople).
"This movie is just so much fun, it's a hilarious superhero romp and nigh impossible to watch without a grin on your face." -Daniel Rutledge, FLICKS
Arnold Schwarzenegger leads this action comedy as the world's greatest assassin who becomes the target of lesser, jealous hitmen.
"An amusing if dispensable mockumentary from former Saturday Night Live funnyman Taran Killam, who wrote, directed and stars." -LA TIMES
BAFTA-nominated British boxing drama about a former youth champion who returns to his old gym and team after hitting rock bottom. Co-stars English greats Ray Winstone and Ian McShane.
"It's intense and frenetic, but it's also strangely anti-climactic, which seems to be the point." -LITTLE WHITE LIES
---
New to Netflix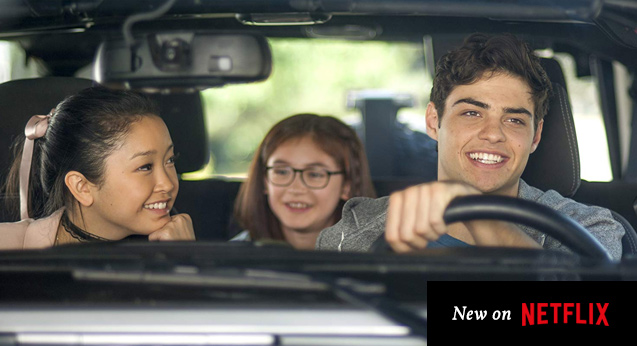 A high schooler expresses her feelings for all her crushes by secretly writing letters that only she reads. That is, until the letters get sent out all at once.
Kristen Bell gets left at the altar and ends up taking her honeymoon cruise with her father in this comedy co-starring Kelsey Grammar and Seth Rogen.
During a camp-out, a teenager accidentally does something incredibly stupid and extremely painful in this comedy.
Seth Rogen, Anthony Mackie and Joseph Gordon-Levitt are three not-so-wise men in this R-rated Christmas comedy.
"A satisfying romp, surely a staple of stoner Christmas Eves to come" -Steve Newall, FLICKS
Sign up for Flicks updates
Keira Knightley is the spirited Elizabeth Bennet and Matthew Macfadyen is the wealthy Mr. Darcy in this Jane Austen adaptation, the directorial debut from Joe Wright (who went on to helm Darkest Hour).
"A movie for the age, and a keeper for the ages" -VARIETY
Before going to prison for fraud, Will Ferrell asks Kevin Hart to train him for life in the slammer in this pre-prison comedy.
"Comes up short in the gag department, and with that being the only thing going for it, can't really be recommended." -Steve Newall, FLICKS
The Mission: Impossible 2 of the Jack Reacher franchise.
"Suffers greatly from a colossally dull, surprise-free narrative and Edward Zwick's hacky, shockingly sloppy filmmaking."
Zac Efron leads this 2010 drama as a young man with a college scholarship and a bright future – all of which are tossed aside when his little brother dies in a car accident.
"The film doesn't just fail, it actually gets sillier by the minute." -HOLLYWOOD REPORTER
---
New to Everything Else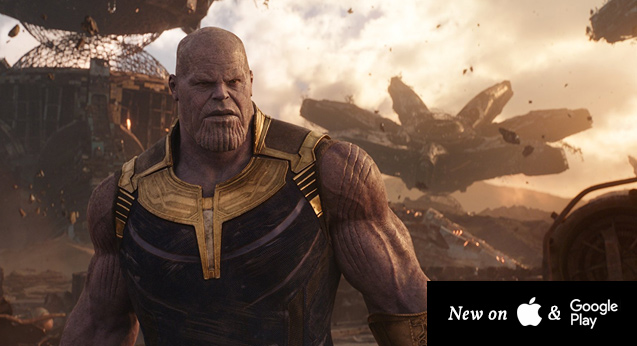 The Avengers – torn apart after the events of Captain America: Civil War – join forces with the Guardians of the Galaxy to confront Thanos.
"Isn't totally perfect, but it's a damn fun time that rises to its challenge." -Steve Newall, FLICKS
Actor Simon Baker helms, co-writes and stars in this surf drama based on Tim Winton's best-selling novel. Set in mid-70s coastal Western Australia.
"One of the most ambitious Australian films I've seen in years." -Amanda Jane Robinson, FLICKS
Glenn Close leads an all-star cast featuring Max Irons and Gillian Anderson in this screen adaptation of the Agatha Christie mystery novel.
"The best Christie I have seen in years." -Graeme Tuckett, STUFF.CO.NZ
The voices of Bryan Cranston, Bill Murray, Jeff Goldblum and Edward Norton star in Wes Anderson's stop-motion animated comedy about a Japanese boy who sets out on an adventure to find his dog.
"It's lovely to look at, but that's clearly not nearly enough when you find yourself wondering when – rather than how – it's all going to wrap up." -Steve Newall, FLICKS
Venice award-winning drama about a reindeer-herding Sámi girl who severs ties with her family and her culture.
"Swedish helmer Amanda Kernell makes a stirring debut with a coming-of-age tale that pointedly addresses a bygone era of Scandi colonialism." -VARIETY
A teacher comes under fire for allegedly using her students to manipulate their parents in this Slovak-Czech drama.
"Polished, engaging and somewhat risk-averse." -NEW YORK TIMES
Amy Schumer thinks she's a solid 10 after sustaining a head injury in this comedy from the writers of How to Be Single.
"Your enjoyment will definitely depend on how much of Williams reprising her My Week With Marilyn voice you can stand." -James Croot, STUFF.CO.NZ
A game of Truth or Dare turns deadly when someone – or something – begins to punish those who tell a lie or refuse the dare in this Blumhouse horror production.
"If you stumbled upon this movie one bleary-eyed late night on an SVOD platform, it might go down inoffensively." -Aaron Yap, FLICKS
Melissa McCarthy enrolls as an adult student at her daughter's university in this comedy by McCarthy and Ben Falcone (The Boss, Tammy).
"It all feels like a project that even Adam Sandler might have thought twice about." -James Croot, STUFF.CO.NZ
Blistering satire from Veep creator Armando Iannucci chronicling the aftermath of Soviet dictator Joseph Stalin's death in 1953. Stars Steve Buscemi, Jeffrey Tambor and Olga Kurylenko.
"I totally wallowed in the thing like a pig in muck, all the way from the weaponized language to the Weekend at Bernie's dead body LOLs." -Paul Casserly, FLICKS
Lily James stars in this historical drama based on the novel of the same name.
"Overall, it's closer, though, to last year's British home-front dramedy Their Finest in its female-powered wartime melodrama." -Russell Baillie, LISTENER
Jason Clarke (Everest) is Ted Kennedy in this political drama that revisits Ted Kennedy's 1969 car accident with Mary Jo Kopechne (Kate Mara, The Martian) and the ensuing cover-up.
"While Chappaquiddick may be a restrained retelling of events, there's a real life-or-death issue behind Kennedy's crisis management that casts his self-serving actions in a pretty despicable light." -Steve Newall, FLICKS
From the director of hit drama Lion, the story of Mary Magdalene starring Rooney Mara, Chiwetel Ejiofor and Joaquin Phoenix as Jesus.
"A sleepy, polished, overly reverent religious opus, calculated to appease both secular and non-secular audiences." -Aaron Yap, FLICKS
Academy Award nominees Bryan Cranston, Steve Carell and Laurence Fishburne are reunited Vietnam War veterans in this comedy drama from Richard Linklater (Boyhood).
"Works just fine as a poignant story about a grieving father burying his son." -Aaron Yap, FLICKS
Claire Foy is involuntarily committed to a mental institution in this Steven Soderbergh horror shot entirely on a cellphone.
"The terrifying glimpses at mental illness and even more terrifying portrayal of a US mental health facility are brilliant, but the third act drops the ball." -Daniel Rutledge, FLICKS
Jason Sudeikis (Colossal), Elizabeth Olsen (Wind River), and Ed Harris (TV's Westworld) star in this indie road movie, off to see a beloved photo lab one last time.
"It's all just so bland though, following an easily predictable path to a finale hewn from pure corn." -Tony Stamp, FLICKS
Some thieves pull a heist. During a hurricane.
"Like the sound of a film called 'The Hurricane Heist'? Then you'll probably enjoy The Hurricane Heist." -EMPIRE
An incident in Mexico puts a businessman's hefty investment at stake in this dark comedy starring David Oyewolo, Charlize Theron and Joel Edgerton.
"A fun romp with a great comic performance from Oyelowo. Doesn't linger, but you'll enjoy it while it lasts." -TOTAL FILM
God is not dead once again in the third entry in the faith-based franchise.
"It has to be said that A Light in Darkness is considerably better than the two movies that preceded it." -INDIEWIRE
Documentary chronicling a crucial year in the life of Midnight Oil.
"It goes without saying that this is one for the fans. It's largely concert footage, so familiarity with the songs goes a long way." -Tony Stamp, FLICKS