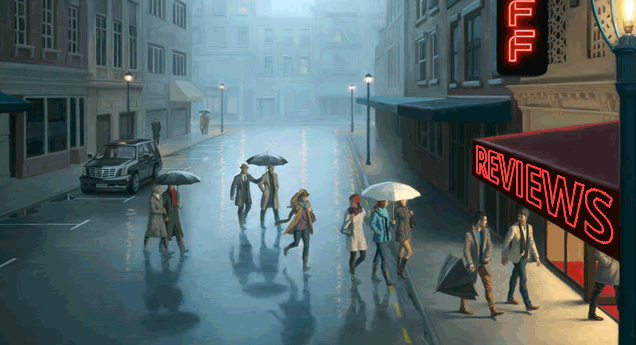 The New Zealand International Film Festival has begun in Auckland and we're neck deep in the cinematic ocean. Here is where you can catch all of our writers' quick impressions of the films they're lined up to see.
We've broken this into two sections – the Newest Additions and The Full List. Favourite this page, save it on your phone, or just remember to keep checking back here as we'll keep adding new reviews daily.
---
Newest Additions
An absolute treat for the eyes, an exploration of beliefs (and mistaken myths) about romance dressed up in what looks at first glance like a sexploitation riff. The level of obsessive detailing by filmmaker Anna Biller permeates every facet of The Love Witch, making for viewing that will captivate, while pondering about what the film has to say about screen portrayals of women and men will come later. A stronger version of what's noticeable about The Beguiled, in that it would be a very different film in the hands of a male director and their accompanying gaze. Not for everyone given its pacing and ultra-specific aesthetic, it should be said.
Yorgos Lanthimos applies his absurdist wit to the horror genre, and the results are kind of amazing. It's full of horror signifiers like slow-zooms and jarring music cues, and events do become genuinely horrific, but Lanthimos awkward sense of humour is almost always present. Colin Farrell is fantastic as a buttoned-down doctor and Barry Keoghan is terrifying in a gangly, awkward sort of way. Once the story takes a turn into the supernatural The Killing Of A Sacred Deer starts to feel like a particularly nihilistic Twilight Zone episode. It's transfixing and you can't look away but you might wish you had.
Gruelling social realism meets alien tentacle-sex in this weirdly moving (and straight up weird) film from director Amat Escalante. Where his last effort Heli used an explicit torture scene as its centrepiece, here the milieu of working class life in Mexico is broken up by encounters with the titular space-squid, a creepily well-realised creature that serves as a handy metaphor for addiction. The real triumph of The Untamed is grafting something so otherworldly onto a naturalistic family drama. The result is very icky.
Spoiler alert: ultimately unrequited, there's no date for Mary. A burly vibe transmits the melancholic essence of a working-class Dublin town, efficaciously showcasing its briny characters. As sweary and brusque as its charismatic protagonist, A Date for Mad Mary makes a spectacle of itself – and it's quite fiercely charming as a result.
Posing questions that linger post-viewing, this somewhat sympathetic portrait of the notorious serial killer doesn't necessarily make Dahmer more relatable (he still messes with animals, fantasises of murder). Seeing him as almost an ugly duckling high school outsider is interesting enough, and his home life is equally well-sketched – both in almost John Hughes fashion. Maybe it's the foreshadowing of what's in Dahmer's future, or a filmmaking style more like teen dramedy than true crime – something unsettles here, doesn't quite come together in singular fashion. Maybe that's the point?
If you (me) didn't already consider Bill Direen a hero of New Zealand music and the written word (I had only an inkling…), this will both enlighten and entertain. Simon Ogston (he of the recent Skeptics doco and others) directs an excellent document and impressively informative-but-succinct summary of a career that has spanned four decades – and continues to mutate.
---
The Full List
Click on a title below to go straight to the review or scroll down to browse through the list.

6 Days | 20th Century Women | 100 Men | Bad Genius
Beatriz at Dinner | The Beguiled | Bill Direen | Blade of the Immortal
Born in China  | Brigsby Bear | Call Me By Your Name | Columbus
A Date for Mad Mary | Don't Swallow My Heart, Alligator Girl!

 Ethel & Ernest | The Evil Within | Faces Places | A Fantastic Woman
The Farthest | Frantz | A Gentle Creature | God's Own Country
Good Time | Happy End | Heal the Living | Hostages
Hounds of Love | I Am Not Your Negro | The Inland Road
Intent to Destroy | In Times of Fading Light | It Comes At Night
Kedi | The Killing of a Sacred Deer | Kiki, Love to Love
Kim Dotcom: Caught in the Web | Lady Macbeth
The Love Witch | Marjorie Prime | The Merciless | 
Minute Bodies: The Intimate World of F. Percy Smith
A Monster Calls | Mountain | My Friend Dahmer
My Life as a Courgette | Nowhere to Hide | On Body & Soul
The Other Side of Hope | The Party | Patti Cake$
A Prayer Before Dawn | Quest | Risk
Secret Screening: The Belko Experiment | Spookers
 The Square | Stalker | Super Dark Times | Swagger of Thieves
Swallows and Amazons | Tony Conrad: Completely in the Present
Top of the Lake: China Girl | Tragedy Girls | The Untamed
Waru | We Don't Need a Map | Wind River | Wùlu
---
Procedural focus on the SAS preparation and hostage negotiations engages, though 6 Days never breaks the bounds of well-made TV drama. Whilst the tension-building is expertly handled, the script gives little room for character development or political depth, never engaging viscerally and intellectually in the manner of say, Spielberg's Munich. Still, a gripping recounting, and having Kate Adie herself introduce the film at the NZ premiere gave it an added relevance in today's terrorism-obsessed mass media climate.
ADAM FRESCO
The steady hand of Toa Fraser aids this by-the-numbers true story thriller. Confidently capturing the mood of Britain circa 1980, juggling different groups of men talking stressfully in various rooms, and establishing tension and urgency when required, Fraser's turned in a strong calling card for future studio gigs. There's not a lot here to demand you drop everything to watch, but even though inessential, it's pleasantly more than workmanlike.
STEVE NEWALL
---
This film totally nails both the slice-of-life and coming-of-age genres by essentially displaying a portrait of a house and those who live in it. Friendships can be fleeting – a truth that's achingly relatable – but with deeply crafted characters ignited by pitch-perfect performances, this film immortalises the power of people who are simply passing by in our lives.
LIAM MAGUREN
---
By interviewing/talking about the dudes he's banged, ranging from 'John' to 'Beer Can Dick', Kiwi director Paul Oremland goes for feelings over facts. By doing so, it clutches at warm moments of intimacy and clashing philosophies over the likes of monogamy and what queer cultural touchstones are left behind in the wake of social progress. Though the film has a straight-for-TV feel with its no-frills title cards and music that sometimes sounds too stock, it still makes for a pleasant, humourous, insightful experience about the gay male experience.
LIAM MAGUREN
---
Featuring some of the most pulse-pounding sequences in recent memory (including Dunkirk), Bad Genius creates high drama from high school exams. Structured like a heist film, each exam raises the stakes as a group of opportunistic students attempts to cheat the system. Credulity gets more and more strained as the film approaches its finish, but it's so entertaining and often hilarious, realism doesn't matter too much.
TONY STAMP
Although a thoroughly entertaining film, between the frequent laughs and thrilling exam scenes (yes, seriously), there lies here a surprisingly moving drama. Bad Genius's strongly-beating heart is a morality tale rooted in inequality and, ultimately, the bonds of family. It's let down slightly by an over-stretched third act and some jarringly bad performances by the non-Thai actors, but this absolutely deserves to be selling out sessions here and it's pleasing to see it is. Don't miss it.
DANIEL RUTLEDGE
Based-on-a-true-story Thai thriller, about a group of students masterminding an exam cheating scheme that goes way, way out of control. Director Nattawut Poonpiriya skilfully makes this feel less like The Breakfast Club, and more like Baby Driver.  A great cast and script, cinematography, editing and soundtrack make this an intelligent, fun ride that's combines a high school movie, a heist movie, and clever take on class, wealth, privilege and entitlement. A highly recommended, surprising delight.
ADAM FRESCO
---
The premise, if familiar, offered much – a culture-clash dinner table, speaking-truth-to-privilege, scenario, peppered with solid acting talent. Salma Hayek and John Lithgow elevate proceedings with very watchable performances, but their characters sadly struggle to transcend cliche. Scattered throughout the film you'll find humour and uncomfortably realistic observations of superiority complexes but, unfortunately, the film didn't coalesce into something special for me, let alone justify its ending.
STEVE NEWALL
This fish-out-of-water-and-into-a-socialite-bubble drama wasn't quite the Liberal David vs Republican Goliath the trailer made it out to be. It's more a sharply-written character study centred on the well-meaning but frustratingly tactless Beatriz played expertly by Salma Hayek. The last ten minutes of the film, however, are gonna shake audiences into different camps – I was in the 'pissed off' and 'I don't get it' tents.
LIAM MAGUREN
---
Superb casting anchors Coppola's latest – assembling Kidman, Dunst, and Fanning and assigning them perfectly fitting roles at varying points of womanhood. Farrell serves as an empty vessel, scheming and lecherous but with little else going on, which is ideal for a film not exploring his point of view at all. The charm lies in the cast's interplay and a see-sawing tone, making for an enjoyable watch.
STEVE NEWALL
Sofia Coppola's remake turns up the repressed sexuality to eleven as the camera lingers on Colin Farrell's body, or Nicole Kidman's eyes, Kirsten Dunst's lips, or Elle Fanning's neck. The gorgeous veneer can't hide the lack of characterisation, or absence of people of colour in a deep South, Civil War-era setting. Surprisingly funny at times, this psychosexual drama never transcends its beautiful exterior. Lovely to look at, entertaining and erotic, but disappointingly shallow.
ADAM FRESCO
Sofia Coppola's remake of the 1971 Southern Gothic is her most accessible film since Lost in Translation, propelled by a relatively twisty plot, but always allowing time to linger on aesthetic touches like light streaming through morning mist, or water pooling in Colin Farrel's clavicle. Steeped in simmering tension underlined by the constant thrum of insects, The Beguiled is surprisingly funny and ultimately haunting, with great performances by Farrell and Kirsten Dunst in particular. A smattering of tonal inconsistency can't mar something this sumptuous and stylish.
TONY STAMP
---
If you (me) didn't already consider Bill Direen a hero of New Zealand music and the written word (I had only an inkling…), this will both enlighten and entertain. Simon Ogston (he of the recent Skeptics doco and others) directs an excellent document and impressively informative-but-succinct summary of a career that has spanned four decades – and continues to mutate.
MATTHEW CRAWLEY
---
Japanese maestro Takashi Miike 's 100th movie is a manga-adapted, blood-splattered, samurai tale. A relentless ride, fast, fun and furiously energetic, with some great characters and a scintillating central performance by Takuya Kimura. Whilst offering nothing remarkable, nor particularly new to fans of Takashi, and Japanese cinema, there's something for every samurai action fan – blood, brutality, heroes, villains, supernatural shenanigans, high adventure, fantasy, and thrills. I had a ball.
ADAM FRESCO
For once, Takashi Miike isn't the standout in a Takashi Miike film – it's his lead Takuya Kimura. This guy exudes everything I love about grisly action heroes – ruggedness, charisma, reluctant nobility – while showing a general tiredness of being alive forever that feels weirdly relatable. A lot of the adapted side characters feel undercooked, but it's easy to forgive when the film's world-building is this rich and the samurai slaughter action is this much fun.
LIAM MAGUREN
The inclusion of some fantastical elements (immortality) and some physically-improbable action (blades) distinguish this from Takashi Miike's other recent samurai outings, as does the feel of the manga-derived narrative and characters. Bloody good fun that never lags, Blade of the Immortal boasts great fights ranging from duels to one-man-versus-hordes, and a hero with such 'tude I somehow found myself thinking about Paul Rudd's character from Wet Hot American Summer.
STEVE NEWALL
---
An assortment of cute-as-hell animals hit the big screen in this nature "documentary" (more on that in a moment) that cuts between various representatives of adorably watchable Chinese species – monkeys, pandas, mountain lions – inducing laughs and aws. This Disneynature release follows the company playbook too much for my liking though, its narration attributing far too many human motives and personality attributes to its animal characters in order to tell a story that may show off nicely-shot principal footage, but veers too far into fiction for mine.
STEVE NEWALL
---
What could have easily been some flight-of-fancy fluff turns out to be a heart-soothing charmer about therapy through filmmaking. Kyle Mooney does an incredible job as the socially-stunted lead, delivering punches of comedy in his character's purity without ever showing insensitivity towards his situation. Like 21 Jump Street and Spider-man: Homecoming, the film has a much more realistic grasp on modern, tolerant teenagers. It's dope as shit.
LIAM MAGUREN
Dave McCary's fun, if flawed, kooky, indie, comedy-drama. Kyle Mooney plays a young guy obsessed with TV show superhero Brigsby Bear. Kept indoors by protective parents (Mark Hamill and Jane Adams), once he's deprived of the safety of home, Kyle tries to overcome trauma by enthusing everyone he meets with his passion for the fictitious bear. Think Ted meets Swiss Army Man, in the style of Michel Gondry. Quirky, heartfelt and entertaining, with the best non-Star Wars Mark Hamill in aeons.
ADAM FRESCO
"Sheltered, unconventionally-raised, man-child encounters the real world" may seem like an overworn idea, but Brigsby Bear finds fresh gold to mine, largely by avoiding unnecessary whimsy. There's plenty of that to enjoy, particularly in how Kyle Mooney's character relates new experiences to a long-running TV show only he's ever seen – Brigsby Bear  - but seldom-seen levels of humanity underpin the sort of scenario usually played for awkward laughs at the lead's expense. Brimming with humour and heart, and celebrating the joy of creativity, this feels like one of the under-sung highlights of the fest.
STEVE NEWALL
---
Coming of age films are largely overcooked, but there's fresh heat here with less common pairings and flavours. Call Me By Your Name delivers the piquancy of emergent sexuality and romance with fervor drawn from a sun soaked Italian countryside. This is a zesty and affirming chronicle of an introverted young man Elio, and Oliver, a sporty all American scholar abroad.
MARIA WALLS
Phwoar, director Luca Guadagnino is a movie masseuse when it comes to massaging sexual tension into the audience. This first-love coming-of-age tale is intimate, intense, incisive, and a whole lot of other things starting with 'i', but what makes this an incredibly immortal film is its sense of timelessness – from the infinite shots of the summer-soothed land to the archaeological themes that give historical relevance to male eroticism. It also has one of the greatest Dad of the Year speeches in cinema history.
LIAM MAGUREN
---
Classic Yellow Saviour movie, in which Asian Guy rescues White Girl from a dreary life with her recovering meth addict mother. Or Antonioni remakes Shanghai Kiss. Seriously though, Haley Lu Richardson is revelatory, and John Cho – just put him in everything already. Not nearly as much modernist architecture porn as I was expecting, but I'm very pliant to its pulse-slowing charms. A+ tourist bait.
AARON YAP
---
Spoiler alert: ultimately unrequited, there's no date for Mary. A burly vibe transmits the melancholic essence of a working-class Dublin town, efficaciously showcasing its briny characters. As sweary and brusque as its charismatic protagonist, A Date for Mad Mary makes a spectacle of itself – and it's quite fiercely charming as a result.
MARIA WALLS
---
It's always dangerous to describe a film as being "Lynchian", given that even David Lynch barely gets away with sometimes, but admittedly it was said description of this flick that hooked me. Brazilian offering Don't Swallow My Heart, Alligator Girl! is a fairly straightforward Romeo-and-Juliet-meets-Sons-of-Anarchy-but-has-also-seen-a-few-episodes-of-Stranger-Things type of tale, and despite its ambition to be all that and more, I'm not sure I could say I came away with much to write home about on this one.
MATTHEW CRAWLEY
---
This animated rendering of Raymond Briggs' award-winning and rather charming graphic novel about his parents and life as a child during wartime in London evokes all the melancholic nostalgia you might expect. It's got all the twee'n'teary emotion of The Snowman, and the twinkly humour of Father Christmas, but Ethel and Ernest Briggs, through their newspapers and cups of tea, convey something of what life was have been like for working class families during WWII, and the very English pursuit of normalcy that followed.
MATTHEW CRAWLEY
Drop your cynical sneer and embrace the warm glow of another in a line of spot-on animated versions of Raymond Briggs graphic novels. Director Roger Maniwood perfectly captures the gentle warmth of Briggs' original depiction of his parents, and their loving relationship, which takes them through the Blitz. London is beautifully rendered, Jim Broadbent and Brenda Blethyn nail the voices of the titular lovers, and there's the added bonus of music by Carl Davis and Paul McCartney. A gentle, funny, romantic (but never soppy), heart-warmingly mundane story of ordinary people in extraordinary circumstances.
ADAM FRESCO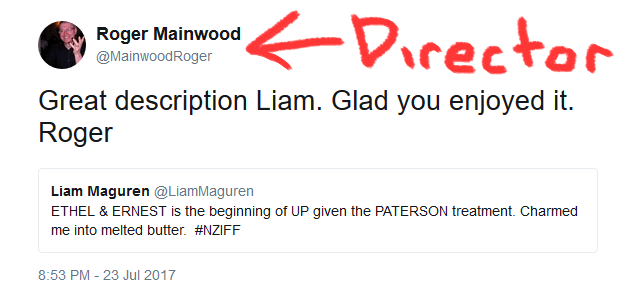 LIAM MAGUREN
---
One of the coolest things about the NZIFF is completely unique cinema experiences unlike anything else. This is certainly one of those, the story behind the film making for a fabulous read and heightening the enjoyment of the movie itself considerably. Parts of it are a weird dull chore, while others are a weird, disturbing, delight. It's a singular vision from someone who seems to have been genuinely battling personal demons – not a great film, but definitely a great time.
DANIEL RUTLEDGE
"I've never seen a movie like it," is what I delightfully heard from the friends I took to see this unfiltered horror. While the lack of restraint means sitting through some stagnating moments of dull drama and some straight-up confusing scenes, it also means being rewarded with some genuinely crafty, nightmarish filmmaking from a man who clearly spent a lot of time looking into the 50 mirrors.
LIAM MAGUREN
---
Also released as Visages, Villages, Faces Places sees 89-year-old film maker Agnès Varda make a performance / take a road trip with photographic activist and artist JR (born in 1983). With madcap synergy they squabble and magnificently connect and truck us across time-zones, to recreate photographs, meet JR's centenarian grandmother and visit a badly behaved Jean-Luc Godard. This is a film set within a document, within an incongruous match-fit relationship about human images pasted monumentally well.
MARIA WALLS
---
This is a great crash course introduction to the bullshit trans people experience from cis men and women. Trans actor Daniela Vega gives a sturdy performance as a character keeping it together when her much older partner dies, throwing her out of an accepting relationship and into an acidic social cauldron bubbling with tragedy and transphobia. It's straightforward, observant, effective, empathetic storytelling with a smoldering root-for-the-underdog heart.
LIAM MAGUREN
---
Like the scientists who still have an emotional attachment to the gold LP-carrying flying antenna they hurled out into the cosmos in 1977, you'll fall in love with this plucky spacecraft and the hopes it carries. CGI renderings of its planetary encounters through the solar system look incredible on the big screen, as do grainy images Voyager beamed back to Earth, both bolstered by big-budget, boomer-friendly, music cues. Plenty to enjoy here, not least of all the enthusiastic, sometimes teary, scientists that worked on the program, or the unlikely tale of how Voyager came to carry audio (and not "offensive" artwork) through the cosmos – at least when you're not freaking out about aliens tracing its trajectory back and wiping us all out.
STEVE NEWALL
The joy and heartache of sending your gangly tin foil-wrapped spacecraft-child on their first interstellar OE.  Bubbly, effortless crowd-pleaser – like a slicker Particle Fever – holds attention for two hours as scientists weep, Chuck Berry is blasted across the solar system and photos of distant planets three billion miles away are somehow beamed back to Earth. Come for the mind-boggling cosmic perspectives, stay for the heart-tugging human ingenuity.
AARON YAP
---
This superbly-acted drama explores love, loss and forgiveness post The Great War in a way that isn't too far off the course from typical war stories but takes unique turns to let it break from the pack. The cinematography delivers some stunning black-and-white shots too, but the occasional use of colour (most likely meaning to represent the happiness the characters once knew) is applied very sporadically and, thus, feels more intrusive than profound.
LIAM MAGUREN
---
"Why are all Russian films like, 'Let's spend three hours trying to do something, then not do it'." That's how a buddy described this, after having a similar reaction to Stalker. But that dullness and slow pace are what make A Gentle Creature – along with its stabs of awful creepiness, complete absurdity and one horrific bit of violence. There's a general monotonous hopelessness to it all that will either speak volumes to you about what life's like in Putin's Russia, or just be a frustrating waste of time.
DANIEL RUTLEDGE
---
This is the most romantic film I've seen in ages (yes, more-so than La La Land). It requires some patience at the start given you're following an asshole who's too damn old to be acting like a teenager getting drunk every night, dragging the chain on his work, and showing zero courtesy to the dudes he bangs. But this film methodically breaks down why he's like this and how the new man in his life builds him back up, showcasing some truly artful sex scenes that speak another language entirely.
LIAM MAGUREN
---
From a hyperactive start with an agitating, zooming and thrilling jail-break scene (delivered in full-tilt grain) to a tumultuous 'free' subsistence where Nick and Constantine Nikas are imprisoned by their self-interested dumb choices, this is an ultimately unhopeful movie whose preliminary buzzes deliver only wretchedness. The film loses itself after such a hot setup, but it persuasively transmits a repeating idea about contemptible low-lifes leeching off and diminishing others (first-generation immigrant grandmothers and sucked-in girlfriends). Directed by the two Safdie brothers from Queens, New York, about two brothers (one of whom is, played by Ben Safdie himself) and set in New York, Good Time is sad.
MARIA WALLS
---
Perhaps the thing that most offended the audience I saw Happy End with was the opening few minutes onscreen being confined to smartphone proportions. Don't worry, it doesn't last, and as you'd expect from Michael Haneke there's other human fucked-up-ed-ness to dwell in – though quite a few laughs as well in its blunt portrayal of human interactions and manners (or lack of them).
STEVE NEWALL
A pre-teen sociopath poisons her guinea pig, and then her mother. So begins the latest laugh riot from cheery old Michael Haneke. Happy End is admittedly his most comedic film, but it still cycles through favourite topics like dementia, class struggle, surveillance, and suicide. Because it never has a chance to drill into one particular thing, it can initially feel a bit toothless compared to the Austrian auteur's past misery-epics, but considering his scope has broadened to take on all of Europe, keeping things light was probably for the best.
TONY STAMP
---
Completely slaughtered me. Life, death, rebirth. Organ transplant plot could've come from any medical soap tearjerker, but writer/director Katell Quillévéré unspools the tale in unexpected ways, and does so with bracing precision, economy and elegance. The fragility and impermanence of human life, the marvel of the human anatomy. A real surprise, and a perfect way to end the fest.
AARON YAP
---
This is the tense-as-hell true story of the 1983 Georgia passenger jet hijacking and resulting bloodbath. From superbly choreographed set-piece wedding to the detailed hijacking re-enactment, we follow a group intent on fleeing the iron grip of the Soviet Union in a thought-provoking thriller, brilliantly acted, and solidly helmed, in semi-documentary style by Georgian director Rezo Gigineishvili. Yes, it's subtitled, but I was so caught up in the action on this white-knuckle ride I barely noticed.
ADAM FRESCO
---
Imagine Wolf Creek in late '80s Perth with grim seriousness in place of the cartoonishness and you're close to this nauseatingly tense experience. The tone is closer to the great modern Aussie crime dramas than a horror movie, which gives the horror all the more impact. Ben Young's film isn't particularly original, but he executes the chilling, based-on-true-events feel so effectively I almost felt guilty watching it.
DANIEL RUTLEDGE
---
"Well that was some sobering shit", was how my friend broke the ice after some stilted small talk following this session. This was as much a revelation about the articulate passion of author James Baldwin (the doco is based around his unfinished memoirs) as a gutpunching reminder of America's sorry history. Despite Baldwin's writing coming from the late 1970s, and pertaining to events of the past, I am Not Your Negro is a timely document which leaves us asking.. "Progress? What progress?"
MATTHEW CRAWLEY
James Baldwin was an extraordinary man with an extraordinary mind and this film is a loving testament to his legacy that'll be catnip to fans of his work and attract many new ones. Although Raoul Peck's film is a masterclass in editing archival footage to create a contemporary story, as a commentary on race relations in the US it's less effective than both its rival Oscar nominees on the subject – 13th and OJ: Made in America.
DANIEL RUTLEDGE
James Baldwin gives amazing clarity to America's racial issues – especially when it comes to how white words sound to black ears. Director Raoul Peck's brilliant editing choices equate Baldwin's words to modern issues to show how the root of hate is still thriving. You can't leave this film without some enlightenment.
LIAM MAGUREN
---
Jackie van Beek delivers a feature debut that stands as tall as her lauded short films. The Inland Road is more interested in under-the-surface struggles than in-your-face emoting (one scene has the lead literally walking away from a screaming match), aided by a squad of strong performances. Every minute feels agonisingly genuine, though the gentle nature of the direction and the lightness of the story feels like it can't fill out the whole 80.
LIAM MAGUREN
---
A very timely documentary about the Armenian Genocide, a century after it was carried out and a year after it caused a diplomatic spat between Turkey and Germany. Joel Berlinger's film does well to create a context for the atrocities and give a rough idea of their details, but far too much of it is about the making of another film – feature The Promise. The lack of archival photographs and footage – an intentional situation enforced by the Turks – may explain the decision, but it doesn't lessen the frustration of watching a behind-the-scenes doco when you're expecting an illuminating deep dive into one of the world's least-acknowledged genocides.
DANIEL RUTLEDGE
---
From streets occupied by Stasi police and Lada cars and the tension of a Communist regime to Sputnik and the fall of the Wall, the set-up might sound like an educational albeit essentially gloomy Eastern Bloc scenario. Yet this account is stridently up-to-date: it's set to a capricious snaking timeline that delivers a perceptive depth of compassion across its multifarious and age-grouped perspectives; it's also smart and droll. Based upon Eugen Ruge's semi-autobiographical debut and best-selling novel, In Times of Fading Light offers a crisply acerbic depiction of the regime: its before and after.
MARIA WALLS
---
Loved by critics, but infuriating US audiences – who gave it a D CinemaScore – the first thing you should know about It Comes at Night is that it should barely be considered a horror, but instead an unsettling drama. Examining the life of a family who've survived an unspecified, civilisation-threatening, contagion the film succeeds as a "what would you do" post-apocalyptic survival tale, until the arrival of a stranger causes tensions to rise amid some nicely-sketched escalations in paranoia. Fine for what it is, and commendable for its restraint, It Comes At Night nevertheless disappoints with a weak conclusion and absence of anything especially fresh to show or say.
STEVE NEWALL
---
If you belong to things like Cool Fun Cat Group on Facebook like I do, you'll love this light look at the cats of Instanbul. Free-ranging across the city, they have no defined abodes besides those they adopt for themselves, and their personalities are likewise allowed to flourish. Kedi introduces a bunch of lovable felines, described with loving admiration by the humans that dote on them, and dares anyone that's not Gareth Morgan to sigh and smile their way through the film.
STEVE NEWALL
The expert homo sapien managers, the cats of Istanbul, are characterised up close. Whilst the felines tough beauty is plain, lamentably the director's lazy approach to documentary film is basic. It fails to elicit proportionate tension – these cats have magnificently cohabited an intense city for hundreds of years, testifying their significant adaptability, charms and the colourful cultural setting itself.
MARIA WALLS
---
Nothing like a Spanish sex comedy to attract a specific festival audience (boomers more than raincoats). Opens with sex, and is about sex, sex, and sex – in particular, specific kinks as it cuts between folks getting to grips with their particular buzz to watchable, comic, effect. One tale's a bit too Cosby for 2017 though, so if you don't want to see a woman being drugged unconscious for a man's pleasure (and played for laughs), please consider yourself warned, though essentially the film is lightweight, if ribald, stuff.
STEVE NEWALL
If you've seen Australian sex comedy The Little Death, then this Spanish remake may well disappoint, as it's pretty much the same, only not as good. Still, if you're not into comparing remakes and originals, it's a fun, bawdy tale of sexual shenanigans. A portmanteau of five very adult stories, of love and lust, fetishes and friendship, it amuses and entertains throughout. Think, Woody Allen comedy, only in Spanish… and with far more kinky sex.
ADAM FRESCO
---
Yorgos Lanthimos applies his absurdist wit to the horror genre, and the results are kind of amazing. It's full of horror signifiers like slow-zooms and jarring music cues, and events do become genuinely horrific, but Lanthimos awkward sense of humour is almost always present. Colin Farrell is fantastic as a buttoned-down doctor and Barry Keoghan is terrifying in a gangly, awkward sort of way. Once the story takes a turn into the supernatural The Killing Of A Sacred Deer starts to feel like a particularly nihilistic Twilight Zone episode. It's transfixing and you can't look away but you might wish you had.
TONY STAMP
Cards on the table: I love, love, loved Yorgos Lanthimos's The Lobster, and Colin Farrell in it, so the pair's reunion here comes with almighty expectations of yet more quirky, surreal, comic, tragic, dramatic surrealism. All of those plus a large dollop of deeply disturbing, make this a dark, dark comedy, with a top-notch cast, that conjures up Kubrick in its precision, focus and unrelenting oddness. Wonderful NZIFF cinephile catnip.
ADAM FRESCO
In an attempt to sew his own lips to the Haneke von Trier human centipede of cinema misery, filmmaker Yorgos Lanthimos has placed emotionally stunted characters in an ultra disturbing scenario without ever lifting its clown mask to allow us to take this seriously in this apathetic art-house apocalypse. OK… look… this isn't a fair review… it's nearly the end of the festival… I've gotten hardly any sleep… it was my birthday yesterday… I'm tired… and this cold, draining, laugh-in-your-face ode to the pointlessness of the human condition was the last thing I needed to see.
LIAM MAGUREN
Constantly unsettling, I never quite got to grips with exactly what was going on in The Killing of a Sacred Deer, and that kept my attention glued to the screen for the duration. Part of that was down to the film's sometimes opaque narrative, and at other times how it veers in and out of humour – perhaps best represented by the film's somewhat confrontational opening contrasting graphic open heart surgery with a banal, stilted, conversation about wristwatches. Farrell is great, the score superb, and the film as a whole pretty bloody magnificent.
STEVE NEWALL
It's got multiple nods to Stanley Kubrick, a David Lynch feel to much of the dialogue and is Yorgos Lanthimos's most accessible film to date – but this is still bizarre, unique, fascinating and may also be his most disturbing work yet. Things get very scary indeed, but even when it's at its taboo-busting worst, this never feels very lurid and maintains a black humour throughout. I still like his Dogtooth the best, but every Yorgos Lanthimos film is absolutely worth your time and exactly the sort of thing that makes the NZIFF so great.
DANIEL RUTLEDGE
---
Unparalleled access into Kim Dotcom proves revealing in Annie Goldson's examination of the flawed figure who captured New Zealand's attention in the seemingly distant past of a couple years ago. As she traces the path that brought him to our shores, it's an interesting watch. But post the well-documented raid on his Coatesville mansion, and Dotcom's ascendancy to news media darling through court dates, GCSB spying revelations, sparring with the Prime Minister and political hubris of his own, the film doesn't have much to say that anyone following Dotcom in the past few years wouldn't already know.
STEVE NEWALL
This is the ultimate deal on MEGA big man in big trouble with big film and record companies who bring the big White House to big Coatesville mansion in big raid in little old New Zealand: an Internet pirate story featuring GCSB strategies for beginners. You could fileshare its codec, download it for free, and store it in your cloudy memory, but Annie Goldson would miss out, which, after her years of work, would be a shame. Learn exactly how we made The Hobbit in exchange for an extradition example. Good Times.
MARIA WALLS
---
Adapted not from Shakespeare's Scottish play, but from Nikolai Leskov's Russian novel, William Oldroyd's understated, glacially paced, atmospheric, minimalist masterpiece takes a long, cold, hard look at the patriarchal subjugation of women. In 19th Century rural England, Katherine (Florence Pugh) is sold to a bullying, middle-aged man. Finding an outlet for her repressed passion with a stable hand (Cosmo Jarvis), Katherine slowly evolves from victim to perpetrator. No one is innocent in this subtly acted, artful meditation on feminism, sex, power and the ugly side of human desire… though avoid if slow, poetic, art-house fare ain't your thing.
ADAM FRESCO
---
An absolute treat for the eyes, an exploration of beliefs (and mistaken myths) about romance dressed up in what looks at first glance like a sexploitation riff. The level of obsessive detailing by filmmaker Anna Biller permeates every facet of The Love Witch, making for viewing that will captivate, while pondering about what the film has to say about screen portrayals of women and men will come later. A stronger version of what's noticeable about The Beguiled, in that it would be a very different film in the hands of a male director and their accompanying gaze. Not for everyone given its pacing and ultra-specific aesthetic, it should be said.
STEVE NEWALL
---
Despite interesting subject matter as it tracks a family and their use of technological facsimiles of loved ones to aid the grieving process, Marjorie Prime is a stilted and lifeless affair. No surprises, then, that it's a theatrical adaptation – sadly doing none of the heavy lifting to translate what works as a play to the cinema. Leaning heavily on dialogue, with little for the eyes, Marjorie Prime comes off as a sub-par Black Mirror, despite – perhaps because of – how it fails to make the most out of a cast that includes an on-form Tim Robbins alongside Jon Hamm and Geena Davis.
STEVE NEWALL
---
Director Byun Sung-Hyun delivers a hard-boiled South Korean undercover cop and gangster drama. Despite the narrative conceit of leaping back and forth in the timeline, the story winds up being pretty familiar, macho fare for fans of Asian crime drama. But it's excellently crafted and largely avoids either two-dimensional characterisation or all too predictable plotting. Lush, noir cinematography by Cho Hyoung-Rae and impressively violent action choreography keeps fans of Infernal Affairs-style Korean gangster fare like me happy.
ADAM FRESCO
I don't know why the first third of this film starts off with such a honk-your-nose comedy tone because what happens onwards is a carefully crafted criminal thriller plot with Infernal Affairs aspirations. I only started to take this film seriously near the end, where I should have been completely invested by that point. Despite that glaring flaw, it still delivers some slickly-shot entertainment with more bitch-slaps than a spanking machine.
LIAM MAGUREN
---
Directed, memorably soundtracked, and largely edited by Tindersticks frontman Stuart A. Staples, Minute Bodies is a hypnotic hour spent getting up close and personal with the alien wonder that is our own micro-world, using images inventively documented in the early 1900s by one F. Percy Smith. If you're feeling the need to get lost in appreciation of a budding flower, a magnificent display of strength by an ant, or the creepy behaviour of bees, you've got yourself a film to watch!
MATTHEW CRAWLEY
---
As expected, A Monster Calls got a tear out of me – but not the torrent I'd anticipated. It's so bloody sad and well-assembled that it should get to you, but for some reason just didn't connect that deeply with me. Perhaps that's because there are foregone conclusions at play, but despite excellent performances (particularly a lot of depth from a young lead), a moving portrayal of illness, and some beautiful CGI and cinematography, this didn't quite gel.
STEVE NEWALL
Whilst I went in wanting to fall head over heels for The Impossible and The Orphanage director J.A. Bayona's latest, I was left disappointed. Nicely acted, directed and shot, and a pleasant family film (I watched with mine), it fails to reach the heights of ambitious fantasies, such as, say, Pan's Labyrinth or Okja. Opinion's subjective, but for me at least, this was pretty underwhelming and unambitious storytelling. Those less cynical and hard-hearted will appreciate its undoubted fairy tale warmth, but this monster gets a "meh" from me.
ADAM FRESCO
Dunkirk spent a comfy three days at the top of my 2017 list until Liam Neeson's Treebeard called to slaughter my emotions. This film was already loaded with things I adore: a story about storytelling, how ideas transfer from generation to generation, gorgeously animated sequences. Add a child who is forced to make sense of a seemingly senseless scenario, played amazingly by a young man whose on-screen agony tore me apart, and you've got a film that overpowered me with its pure, visualised empathy.
LIAM MAGUREN
---
Minimal narration makes for engrossing viewing that puts the emphasis squarely on spectacular footage of… mountains. Often playing tricks with one's sense of scale, never mind inducing occasional vertigo (as the camera looks down an insanely long drop over the shoulder of an even more insane free climber, for example), Mountain is gripping and hypnotic, setting out to be poetic and awe-inducing, and succeeding on both fronts. Often unexpected camera movements play to the gut and heart as much as your eyes, an unconventional, captivating experience paired with the Australian Chamber Orchestra's swelling score.
STEVE NEWALL
Fantasia with mountains – if those three words get you mega interested, you'll want to see this on the big screen. Jennifer Peedom does a great job directing the right crew for this experience: an excellent cinematographer, a dynamite orchestra, narrator Willem Dafoe, and a poetic writer who refrains from going full Terrence Malick. Unfortunately, there's a huge amount of go-pro and non-professionally shot footage that disrupts the otherwise high qualities in this film.
LIAM MAGUREN
---
Posing questions that linger post-viewing, this somewhat sympathetic portrait of the notorious serial killer doesn't necessarily make Dahmer more relatable (he still messes with animals, fantasises of murder). Seeing him as almost an ugly duckling high school outsider is interesting enough, and his home life is equally well-sketched – both in almost John Hughes fashion. Maybe it's the foreshadowing of what's in Dahmer's future, or a filmmaking style more like teen dramedy than true crime – something unsettles here, doesn't quite come together in singular fashion. Maybe that's the point?
STEVE NEWALL
---
A film about orphans for the whole family? It may seem like an oxymoron, but this sweet and gentle tale is the perfect way to introduce your children to the lives of other kids less fortunate and how childhood friendship is its own kind of family. It doesn't shy away from dark details, but those chilling realities only make this film's kindly heart feel that much warmer.
LIAM MAGUREN
---