Every month's a good month for movies, but this one's a particular standout.
You'll want to check out NEON's catelogue of fresh films, especially if you want to catch up with some of this year's biggest Oscar films. Netflix also has some treasures with the latest films from the director of Hell or High Water, the Coen brothers, and *checks notes* …Orson Welles? And some of 2018's box office smashes are now available to rent or own.
---
New to NEON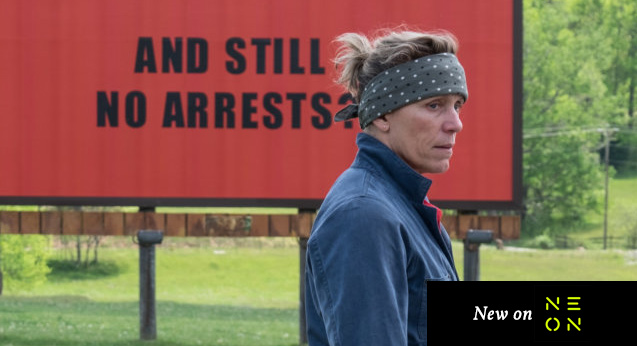 Frances McDormand and Sam Rockwell give Oscar-winning performances in this darkly comic crime mystery from the writer-director of In Bruges, following a mother who's fed up with her daughter's murder case having gone unsolved for months.
"It's a wild, dark, disturbing, laugh-out-loud funny, achingly serious morality tale" -Adam Fresco, FLICKS
Gary Oldman won an Oscar portraying Winston Churchill as he leads a charge against Hitler's army in the early days of World War II.
"The cinematography is slick, the lighting moody, and Oldman's Churchill is not the only one who smells like an Oscar." -Paul Casserly, FLICKS
Sally Hawkins leads this Best Picture Oscar winner, an other-worldly fairy tale from Pan's Labyrinth director Guillermo del Toro, set in Cold War America. The film led the 2018 Academy Awards race with a massive 13 nominations, taking home four.
"While the parallels Del Toro is drawing will be too clunky for some, the film's huge heart and good intentions are always on display." -Tony Stamp, FLICKS
Sam Elliott is an ailing movie star who comes to terms with his past and mortality in this Sundance Grand Jury Prize-nominated comedy-drama.
"For long-time fans, Elliott's stirring performance is still worth treasuring" -Aaron Yap, FLICKS
Crime thriller lead by Gerard Butler that follows a thief who, while planning a bank heist, gets trapped between two sets of criminals. Co-stars 50 Cent.
"Gerard Butler is not just an alpha bore, he's a real boor." -SYDNEY MORNING HERALD
John Boyega, Scott Eastwood, Charlie Day and Cailee Spaeny star in the sequel to Guillermo del Toro's 2013 sci-fi monster movie, Pacific Rim.
"Sure, if you enjoyed the first, this sequel delivers, but not much beyond the whizz-bang visuals of the trailer." -Adam Fresco, FLICKS
Liam Neeson is stuck playing a deadly game on a train in this crime conspiracy thriller from the director of Unknown, Non-Stop and The Shallows. Co-stars Sam Neill and Vera Farmiga.
"Doesn't reinvent the wheel, but it's a solid enough thriller, as relentless as its sixty five-year-old lead actor and eager to entertain, logic be damned." -Tony Stamp, FLICKS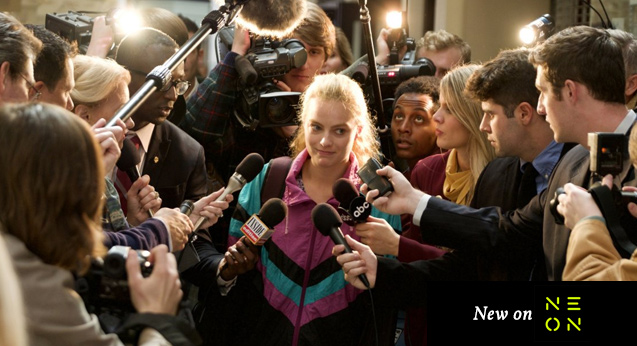 Margot Robbie is disgraced champion U.S. figure skater Tonya Harding in this biopic that chronicles her tough upbringing, rise to Olympic stardom, and fall to tabloid fixture. Co-stars Allison Janney who won an Oscar for her supporting performance.
"Plays like Goodfellas populated by Coen brothers characters" -Steve Newall, FLICKS
The three US soldiers who thwarted a terrorist plot aboard a Paris-bound train in 2015 play themselves in this Clint Eastwood thriller.
"A strangely boring, dramatically inert film in which the main characters remain as opaque and unreadable as sphinxes to the very last." -THE GUARDIAN
Anna Kendrick, Hailee Steinfeld and writer Kay Cannon return for the third entry in the musical comedy Pitch Perfect series.
"For all its frivolity, fans should be more than satisfied with this final run around the track." -Dominic Corry, FLICKS
Drama based on the unlikely friendship between Danny Tate (Fifty Shades of Grey's Jamie Dornan) and knife-wielding, French dwarf actor Hervé Villechaize (Peter Dinklage).
"It will begin to make you see Villechaize in a new light, not least because of Peter Dinklage's performance." -VARIETY
Upon learning that their mother has been lying to them for years about their allegedly deceased father (J.K. Simmons), two fraternal twin brothers (Ed Helms and Owen Wilson) hit the road to find him.
"Father Figures doesn't need to exist…" -HOLLYWOOD REPORTER
Family films like Monsters University, The Mighty Ducks, Fantasia 2000, Hannah Montana: The Movie, 2011's Winnie the Pooh: The Movie (Nov 18), Teasure Planet (Nov 20)
---
New to Netflix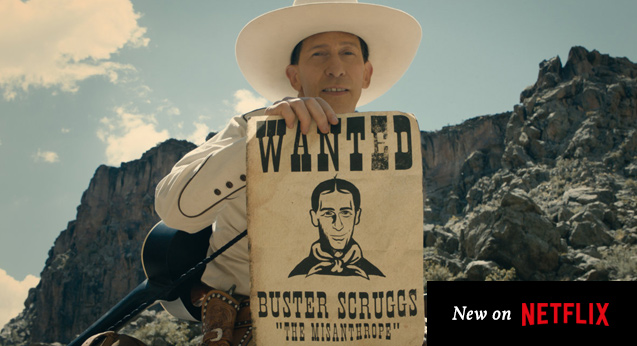 Tim Blake Nelson, Liam Neeson, James Franco and Tom Waits feature in this six-chapter Western anthology film from the Coen Brothers.
"Richly entertaining and blackly funny but told with sincerity and heart" -TIME OUT NEW YORK
The last film from Orson Welles, 40 years in the making, is finally complete thanks largely to Netflix.
"It's all pretty dizzying to process on first viewing, even more difficult to extricate from the incredible legend and circumstance that surrounds its existence." -Aaron Yap, FLICKS
FYI there's a nice bonus feature under "Trailers & More" called A FINAL CUT FOR ORSON that goes deeper into the reconstructive work. What a mission. ✊

— nature bean (@teddywong) November 7, 2018
Oscar-winning documentarian Morgan Neville (20 Feet from Stardom) tells the story of director Orson Welles' final fifteen years.
"A fascinating account of an agonising creative process." -HOLLYWOOD REPORTER
Casey Affleck, in an Oscar- & Golden Globe-winning performance, leads this drama from writer-director (and playwright) Kenneth Lonergan (You Can Count on Me).
"As subtle as it is shattering: ordinary, unshowy and, underneath, red raw with real feelings." -Matt Glasby, FLICKS
James McAvoy teams up with M. Night Shyamalan (The Sixth Sense) for a psychological thriller about a deeply disturbed sufferer of dissociative identity disorder.
"If Split ultimately fails to examine abuse and trauma in any sort of tactful manner… it's too weird and entertainingly trashy to write off." -Aaron Yap, FLICKS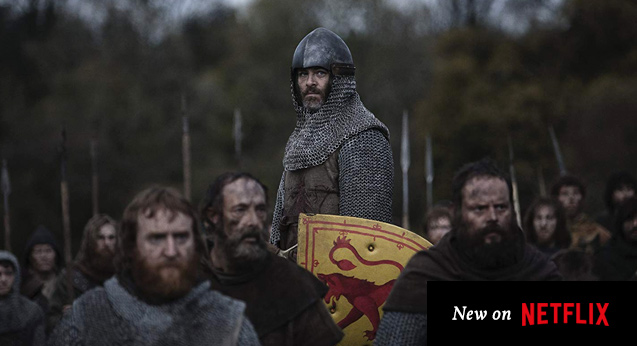 Chris Pine reunites with his Hell or High Water director for this historical action drama where he plays Scottish warrior king Robert the Bruce.
"It's good fun—however, I wish they had a little more faith in the audience's intelligence." -Daniel Rutledge, FLICKS
Nicole Kidman, Rooney Mara and Dev Patel star in this Oscar-nominated true story drama based on the memoir by India-born Australian Saroo Brierly who, 25 years after living life on the streets of Calcutta, embarks on a needle-in-a-haystack quest for his home.
"An astounding, all-encompassing story of hope, determination and dumb luck that will leave you both crying like a baby and clapping like a seal once the credits roll." -Alex Casey, FLICKS
Kurt Russell is Santa Claus in this Netflix-produced, festive family comedy directed by Clay Kaytis (The Angry Birds Movie).
The Matrix Reloaded of the Fifty Shades franchise.
The Fifty Shades Freed of the Christmas Prince franchise.
---
New to Everything Else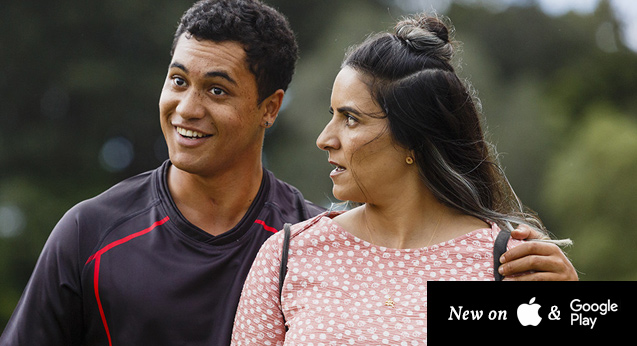 Jackie van Beek (What We Do in the Shadows) and Madeleine Sami (Sione's Wedding) are two romance cynics running a business breaking up unhappy couples in this New Zealand buddy comedy. Written and directed by van Beek and Sami.
"Brimming with proof that, given the chance, Aotearoa's female talent have their own stories to tell – and are no less hilarious in doing so." -Katie Parker, FLICKS
The origins of Jeffrey Dahmer as a serial killer are explored in this teen movie based on the recollections of a high school classmate.
"Maybe it's the foreshadowing of what's in Dahmer's future, or a filmmaking style more like teen dramedy than true crime—something unsettles here," -Steve Newall, FLICKS
Two brothers plan a murder only for it to turn sideways in this contained Australian black comedy. And yes, the apostrophe comes AFTER the 's' because the nest belongs to more than one brother.
"If you're open to its acidic charms, Brothers' Nest is one for the books." -FILMINK
Fed up with the materialism of Christmas, Santa runs away to New Zealand for a summer holiday.
"Gary of the Pacific this ain't. For Kiwi Christmas is actually consistently funny." -James Croot, STUFF.CO.NZ
Documentary biopic on the career of famed fashion editor and journalist André Leon Talley.
"Like its endearing subject, the film is insightful in a gentle sort of way, with more than a modicum of style itself" -Luke Buckmaster, FLICKS
Mila Kunis and Kate McKinnon are best friends who end up on an espionage mission after one of them finds out that her unassuming ex is a spy.
"Perhaps not the absolute funniest or most original comedy on the market, it still stands well above the rest while resisting the cloying cynicism that so often defines its ilk." -Katie Parker, FLICKS
Director Peyton Reed re-teams with Paul Rudd, Michael Douglas, Evangeline Lilly and Michael Peña for the follow-up to 2015's Ant-Man, and the first film following the Marvel juggernaut, Avengers: Infinity War.
"A hugely entertaining, self-contained scientific scramble." -Steve Newall, FLICKS
Sci-fi thriller starring Everything, Everything's Amandla Stenberg, set following a bacterial outbreak that kills 98% of Earth's children.
"Ultimately forgettable, under-developed, yet undoubtedly entertaining for early teens." -Adam Fresco, FLICKS
Dunkirk's Aneurin Barnard stars in this period thriller from the producer of Gosford Park that chronicles Wolfgang Mozart's Prague years.
"While it's a handsome period drama with a strong cast, this fails to make Mozart's life as characterful or exciting as its predecessor Amadeus." -EMPIRE
An in-depth look at the life and music of Whitney Houston from documentarian Kevin MacDonald (Marley).
"Excellent" -Matt Glasby, FLICKS
Fact and fiction collide as director Chloé Zhao tells the story of a young cowboy's search for a new identity after a near-fatal accident—a fictionalised account, starring the real-life rider and his family.
"The movie is soulful, elegant, filmed as often as not at the magic hour, when the sky is as broad as it is orange-yellow, and every nook of the world seems alight with possibility." -VARIETY
A reimagining of the 1972 blaxploitation cult classic, set in Atlanta and starring Trevor Jackson (Burning Sands).
"As late-night entertainment, SuperFly is not without its charms." -James Croot, STUFF.CO.NZ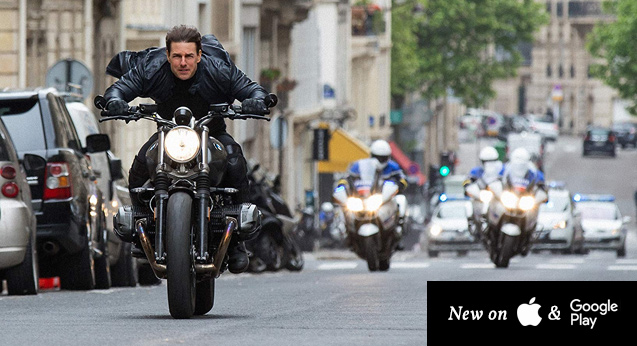 Ethan Hunt (Tom Cruise) and his IMF team (Alec Baldwin, Simon Pegg, Ving Rhames) are back, along with some familiar allies (Rebecca Ferguson, Michelle Monaghan) in a race against time after a mission gone wrong.
"Fallout is a resounding anomaly: the dizzying high of a 20-year-old blockbuster franchise coming into its own at film #6 — and it's a glorious thing." -Aaron Yap, FLICKS
Available from 21 November
Denzel Washington rejoins director Antoine Fuqua for the sequel to 2014's neo-noir action thriller, based on the '80s TV series of the same name.
"It's a bit of a hodgepodge, a series of scenes that mostly work quite well, but don't add up to anything satisfying." -Tony Stamp, FLICKS
A serial killer is targeting the members of an '80s TV show in this mystery comedy starring Melissa McCarthy, Elizabeth Banks, Maya Rudolph and Joel McHale.
"I suspect The Happytime Murders will be a hit with a lot of stoners when it gets to streaming services" -Daniel Rutledge, FLICKS
Woody Harrelson is U.S. President Lyndon Baines Johnson in this Rob Reiner-directed biopic charting his life leading up to his days in office.
"Despite the prosthetics applied to Woody Harrelson's face he does not really look like LBJ but this does not detract from a convincing interpretation of him" -Lyn Potter, FLICKS
UK comedy-drama charting the rise of a comedian (Maxine Peake, The Theory of Everything), set against a backdrop of Northern England working men's clubs in the '70s and '80s.
"As a character piece, it is going through the motions, and as a comedy, it dies quietly." -Peter Calder, LISTENER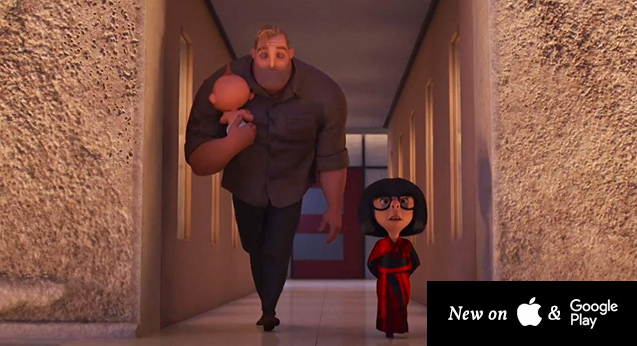 Sequel to Disney/Pixar's 2004 box office-crushing CGI action-adventure. Oscar-winning writer-director Brad Bird returns, alongside fellow Academy Award-winner Holly Hunter (voicing Elastigirl).
"I'm comfortable saying all of Brad Bird's dexterous action sequences blow his live-action peers out of the water." -Aaron Yap, FLICKS
Jason Statham, Bingbing Li and Winston Chao star in this deep sea monster sci-fi thriller adapted from Steve Alten's New York Times best-seller.
"Moderately satisfactory jaw-chomping fun" -Aaron Yap, FLICKS
Mark Wahlberg rejoins his Patriots Day director Peter Berg in this action thriller co-starring Indonesian action star Iko Uwais (Headshot).
"Wahlberg is grumpily squawking at his friends when he's not shooting at his enemies. He even angrily smashes a birthday cake at one point, he's so upset at the world." -Daniel Rutledge, FLICKS
John Travolta is legendary New York crime boss John Gotti in this mob biopic co-starring Stacy Keach (American History X).
"Insane testimonials from Gotti supporters at the end are as close as this s—show will ever get to good reviews." -ROLLING STONE