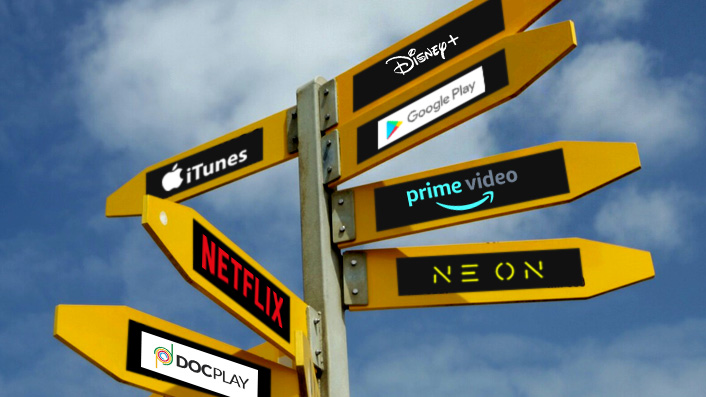 New to NZ streaming services this April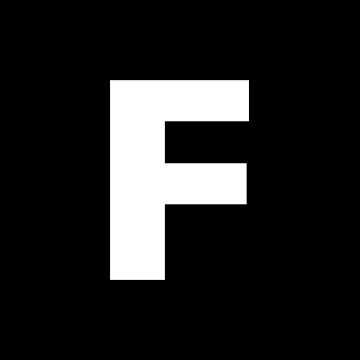 ---
Turn that self-isolation into a stay-cation with a smorgasbord of shows and films heading to various streaming services across Aotearoa. We present to you April's highlights coming to Neon, Netflix, Disney+, Prime Video, and every other service in New Zealand.
---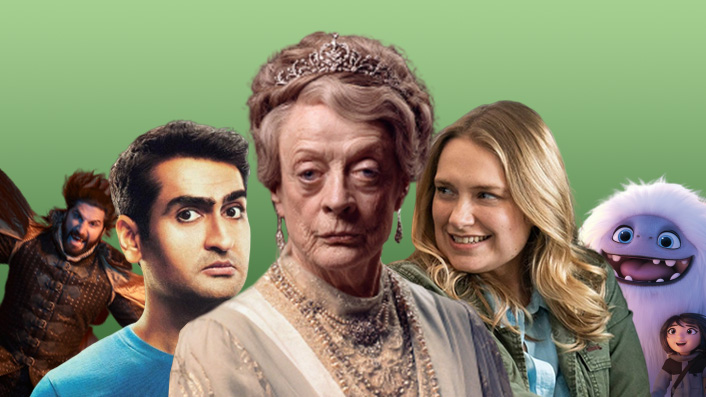 New to Neon
In this limited HBO series, Golden Globe nominee Merritt Wever (Unbelievable) plays a woman living a humdrum life. Desperate for something more—or something else—she responds to a text activating an "escape plan" her and an old flame (Domhnall Gleeson, Star Wars: The Last Jedi) concocted years ago.
Created and written by longtime Phoebe Waller-Bridge collaborator Vicky Jones (director of the original Fleabag stage show), with a Waller-Bridge appearance in the show teased in its trailer.
Making its own mark with a well-received first season, the vampire comedy series based on Jemaine Clement and Taika Waititi's hilarious mockumentary gets a new batch of episodes. Considering how many delicious vampire cameos they managed to cram into the first season, we cannot wait to see what they're able to conjure up next.
See also
* Everything coming to Neon this April
* All new movies and series on Neon
* All new streaming movies and series
Last year's modest hit for DreamWorks Animation follows a young woman and her pals who encounter a stranded Yeti in their city. With a shady force out to capture the loveable creature, they set out on a 3000-mile quest from Shanghai to his home in the Himalayas.
"Impresses in its scale and colorful flights of fancy, as well as in its awesome eagerness to please." -HOLLYWOOD REPORTER
Where movie-to-TV adaptations have proved very successful recently, last year's British hit showed the opposite to be true as well. The UK series' creator, Julian Fellowes, assembles the original cast for this feature outing. Yes, that includes the impeccable Maggie Smith and Hugh Bonneville.
"Fans of the enduringly popular ITV period drama series will no doubt embrace this feature film spin-off, which represents a step up in lavish visual spectacle while retaining a comforting familiarity of themes and storytelling style." -SCREEN DAILY
Sign up for Flicks updates
Funny buff guy Dave Bautista (Guardians of the Galaxy) and funny guy who is now buff Kumail Nanjiani (The Big Sick) lead this buddy comedy about an unorthodox detective (Bautista) on the hunt for a notorious killer, forcing the help of an Uber driver (Nanjiani) who cannot risk losing a five-star rating.
"The best thing about Stuber is the two leads, Dave Bautista and Kumail Nanjiani. Both have buckets of charisma and charm, and putting them together as an unlikely crime-fighting duo should only make their appeal exponentially greater." Daniel Rutledge, FLICKS (full review)
One of this year's most anticipated shows continues throughout April on a weekly basis. We're not going to bother spilling the beans here, as you can read our mighty Season 1 and 2 catch-up piece as well as recaps of every Season 3 episode posted straight after they air.
Streaming on Neon—new episode every Monday night
---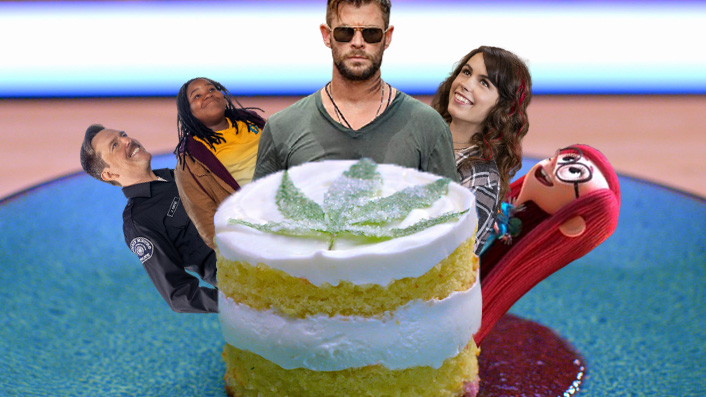 New to Netflix
Chris Hemsworth is a mercenary on a deadly rescue mission in Extraction, an action thriller written by Joe Russo (Avengers: Endgame) and directed by Sam Hargrave, longtime stunt coordinator whose work includes Captain America: Civil War, Atomic Blonde and Avengers: Infinity War.
A kidnapped boy beckons the unparalleled skill of a mercenary named Tyler Rake (Hemsworth). But Rake is a broken man with nothing to lose, harbouring a death wish that makes an already deadly mission near impossible.
Streaming on Netflix 24th April
Based on the beloved children's novel, four siblings believe they're better off raising themselves and trick their awful parents to go on a life-threatening vacation in Netflix animated family film The Willoughbys. Features the voices of Will Forte, Maya Rudolph, Martin Short and Ricky Gervais.
Streaming on Netflix 22nd April
When a 12-year-old boy hires a criminal to scare off his mum's new police officer boyfriend, the scheme backfires horrendously in this buddy comedy. With the situation out of control, the kid and the cop must work together to take down Detroit's most ruthless kingpin. Stars Ed Helms (The Hangover), Taraji P Henson (Hidden Figures) and Betty Gilpin.
Streaming on Netflix 3rd April
See also
* Everything coming to Netflix this April
* All new movies & series on Netflix
* All new streaming movies & series
Stuck at home, but want to feel like you're at a craft beer bar? Crack a cold one and hang out with the cast of sitcom Brews Brothers. This 8-episode comedy series from showrunner Greg Schaffer (That '70s Show) is set in a struggling craft brew bar, whose owner is surprised by the arrival of his estranged brother. Both highly competitive, and passionate about making beer, they'll butt heads and etc etc (you know the sitcom drill).
Streaming on Netflix 10th April
Netflix's new competitive cooking show sees chefs vie for the favour of judges and special guests with "their artful use of leafy herb, THC infusions and CBD sauces". Hosted by Kelis, and with a launch date that makes much more sense the way Americans order their dates—4/20, geddit?—this could be just the thing if you've hotboxed all the way through all seasons of Top Chef.
Streaming on Netflix 20th April
A bunch of great catalogue titles arrive on Netflix in April—the perfect time to revisit (or discover) supremely-watchable pics like Catch Me If You Can, Mission Impossible – Fallout, BlacKkKlansman, Superbad, and The Breakfast Club (if the plight of being cooped up in detention isn't too close to the bone) and many more.
---
New to Disney+
The Aotearoa cinema release date for Pixar's latest was, unfortunately, the exact same date the entire country went to Covid-19 Alert Level 4 Lockdown. Thus, Disney is fast-tracking the home release for the brotherly fantasy adventure for digital purchase from 3rd April and then for their streaming service from 24th April.
Streaming on Disney+ 24th April | Flicks talks to Onward's filmmakers
Taika Waititi's mighty entry in the Marvel Cinematic Universe pitted Thor against Hulk in a gladiatorial arena on a rubbish planet (no, not Earth in 2020). With the Norse goddess of Death Hela (Cate Blanchett) intent on conquering Asgard, Thor must quickly calm Hulk and trust Loki in order to take her down and prove no superpower is stronger than… the power of friendship.
Streaming on Disney+ 10th April | Daniel Rutledge's review
Tim Burton's 1990 gothic fable tells a Frankenstein-esque story of a quiet, gentle, artificial man born with scissors for hands. When his father/creator dies, the lonely fellow continues to care for the mansion… until he's discovered by suburbanites.
Streaming on Disney+ 10th April
Now in its seventh and final season, the beloved animated Star Wars show continues with new episodes releasing every Friday night. With the return of fan-favourite Ahsoka, the series is looking to conclude with a massive wallop.
New episodes streaming on Disney+ every Friday
See also
* Best unsung family films on Disney+
* All new movies & series on Disney+
* All new streaming movies & series
---
New to Prime Video
Nathaniel Halpern, the creator of Legion and The Killing, takes Simon Stålenhag's stunning sci-fi art and turns it into a show about a town living above a machine built to unlock and explore the mysteries of the universe.
Streaming on Prime Video 3rd April
Oscar-winning documentarian Alex Gibney (Taxi to the Dark Side) examines Russia's power, president Vladimir Putin's 19-year dominance, and Mikhail Khodorkovsky—a former Siberian prisoner who continues to challenge Putin's reign.
Streaming on Prime Video 15th April
Freaking out unsuspecting Kiwi audiences back at the 2015 New Zealand International Film Festival, this Austrian horror mystery follows two twin boys whose mother returns from the hospital after surgery with bandages obscuring her face. However, the boys suspect this might not be their mother…
Streaming on Prime Video 1st April
Titus Welliver returns as hard-edged homicide detective Harry Bosch in the sixth season of the wildly popular crime series based on Michael Connelly's best-selling novels.
Streaming on Prime Video 17th April
See also
* All new movies & series on Prime Video
* All new streaming movies & series
---
New to DocPlay
A hit with the lucky people who caught it at NZIFF 2019, this Sundance award nominee follows a Mexican family and their intense routine running a private ambulance. With only 45 government ambulances available to a place with nine million people, the heart-pounding experience reveals the true nature of the cutthroat industry.
Streaming on DocPlay 30th April
Oscar-nominated documentary on the life and work of US Supreme Court Justice Ruth Bader Ginsburg whose legal legacy changed the world for women. Now, at 85, RBG continues to fight for equal rights and has become an unexpected cultural icon.
Streaming on DocPlay 16th April
See also
* Katie Parker's RBG review
* From inspiring political figure to "The Notorious RBG" brand
* All new streaming movies & series
This almighty 15-episode series on the history of movies covers the significant milestones that progressed the art of cinema and the impact of some of the greatest films ever made.
Streaming on DocPlay 20th April
Detailed look at Studio 54, the legendary nightclub that was the epicentre of '70s hedonism. Complemented with rare archival footage and brutally honest interviews, award-winning documentarian Matt Tyrnauer tells its story from glorious birth to untimely demise.
Streaming on DocPlay 23rd April
---
New to Apple TV+
Inspired by an incredible true story, a 9-year-old girl new to town investigates a cold case the townsfolk tried to bury. Stars The Florida Project breakout star Brooklynn Prince and directed by Jon M Chu (Crazy Rich Asians).
Streaming on Apple TV+ 4th April
Explore some of the most innovative and imaginative houses on Earth in this 10-episode Apple TV+ docuseries.
Streaming on Apple TV+ 17th April
Oscar-winning filmmaker Spike Jonze (Her) helms this intimate retrospective documentary on Beastie Boys' 40-year career, with surviving members Mike D and Adam Horovitz detailing their personal friendships and struggles along the way.
Streaming on Apple TV+ 24th April
---
New to VOD services this April
Voted by us as one of the best dramas of the decade, this intimate tale from Céline Sciamma (Girlhood) follows a painter's attempt to make a portrait of her subject, a bride-to-be, without her knowledge. Winner of the Queer Palm and Best Screenplay at Cannes (and nominated for the Palme d'Or).
The final chapter in the modern Star Wars trilogy sees The Force Awakens director JJ Abrams return to the helm. Set a year after The Last Jedi, The Resistance faces the First Order once again – this time though as the ancient conflict between the Jedi and the Sith nears its climax.
Paul Walter Hauser (BlacKkKlansman) leads Clint Eastwood's true-story drama about the security guard who saved people from a bomb at the 1996 Olympics – only to then be falsely accused of being the terrorist. Co-stars John Hamm, Olivia Wilde, Sam Rockwell, and Kathy Bates in an Oscar-nominated performance.
Edward Norton writes, directs, and stars in this crime drama as a lonely private detective with Tourette's Syndrome trying to solve his only friend's murder. Based on Jonathan Lethem's novel.
The sequel to 2017's runaway hit Jumanji: Welcome to the Jungle sees Dwayne Johnson, Karen Gillan, Kevin Hart and Jack Black return to the videogame world – but as different people.
Temuera Morrison, Rhys Darby and Lucy Lawless lend their voices to this NZ-Chinese animated feature about a species of creatures called Thoriphants who rebel against their life of servitude to mankind. Late last year, we got to chat to the Kiwi animation studio hidden away in Snell's Beach – read it here.
Available from April 8 | Liam Maguren's review
Will Smith voices the world's greatest spy, who is then turned into a pigeon by his science genius colleague (Tom Holland), in this animated family comedy from the makers of Ice Age.
In this Israeli workplace drama that played at NZIFF 2019, a breadwinning mother walks an employment tightrope as her husband's new restaurant struggles and her boss starts making inappropriate advances.
Another NZIFF 2019 entry, this Chinese crime noir from the director of Black Coal, Thin Ice follows a gangster forced on the run and prepared to sacrifice everything for his family. Nominated for the Palme d'Or, Quentin Tarantino famously crashed the film's first screening at the Cannes film festival.
Fast-tracked from its brief time in NZ cinemas, this sports drama stars Ben Affleck as a widowed former basketball all-star struggling with addiction who attempts a comeback by becoming the coach of a high school team. From the director of Warrior and The Accountant.
Two young British soldiers attempt to deliver a message that could save 1,600 men in this continuous-shot WWI drama from Sam Mendes (Skyfall). Winner of Best Director and Best Film at the 2020 BAFTAs and Golden Globes.
Available from April 22 | Daniel Rutledge's review
Saoirse Ronan, Florence Pugh, Emma Watson, and Eliza Scanlen (Grace) are four sisters who come of age in the aftermath of the Civil War in this period drama from Greta Gerwig (Lady Bird). Timothée Chalamet and Meryl Streep co-star.
Available from April 22 | Amanda Jane Robinson's review
The woolly heroes of Aardman Animations' stop-motion animated hit Shaun the Sheep Movie are back and headed to space in this sci-fi sequel.
Tom Hooper's critically panned adaptation of Andrew Llyod Webber's feline musical has become a cult classic in the eyes of many who embraced the utter oddness of it all.
Following in the footsteps of Snatch and Lock, Stock & Two Smoking Barrels, Guy Ritchie returns to the comedic gangster genre that made him a household name. Stars Colin Farrell, Charlie Hunnam, Henry Golding, Hugh Grant, and Matthew McConaughey as a marijuana tycoon plagued by crooks.
Available from April 29 | Adam Fresco's review
In an Oscar-nominated performance, Tom Hanks plays beloved American children's TV show host Fred Rogers in this biopic helmed by Marielle Heller (Can You Ever Forgive Me?).
Newcomer Zack Gottsagen leads this feel-good story Down syndrome person who runs away from his nursing home in North Carolina to chase his dream of becoming a professional wrestler. Co-stars Shia LaBeouf, Dakota Johnson and John Hawkes.
17 years after Bad Boys II, Will Smith and Martin Lawrence return for this trilogy-maker. Marcus (Lawrence) is now a police inspector and Mike (Smith) is in a midlife crisis. They band together when an Albanian mercenary, whose brother they killed, vows revenge.
Academy Award nominee Margot Robbie joins Oscar winners Charlize Theron and Nicole Kidman for this media room drama based on the real scandal that took down the head of Fox News. From the director of Trumbo, co-starring John Lithgow, Kate McKinnon, and Academy Award winner Allison Janney (I, Tonya).