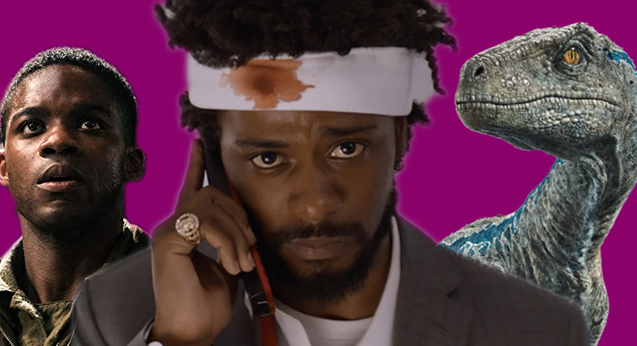 New to NZ streaming services this March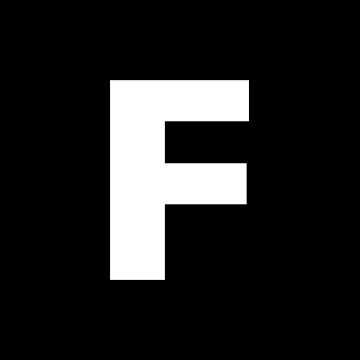 ---

Like every month, there's a slab of great films to watch at home on whatever movie platform you have at your disposal.
---
New to NEON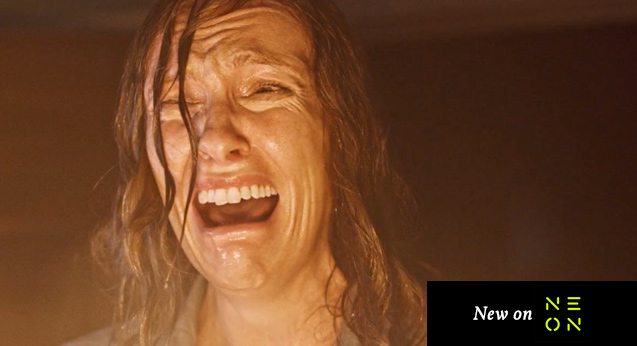 The spirit of a recently deceased matriarch haunts her surviving family in filmmaker Ari Aster's debut, starring the great Toni Collette.
"This one's genuinely gut-wrenching — pack some diapers." -Aaron Yap, FLICKS
Jeff Goldblum is back, along with Chris Pratt, Bryce Dallas Howard and A Monster Calls director J.A. Bayona for the sequel to 2015's Jurassic World.
"One day maybe we'll get something as outlandish as dinosaurs with guns, but for now the franchise is content to play it safe." -Tony Stamp, FLICKS
Lily James and Cher join returning stars Meryl Streep, Amanda Seyfried and Pierce Brosnan in the sequel to 2008's musical smash hit.
"Fanciful? Maybe. Corny? Absolutely. Escapist? Definitely." -Adam Fresco, FLICKS
Sequel to the Golden Globe-nominated comic book action romantic comedy starring Ryan Reynolds as the foul-mouth murdering anti-hero.
It's often very funny, but periodically Deadpool 2 has to drop the ironic facade and shoot for real emotion, and here it stumbles." -Tony Stamp, FLICKS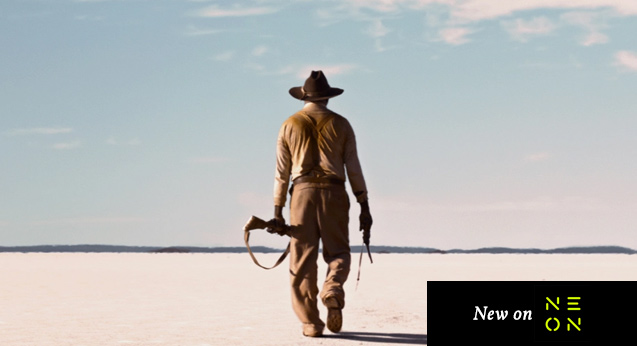 Warwick Thornton's award-winning Australian western set in the outback of the Northern Territory, 1929. Stars newcomer Hamilton Morris, Sam Neill and Bryan Brown.
"Gorgeously shot and patiently paced, the tension and drama is punctuated by moments of humour and grace" -Steve Newall, FLICKS
Charlize Theron find a too-good-to-be-true night nanny in this comedic drama from four-time Oscar-nominated director Jason Reitman and Oscar-winning writer Diablo Cody (who previously teamed up for Juno and Young Adult).
"There's some good stuff going on, and Cody generally restrains herself from her tendency in prior films to show off with dialogue and references" -Steve Newall, FLICKS
After a destructive car accident, a hitchhiking Māori teen is taken in by a couple who participated in the crash. The writing and directing feature debut of actor Jackie van Beek (The Breaker Upperers).
"The Inland Road is more interested in under-the-surface struggles than in-your-face emoting (one scene has the lead literally walking away from a screaming match), aided by a squad of strong performances." -Liam Maguren, FLICKS
Golden Globe-winning thriller featuring Diane Kruger (in her first German-language feature) as a widow looking for cold revenge.
"A mediocre film wrapped around and weighing down a truly great performance." -FILMINK
Isabelle Huppert leads this bourgeois family ensemble drama from the two-time Cannes Palme d'Or-winning Austrian auteur, Michael Haneke (Amour).
"Haneke hasn't made a Twin Peaks-style TV series, but if he did, it might look something like this spiteful but slightly drawn-out drama." -Matt Glasby, FLICKS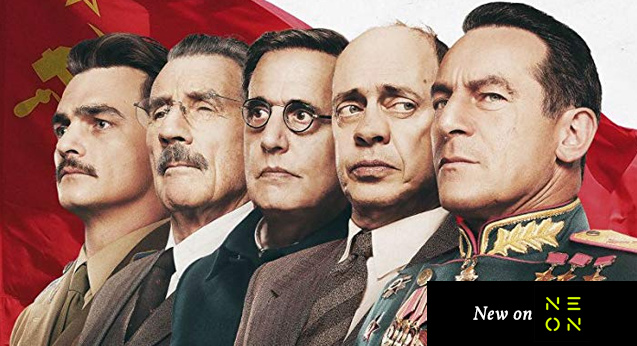 Blistering satire from Veep creator Armando Iannucci chronicling the aftermath of Soviet dictator Joseph Stalin's death in 1953. Stars Steve Buscemi, Jeffrey Tambor and Olga Kurylenko.
"I totally wallowed in the thing like a pig in muck, all the way from the weaponized language to the Weekend at Bernie's dead body LOLs." -Paul Casserly, FLICKS
Award-winning documentary on the life and career of the hailed Hollywood movie star and underappreciated genius inventor, Hedy Lamarr.
"A thoroughly engaging, eye-opening showbiz doc." -HOLLYWOOD REPORTER
Amy Schumer thinks she's a solid 10 after sustaining a head injury in this comedy from the writers of How to Be Single.
"Your enjoyment will definitely depend on how much of Williams reprising her My Week With Marilyn voice you can stand." -James Croot, STUFF
Annette Bening and Jamie Bell star in this adaptation of British actor Peter Turner's memoir, directed by Emmy-nominee Paul McGuigan.
"Entertaining and not without wonderful nuanced moments, an evocative soundtrack and light laughs" -Sarah Voon, FLICKS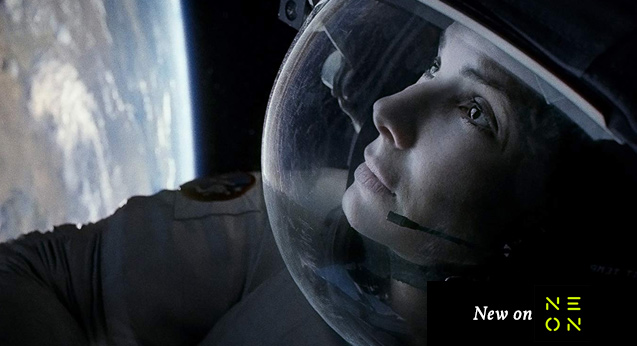 Before winning the Best Director Oscar for Roma, Alfonso Cuarón won the Best Director Oscar for this lost-in-space survival thriller starring Sandra Bullock and George Clooney.
"Gravity could have been a great thrill-ride, but thanks to Cuarón and Bullock it's a hell of a lot more" -Steve Newall, FLICKS
Han Solo leads Lucasfilm's second standalone Star Wars film, passing Harrison Ford's role down to Alden Ehrenreich (Hail, Caesar!).
"This is a charming enough intergalactic romp that does entertain, much more so in the third act than the fairly dull earlier stuff." -Daniel Rutledge, FLICKS
The entire main cast returns for the sequel to Jay Chandrasekhar's 2001 cult comedy, this time with the troopers dealing with a US/Canada border dispute.
"An aggressively lame and slobby comedy full of cardboard characters and in-your-face naughty jokes" -VARIETY
All-female spin-off of the Ocean's Trilogy starring Sandra Bullock, Cate Blanchett, Anne Hathaway, Helena Bonham Carter and Rihanna.
"It should have been so much better." -Amanda Jane Robinson
Claire Foy (First Man) is involuntarily committed to a mental institution in this Steven Soderbergh horror shot entirely on a cellphone.
"A stripped back and thoroughly interesting indie horror, Steven Soderbergh's latest is enjoyable despite falling apart." -Daniel Rutledge, FLICKS
Click here to see all of March's new releases on NEON
---
New to Netflix
A group of ex-Special Forces operatives meet up for a perilous off-the-clock job in this heist flick featuring Ben Affleck and Oscar Isaac and from the director of Margin Call.
"Often, these stealth attack films are kept hidden because they're sh-t, but fortunately, this one is a bloody good time." -Daniel Rutledge, FLICKS
A Malawian teen uses his ingenuity to save his family and village from famine in Oscar-nominated actor Chiwetel Ejiofor's (12 Years a Slave) feature directing and screenwriting debut.
"It's a conventional film in many ways but one that slowly and effectively builds to a remarkably rousing climax" -THE GUARDIAN
Luke Cage star Alfre Woodard leads this breezy drama as a mother fed up with her deadbeat adult kids and takes a bus out of town to reinvent herself.
That's right. Jurassic Park, The Lost World, and Jurassic Park III arrive to Netflix for your binging pleasure.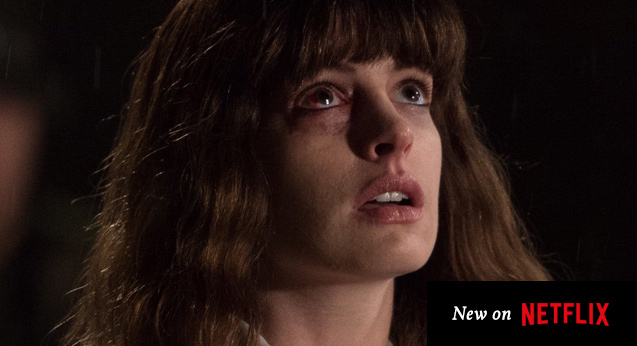 Oscar winner Anne Hathaway leads the latest from filmmaker Nacho Vigalondo (Timecrimes, Open Windows) as an unemployed woman who, for some reason, can remotely control a giant monster that's tearing up South Korea.
"Audiences would be missing out on something really special here if they overlook the emotional punch Colossal packs out of any concern about sitting through a "silly" action movie. It's much bigger than that." -Steve Newall, FLICKS
Steven Spielberg's classic World War II drama that won many, many Academy Awards back in 1994.
Ridley Scott's classic sci-fi that won diddly squat at the Academy Awards (probably because they didn't see the director's cut).
The gritty challenger to Avatar back in 2009, Neill Blomkamp's R-rated sci-fi portrays a world where alien invaders are treated like refugees stranded in South Africa.
"Blomkamp smashes onto the filmmaking scene with his sharply original debut movie, delivering a fast-paced thriller packed full of gags and guts" -Andrew Hedley, FLICKS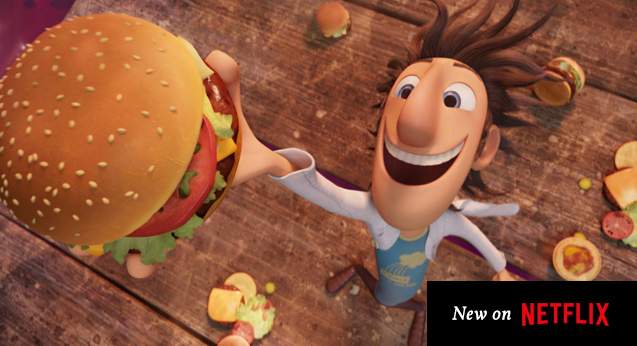 In this animated chuckler, giant pancakes, pasta and hamburgers start to fall from the sky as an ambitious scientist tries to solve world hunger.
"It can be seen as a metaphor for the dangers of super-sizing, climate change or genetic modification." -James Croot, FLICKS
The food machine crash-landed in the middle of the ocean and created its own food-based ecosystem in this sequel.
"No animated masterpiece, but it is delightful, fun, visually entertaining fast-food cinema" -Adam Fresco, FLICKS
The one with sky-diving cars.
"It's not bad" -Aaron Yap, FLICKS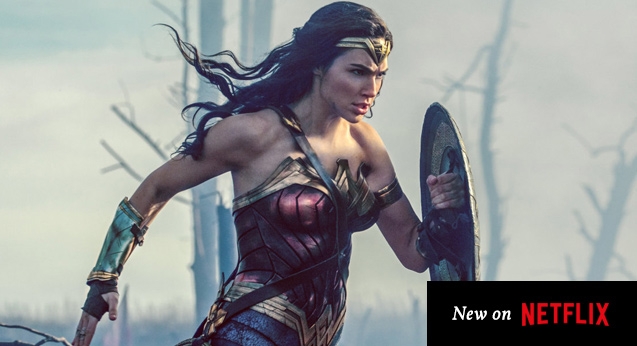 Origin story for Gal Gadot's Wonder Woman—first seen in 2016's Batman vs Superman—from the director of Monster.
"The best DC extended universe film by a long f-cking shot." -Alex Casey, FLICKS
Iwan Rheon and Machine Gun Kelly star as part of Mötley Crüe in this biopic about one of the most notorious rock 'n roll groups in history.
The revolution against the autocratic Capitol hits its boiling point in the second half of this adaptation of Suzanne Collins' final Hunger Games book.
"One hour of excitement mixed with another of mush" -Matt Glasby, FLICKS
Kevin Costner and Woody Harrelson play the pair of police officers who came out of retirement to hunt infamous outlaws Bonnie and Clyde in this true story manhunt thriller.
The comedy feature film resurrection of the iconic '90s California lifeguard drama series. Stars Dwayne Johnson, Zac Efron, Alexandra Daddario and Priyanka Chopra.
"There's just enough funniness in this oddity to keep it from being a complete failure," -Daniel Rutledge
Click here to see all of March's new releases on Netflix
---
New to Everything Else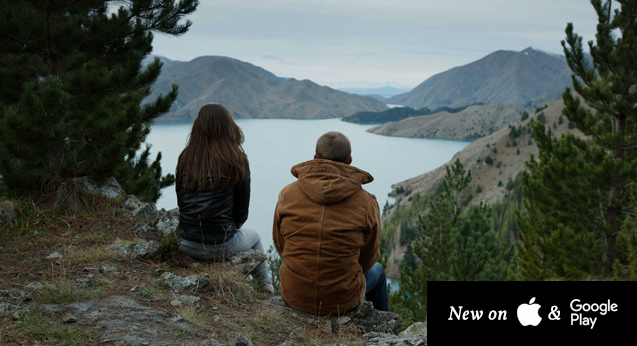 Set in the chilly environments of New Zealand's South Island, this stark drama follows a self-confined man reeling from an act of violence. Stray became the first New Zealand film to be selected to play at the prestigious Moscow International Film Festival. Better yet, lead Kieran Charnock won Best Actor.
"Carefully considering the relationship between masculinity and situation, New Zealand film history echoes throughout Stray." -Amanda Jane Robinson, FLICKS
Eddie Redmayne returns to take on Gellert Grindelwald in the second instalment of J.K. Rowling's fantasy adventure series.
"Just on that satisfying knife's edge where you can enjoy the fantasy universe but also start to feel genuine grief and fear for the characters" -Leonie Hayden, FLICKS
Michael B Jordan returns as Adonis Creed, as does Sylvester Stallone as his mentor Rocky Balboa, in this follow-up to the 2015 boxing drama that sees a new—but familiar—opponent.
"While the second act's a bit out of shape and the clichés are on the ropes, the tried and true Rocky formula stays intact" -Adam Fresco, FLICKS
Robin of Loxley (Taron Egerton), a war-hardened Crusader, and a Moorish commander (Jamie Foxx) mount a revolt against the corrupt English crown in this alternate take on the classic Robin Hood story.
"Unfortunately, it sets up a good target only to fire multiple arrows into its own foot." -Liam Maguren, FLICKS
A young girl is transported into a magical world by a nutcracker toy that comes alive at midnight in this Disney fairy tale adaptation.
"When it comes down to it, this opulent fairytale offers plenty of family friendly fun." -James Croot, STUFF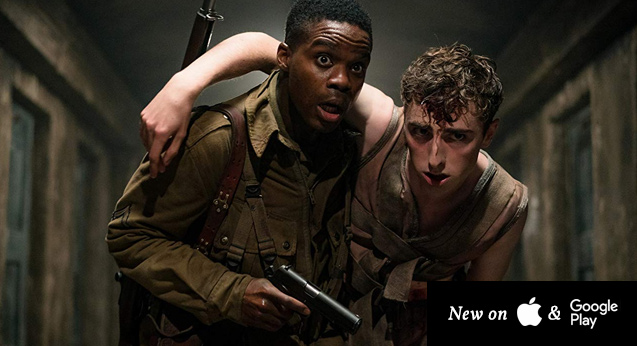 Over-the-top action horror follows US soldiers on a mission behind enemy lines who discover a Nazi lab full of unholy experiments.
"Overlord looks like it should be a derivative, direct-to-DVD stinker, but it pleasantly over-delivers as a charming B-grade triumph." -Daniel Rutledge, FLICKS
Teenage Christmas zombie musical following high school friends who have to fight, sing and dance to survive.
"This zombie musical Christmas movie is comprised of many cool elements, but sadly, none of them are done very well." -Daniel Rutledge, FLICKS
A serial killer hides in plain sight in this slasher that takes place within a horror-themed amusement park.
"Instantly forgettable by its disinterest in character, plot, and motivation, let alone original ideas." -VARIETY
Steve Carell is a father who watches his son (Oscar nominee Timothée Chalamet, Call Me By Your Name) struggle with meth addiction in this drama based on the memoirs of David and Nic Sheff.
"An ambitious film, one that hopes to make known the exhausting heartbreak of addiction. Unfortunately, it ends up simply exhausting." -Amanda Jane Robinson, FLICKS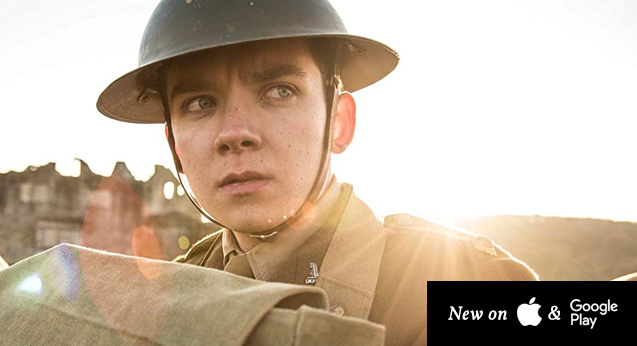 Sam Claflin is among a group of British officers awaiting their fate in an Aisne dugout in this WWI drama based on the play by R.C. Sherrif.
"It honours the men who fought in World War 1 simply by showing the horror of their situation, then asking the audience how they would fare in a similar position." -Tony Stamp, FLICKS
Kelly Macdonald (No Country for Old Men) and Irrfan Khan (The Lunchbox) lead this heart-warming tale about an unappreciated suburban mother who discovers an incredible skill for solving jigsaw puzzles.
"There is modest craft and genuine heart here," -THE GUARDIAN
Writer/director Steven Knight (Locke) directs Matthew McConaughey and Anne Hathaway in this tropical island mystery thriller.
"Like a long fishing day without a bite, Serenity invites impatience rather than excited anticipation, and the eventual payoff provokes a big 'huh?'" -HOLLYWOOD REPORTER
Jennifer Garner is a housewife-turned-vigilante following the murder of her husband and daughter in this revenge thriller from the director of Taken.
"A belaboured exercise in lazily constructed déjà vu, without the grit or stylised ham of predecessors it so baldly steals from." -NEW YORK TIMES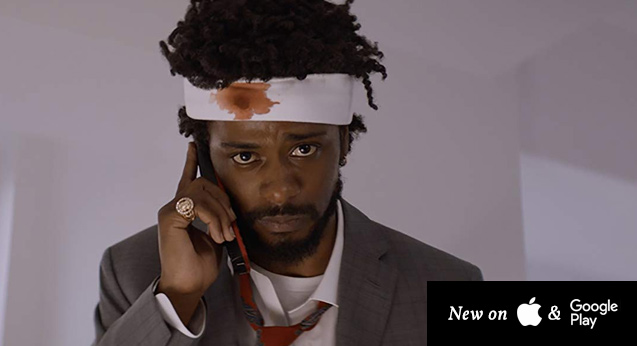 Lakeith Stanfield (Get Out) leads this oddball comedy as a black telemarketer who discovers the secret to professional success—putting on a white voice.
"An astonishing, surreal, shit-stirring satire" -Steve Newall, FLICKS
Adaptation of Philip Reeve's sci-fi novel series, co-produced and co-written by Peter Jackson and Fran Walsh.
"Peter Jackson's long-time colleague Christian Rivers has constructed a beautiful, burly, bustling blockbuster that visually magnifies a crazy concept." -Liam Maguren, FLICKS
John C. Reilly returns to voice to the sequel to Disney's 2012 3D animated adventure, along with Sarah Silverman and an all-star voice cast. This time, Ralph ventures into the World Wide Web.
"Younger audiences are, or soon will be, entering the world wide web with eyes as fresh as Ralph's. Such frankness with important messages feels endearing." -Liam Maguren, FLICKS
Academy Award nominee Benedict Cumberbatch (Doctor Strange) voices the Christmas-loathing Grinch in this family-friendly animated retelling from Illumination (Despicable Me).
"In the tale of a grump learning to be glad, it's the Grinch's non-speaking canine sidekick Max who steals the show." -Adam Fresco, FLICKS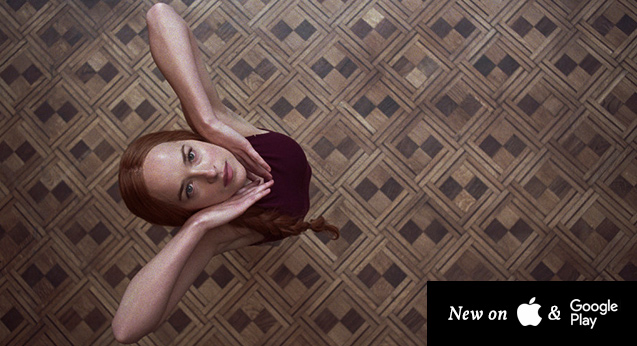 Luca Guadagnino (Call Me By Your Name) puts his own spin on Dario Argento's classic 1977 fantasy horror. Stars Chloë Grace Moretz (Let Me In) and Guadagnino's A Bigger Splash stars Tilda Swinton and Dakota Johnson.
"The rarest of horror remakes—one that I'm actually pleased remade of my favourite films of all time." -Aaron Yap, FLICKS
A 15-year-old homeless teen goes in search of his only known relative in this drama co-starring Steve Buscemi and Chloë Sevigny.
"A much deeper and far more meaningful experience" -Kate Roger, NEWSHUB
Christian Bale escorts a dying Cheyenne war chief and a young widow across treacherous terrain in this western from the director of Black Mass.
"May be too meditative for some, but its grit, beauty and honesty are too potent to ignore." -TOTAL FILM
Margot Robbie co-produces and stars in this noir thriller following two assassins on a dangerous mission for a mystery employer. Simon Pegg and Mike Myers co-star.
"Robbie is fascinating to watch, as always. But in this case, she's providing 100-watt star power to a tacky little table lamp."-LA TIMES